Cal Petersen might be headed back to minors soon, but he's made a lasting impression on Kings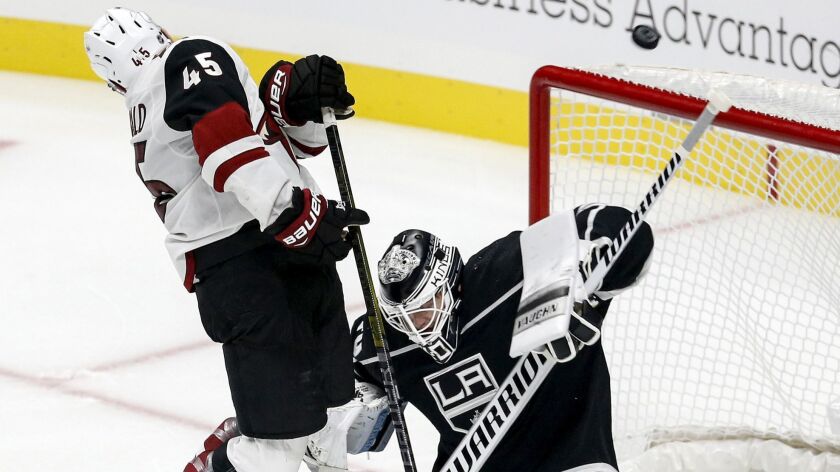 The calendar year is ending on a bummer note for Cal Petersen.
A Notre Dame alum, Petersen saw his football team's aspirations for a national championship crushed in a loss to Clemson on Saturday. And it appears that his first call-up to the Kings is nearing an end.
The latter is more significant, of course, but Petersen understood that he might be returned to the minors with Jack Campbell expected to join the Kings on a back-to-back trip to Colorado and Las Vegas.
Petersen stayed on the ice and chatted with goalie coach Bill Ranford after practice Sunday, and later reflected on his first 11 games in which he showed glimpses of why he's perceived as the franchise's future goalie.
"I felt like I did my job, and I think the biggest thing is just realizing I can play at this level and be successful," Petersen said. "I think that confidence is something that I'll carry with me. Probably the biggest thing for me, going down, is continuing to get better. Whenever the next opportunity is, just be as ready as possible and try and be even better than I was during this [time]."
Petersen collected some memorable performances, starting with his NHL debut in relief against the Toronto Maple Leafs on Nov. 13. He stared down Patrick Kane and Jonathan Toews of the Chicago Blackhawks in a shootout for his first win in a quasi-homecoming game, and recorded his first shutout three nights later against the St. Louis Blues.
Petersen started back-to-back games twice in two weeks when Campbell and Jonathan Quick were injured.
"He got a lot of the tough games," coach Willie Desjardins said. "He really played well, which is a great sign for the future of the team. Everyone's always short goaltenders. Right now, we're fortunate we have three good ones."
Petersen's acclimation to the NHL has jump-started the conversation about him as the eventual starter, especially with rumblings about a Kings' rebuild that could include moving Quick.
Quick has served as a mentor to Petersen, if only by example, and that's also a reminder of what Quick means to the Kings.
"It's hard not to be a sponge and just see the way that he prepares for games, the way that he battles every day is pretty cool," Petersen said. "I think [it's] his leadership, too. I didn't know what to expect, but he's got an extremely large presence in the locker room."
The Kings want Petersen, 24, to be that presence eventually. In the meantime, no matter where he is on New Year's Day, Petersen plans to catch the Winter Classic, an outdoor game between the Blackhawks and Boston Bruins at Notre Dame Stadium. Petersen and his friends tailgated and attended games at the iconic venue, and he was impressed by the setup of the rink.
"It's pretty sick," he said. "I'll be jealous."
Etc.
Carl Hagelin (knee) skated in a no-contact jersey and could be about a week away from returning, Desjardins said. Alec Martinez (upper body) and Jonny Brodzinski (shoulder) are skating.
Desjardins said Dion Phaneuf "says he's ready" to return Monday from an upper-body injury. Michael Amadio was re-assigned.
UP NEXT
AT COLORADO
When: 5 p.m. PST, Monday
On the air: TV: FSW; Radio: iHeartRadio (LA Kings Audio Network)
Update: Mikko Rantanen and Nathan MacKinnon were second and third, respectively, in the league scoring race through Saturday. Anze Kopitar makes his first appearance at Pepsi Center since his four-goal game last March. Colorado has lost eight of its past 10 games.
Twitter: @curtiszupke
---
Get the latest on L.A.'s teams in the daily Sports Report newsletter.
You may occasionally receive promotional content from the Los Angeles Times.