Kings GM Rob Blake says he's looking at deals similar to the Jake Muzzin trade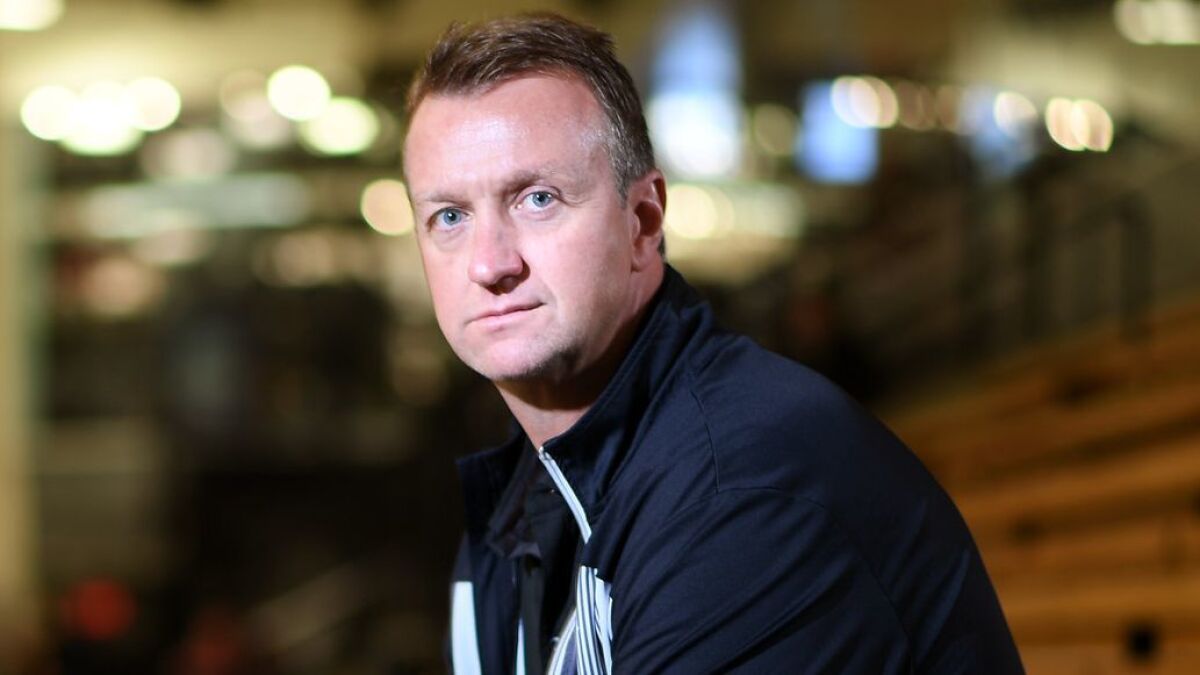 Reporting from PHILADELPHIA —
Rob Blake has made it crystal clear during his young tenure as Kings general manager that he doesn't deal with speculation.
He knows there is a lot of talk surrounding his team as the Feb. 25 NHL trade deadline approaches, and that has shifted some in the aftermath of the trade of Jake Muzzin to Toronto. The Kings have made it a point to play their younger players the rest of the way, while it appears that it might be more practical to try to move veteran assets this summer.
Darren Dreger of TSN reported that the Kings will probably make their bigger moves in the offseason rather than deal before the trade deadline. Blake responded sarcastically when asked about it Thursday.
"TSN, they're running our team, then I guess they understand that," Blake said. "There's speculation every day on this and that. I'm not going to get into that."
Blake restated that he's looking at similar deals to the Muzzin trade, ones that will yield future assets such as prospects or draft picks. The Kings don't like using the word "rebuild," but they are sellers. The problem is that the market, at least currently, might be unreasonable for their liking. In regards to a player like Jonathan Quick, it's typically difficult to trade a goalie during the season unless there is a specific fit that would be attractive to another club.
But the cliché during trade season is that things can change with one phone call. Blake understands that and is proceeding accordingly.
"I'm not sure there is a time frame," Blake said. "People understand that TSN can say, well, they're going to do it now or they're going to do it at the deadline. If the deals are right, if there's something we like that will improve our team, we'll look at it. It's no different than any other year."
Blake is encouraged by his team's recent play. The Kings won three of four going into Thursday and are 11-7-1 since Dec.11. Trevor Lewis could return Saturday, but Jeff Carter is still "a ways away" with a lower-body injury, coach Willie Desjardins said. The Kings would have to make a roster move to activate Lewis, and that could involve putting Carter on injured reserve.
Sign up for our daily sports newsletter »
Either way, the Kings will soon be the healthiest they have been a while. Blake simply wants to continue to see progress.
"I just want guys to compete every day," he said. "We've got to learn to compete more, all the time, and we want to get better every day."
Phaneuf scratched
Dion Phaneuf stayed out with the extra players and appears to be a healthy scratch for the first time in his career.
Desjardins said Phaneuf is not banged up and indicated he wants to play the kids. Sean Walker is expected to go back into the lineup.
"I think you're always trying to find ways to get young guys in and get them to play," Desjardins said. "I've been happy with our D, though, everybody's played well. It's not like anybody's not played well enough to be in the lineup."
Phaneuf, who scored his first goal of the season Tuesday, politely declined to speak after practice but said he would at a later time.
Twitter: @curtiszupke
---
Get the latest on L.A.'s teams in the daily Sports Report newsletter.
You may occasionally receive promotional content from the Los Angeles Times.