What we learned from the Kings' 2-1 overtime win over the Canucks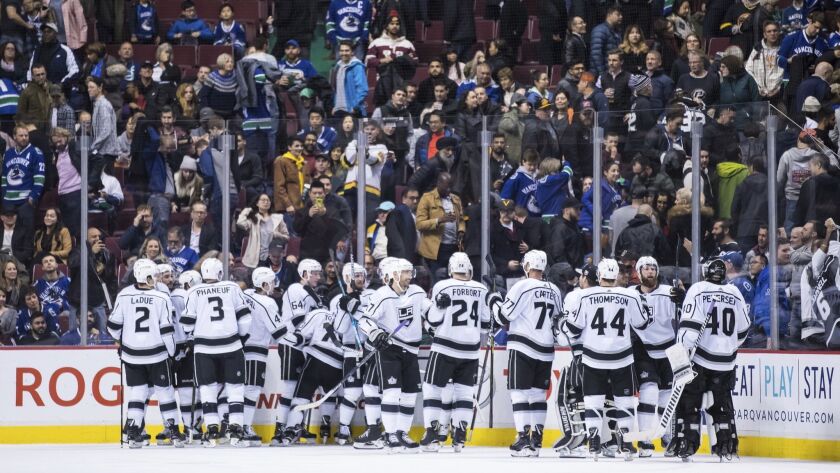 Reporting from Vancouver, Canada —
Two wins a row felt like 20 in the Kings' locker room.
Alec Martinez jumped off the floor as he joked with Anze Kopitar, and the overall feeling was like pressure alleviated when the lid is taken off a Crock Pot.
The Kings will take any semblance of momentum or energy, however modest, as they attempt to crawl back to relevance. They took one small step toward that when their top line and goaltending delivered again in a 2-1 win against the Vancouver Canucks at Rogers Arena.
Here's what we learned:
It's that old top line magic. The numbers are skewed by Dustin Brown's hat trick on Sunday but Brown, Kopitar and Alex Iafallo have combined for six goals and five assists in the past two games.
Longtime linemates Brown and Kopitar huddled up in overtime. On the game-winning goal, Kopitar told Brown to go behind him off the faceoff because he was winning draws against Bo Horvat, but not far enough back, and that's precisely what happened.
"Other than an empty net, that's probably my farthest goal away from the net," Brown said. "It was maybe 7 feet. That's where you've got to go to score goals in this league."
Kovygate won't go away. The strange case of Ilya Kovalchuk was still a big topic before the game. Stuck on the fourth line again, Kovalchuk played just over nine minutes, and took five shifts in the third period.
Some of those shifts were with Jeff Carter and Tyler Toffoli late, but interim coach Willie Desjardins remains bent on a reduced role for the once-elite scorer.
Instead, Nate Thompson played 17 minutes, 29 seconds, his second-most this season, and Kyle Clifford took 14 minutes, 19 seconds of ice time. Kovalchuk has said he'll gladly play whatever minutes if the team is winning, and the Kings are 2-0 the past two games.
But is this really sustainable or reasonable for a $6.25-million winger?
The divisional wins are the one saving grace. Through all this losing, the Kings are 3-2-1 against the Pacific Division with wins against Vancouver and the Edmonton Oilers the past two games.
Still stuck in last place in the division, the Kings are at least cleaning up on some four-point swing opportunities. Two more present themselves with games at Edmonton and the Calgary Flames.
"I think it's steps right now," Dustin Brown said. "I think these next games are going to be a big test for us, back-to-back."
Twitter: @curtiszupke
---
Get the latest on L.A.'s teams in the daily Sports Report newsletter.
You may occasionally receive promotional content from the Los Angeles Times.