Q&A with AEG President Dan Beckerman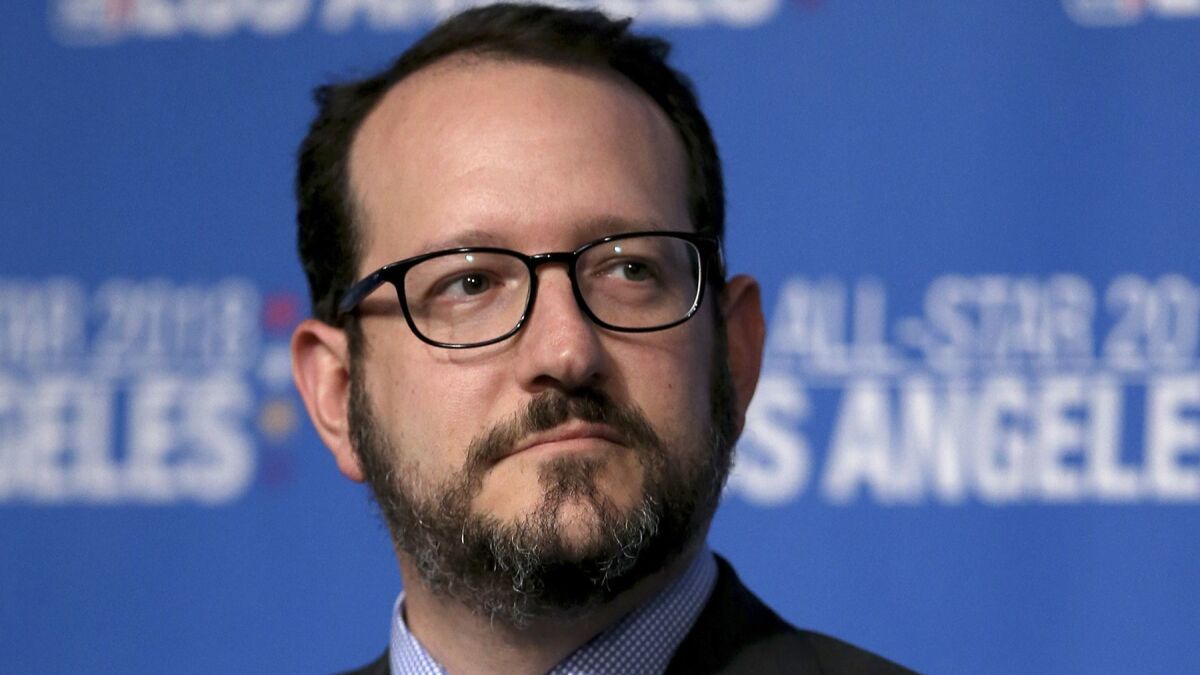 Philip Anschutz put Anschutz Entertainment Group, its teams and properties up for sale in late 2012 — and not for the first time — but pulled them off the market in early 2013. That proved a good decision, as the Kings won the Stanley Cup in 2014 for the second time in three seasons and the Galaxy added their fifth Major League Soccer title in 2014 to the benefit of the company.
But Anschutz recently turned 77, Staples Center is now more than 17 years old, an age at which some teams begin to think about new venues. AEG has several interests in L.A., including the StubHub Center and the Kings' practice facility in addition to owning the Kings, the Galaxy and a chunk of the Lakers.
Anschutz rarely speaks to the media, so with NHL players, executives and fans coming to town for Sunday's All-Star game at Staples Center, The Times spoke with Dan Beckerman, the president and CEO of AEG, on what's ahead for the company and Los Angeles. The interview has been edited for space.
What's the importance of having the All-Star game here?
It's great for the Kings, it's great for our fans, and it's great for AEG. And for me, what it does, it's a great showcase for everything that we do for AEG. And it really kind of activates every division of the company. So obviously it's great for the L.A. Kings but it's about more than just the Kings. It's a great showpiece for Staples Center. We're activating all of L.A. Live. We have AEG Live, our music division, involved in booking a lot of the musical acts that you're going to see. It's going to be a very unique L.A. feel to the All Star game.
We have the headquarter hotel with the JW [Marriott] and the Ritz, we have all of L.A. Live. We have the NHL 100 event at the Microsoft Theater, so for me this is, as much as I love it for the Kings — and you know how passionate I am about the Kings for the last 20 years — I like it as a showcase for all that AEG does in L.A.
It was here in 2002 and other NHL cities haven't had it yet. Luc [Robitaille, the Kings' vice president of business operations] was very passionate about having it here; were you on board with him and that passion right away?
Yes, I would say the entire front office from Luc to myself to Kelly [Cheeseman] to Mike [Altieri] were very active and engaged with the league to aggressively pursue this and bring it to L.A. for our 50th anniversary. And I think having it in L.A. on that stage was appealing. When we pursued it so aggressively, we wanted to demonstrate everything that we could activate for the league. From L.A. Live, to our music division and the entire campus including the Convention Center, which we manage. A lot has changed in L.A. since the last time the All-Star game was here in 2002. L.A. Live wasn't here, we didn't manage the Convention Center, we didn't own a hotel, we didn't have the theater, so I think while it is a relatively short time since the All-Star game has been here, I think L.A. is a lot different in 2017 than it was in 2002. Downtown L.A., specifically.
AEG was put up for sale in 2012 but that sale did not go forward and it was pulled off the market in 2013. What right now is the state of things? Is AEG for sale, and do you see it being for sale in the near future?
Not for sale. I do not foresee it being for sale. Since the company was pulled off the market, we've seen record results for the last four years. … I think that success gives our owner confidence. Starting in 2013 he started investing again. We have many projects under construction now all over the world. We have probably $1 billion worth of projects that are on the boards right now, either under construction or are going to be breaking ground this year. We have many others that we're looking at. He is actively engaged and really confident about the business because we have been able to perform.
The other thing that happened, and you don't see this very often in transactions like that, when you have a company that you put up for sale you provide projections to potential buyers about what the company is going to do in the following years, and we have surpassed all of the projections that we put forward. We did that with new projects, we did that with growing our business, we did that by growing our revenues, we did that through strategic acquisitions. So the company is doing extremely well and I don't see it being put up for sale.
That said, Mr. Anschutz is 77.
He's in better shape than I am. He's going to outlive us all.
Is there a succession plan in place, for him and AEG?
I think he is going to own the company for the foreseeable future.
Looking around, other cities are building stadiums and arenas to replace stadiums and arenas that are not even 30 years old or 25 years old. Staples Center, believe it or not, is coming up on 18 years old. Is there any plan to replace it, to update it?
I think in all of our venues that we own around the world our philosophy, which is a little bit unique in the venue management business and the venue ownership business, is that we aggressively reinvest every year into updating, modernizing the arena, whether it's technology, or hospitality, or redoing our concession stands or redoing our suites, or investing in alternate energy sources. We invest a lot of money on an annual basis to keep the building at the top of the game, and the last two years alone I think we spent over $30 million in reinvesting in the arena.
A lot of arenas, when they're built, they'll build it and they'll do nothing for 10 or 20 years and then they have to do a $100-million renovation. We aggressively invest every year across the board at Staples Center and all of our venues. Having said that, we're always looking for ways to make it better, whether it's new hospitality offerings or new technological advancements for our fans, we're constantly looking for ways to reinvest in the building.
But not to replace it, at this point?
No. You look at it, the best buildings in the world have been there forever. Earl's Court in London has been there forever. Madison Square Garden has been there forever. I think we're not shy about investing capital in our buildings to keep them as the premier facilities in the industry.
Zeroing in on the Kings for a moment, among all your properties, are you satisfied with the team's performance? Do you look at revenues? Knowing you, I suspect you look at the on-ice performance as well.
Yeah, we've obviously had some injuries this year that we're dealing with, but we're right on the cusp, right on the bubble, for the playoffs and there's a lot of games to be played. And I think we're still confident and optimistic that we're going to be where we need to be when the playoffs come. And as we've demonstrated in the past, if you can get into the playoffs you can do some serious damage, and I think that's our expectation and that's our plan for this year and I'm confident that we have the players and the coaching staff to get us there.
Are there any more team acquisitions on the horizon for AEG?
Sports are one of the four critical pillars of the company, if you look at sports, music, venues and real estate. When we can get those four pieces working together, that's always going to be something that we're interested in. And we are open for business and looking at acquisitions domestically and internationally that touch those four areas.
Follow Helene Elliott on Twitter @helenenothelen
Get the latest on L.A.'s teams in the daily Sports Report newsletter.
You may occasionally receive promotional content from the Los Angeles Times.