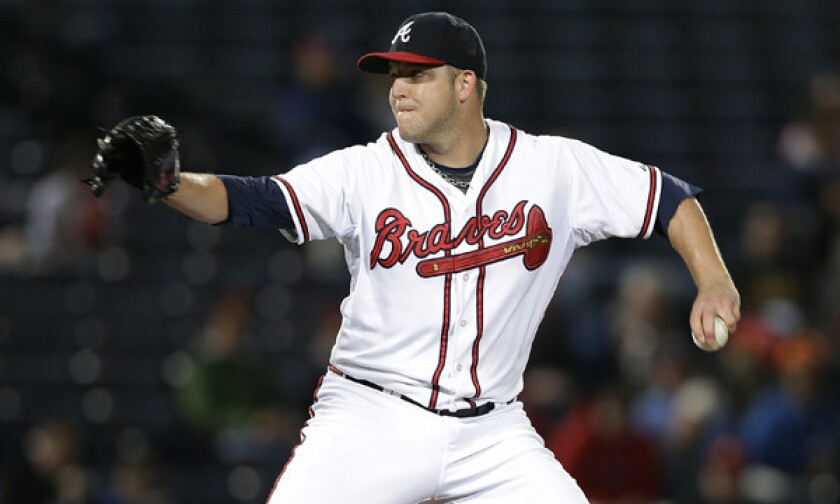 PHOENIX — With Josh Beckett and Chad Billingsley recovering from major operations, the Dodgers solidified the back end of their rotation Saturday by signing veteran left-hander Paul Maholm to a one-year, $1.5-million contract.
Maholm, if anything, is durable. The 31-year-old has made 26 starts or more in each of his last eight seasons, posting a 4.34 earned-run average in that span. He was a perfectly serviceable back-end starter last season with the Atlanta Braves, when he was 10-11 with a 4.41 ERA. He didn't make the Braves' playoff roster.
To create a spot on the 40-man roster for Maholm, the Dodgers moved left-hander Scott Elbert to the 60-day disabled list.
The Dodgers have seven starting pitchers with guaranteed contracts: Clayton Kershaw, Zack Greinke, Hyun-Jin Ryu, Dan Haren, Maholm, Beckett and Billingsley.
Maholm figures to be in competition with Beckett and Billingsley for the fifth spot in the rotation. Beckett had a rib removed last year to relieve a nerve problem, but is already throwing without any restrictions. Billingsley is recovering from reconstructive elbow surgery and isn't expected to return until some time in May.
The likely surplus is reminiscent of last spring, when the Dodgers opened camp with eight starting pitchers under contract, including the since-departed Chris Capuano, Aaron Harang and Ted Lilly. The overflow quickly turned into a shortage after Harang was traded and Lilly, Greinke, Billingsley and Beckett suffered early-season injuries.
Twitter: @dylanohernandez
---