Angels owner Arte Moreno meets with Tustin officials to talk stadium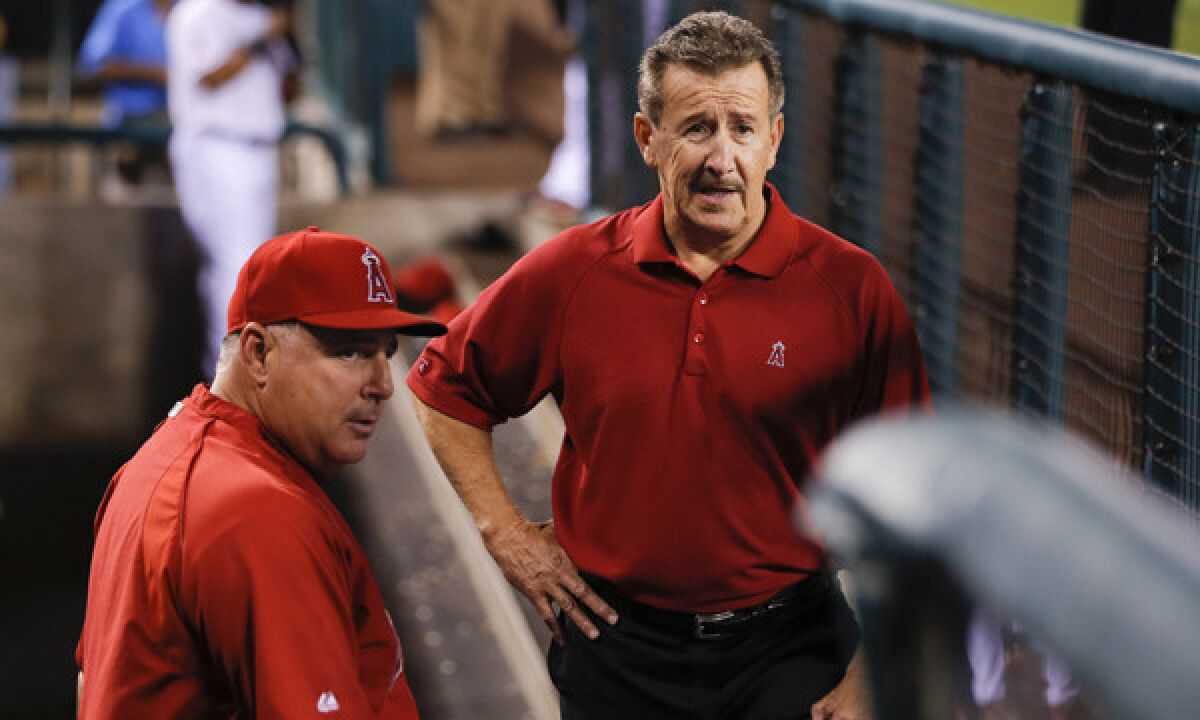 TEMPE, Ariz. — Angels owner Arte Moreno met with officials from the City of Tustin last week to discuss the possibility of building a new baseball stadium, a team spokesman confirmed Saturday.
One potential site would be the decommissioned Marine Corps Air Station, which would be accessible via the 5, 405 and 55 Freeways and is across the street from the Tustin Metrolink train station.
"We did have an initial meeting with Tustin," said Marie Garvey, a consultant retained by the Angels to handle stadium negotiation issues. "We're still in discussions with the City of Anaheim, but we have to take a long-term view and explore all of our options to insure we have certainty for the future."
Moreno said Friday that negotiations for a new lease for Angel Stadium are "at a stalemate." He is clearly frustrated by Anaheim Mayor Tom Tait's reluctance to accept a proposal in which the Angels would spend $150 million to renovate the stadium in exchange for a 66-year, $1-a-year lease to develop 155 acres of land in the parking lot.
Garvey would not elaborate on details of the Tustin meeting, and she described talks with the city as being "in the infancy stage."
Asked if the meeting was a negotiating ploy to put pressure on Anaheim, Garvey said, "Absolutely not. We're taking a serious look at all of our options. We've spent the last three years focusing solely on Anaheim, and we're entering another season without a deal in a 48-year-old stadium that needs improvement."
Garvey would not say whether Moreno has met with any other cities to explore stadium construction.
"The important point is that we're looking at all of our options," Garvey said. "Our preference is to remain in Orange County, but it's way too early to get into specifics."
The team's current lease expires in 2029, but an out clause allows the Angels to leave any time between October of 2016 and October of 2019 with 12 months notice. Moreno said it would take four to five years to complete the process to build a new stadium.
Tait thinks Anaheim should at least split profits from parking-lot development, saying "$1 a year is ridiculously undervalued from a taxpayer's point of view — that property is worth hundreds of millions of dollars."
Moreno claims the city has been unwilling to pay for any of the much-needed improvements to the stadium. Anaheim is currently doing an appraisal of the land, which is bordered by three freeways, exploring property values both with and without a stadium.
"They're clearly looking at all of their options," Garvey said of Anaheim officials, "and we felt we needed to do the same."
twitter: @MikeDiGiovanna
Get our high school sports newsletter
Prep Rally is devoted to the SoCal high school sports experience, bringing you scores, stories and a behind-the-scenes look at what makes prep sports so popular.
You may occasionally receive promotional content from the Los Angeles Times.