Albert Pujols, closing in on 500 homers, showed greatness at early age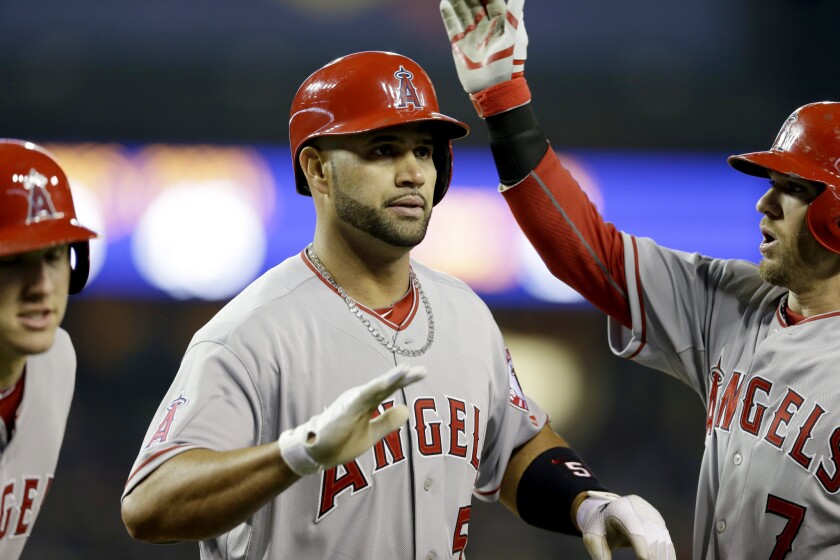 DETROIT — Mark McGwire was in the twilight of his career in 2001, willing his broken-down body through one final season with the St. Louis Cardinals, when a strapping young buck named Albert Pujols, just two years removed from being the 402nd overall pick in the draft, started tearing it up in spring training.
Bobby Bonilla was slated to be the Cardinals' left fielder, but when Bonilla was hurt that spring, McGwire practically commandeered the lineup card from Manager Tony La Russa.
"I said to him, 'If this guy doesn't make the team, it might be one of the biggest mistakes you make in your managerial career,' " McGwire, now the Dodgers' hitting coach, recalled. "Even before Bonilla's injury, there was nothing else for this kid to prove. It wasn't hard to see that."
La Russa saw it too, so much so that by the middle of the exhibition season, he was batting Pujols, then 21, cleanup just to see how he'd respond.
"He kept passing every test," La Russa said. "He did things so well we could not send him down. So we thought, 'Let's give him a shot during the season.' And that was it."
Those early evaluations were spot-on. Not only did Pujols star for the Cardinals, he went on to become perhaps the greatest hitter of his generation, a slugger who with two more home runs for the Angels will be the 26th player in major league history to hit 500 homers.
"That's a magic number for homers," said Angels third baseman David Freese, a teammate of Pujols in St. Louis. "It's amazing what he's done over his career. It's exciting to watch. It's exciting to learn from."
It's not exciting for Pujols to talk about — at least, not before he sends his 500th homer screaming over a wall. Pujols, 34, is reluctant to discuss the milestones he's approaching, not because they are a distraction to him but because they might be for the team.
"It's about winning — my focus is on the team — and I've been consistent with this," said Pujols, who signed a 10-year, $240-million deal with the Angels before 2012. "I will talk about it when it's over."
Those who have played with, coached and managed Pujols never seem to run out of things to say about him.
"He's a once-in-a-generation player," Angels Manager Mike Scioscia said. "There's no doubt he's the gold standard for what guys did not only in the batter's box but in the field — he's a Gold Glove first baseman. He's put up incredible numbers."
And not just for home runs. Only three members of the 500-homer club had a higher career batting average than Pujols' .321 mark — Ted Williams (.344), Babe Ruth (.342) and Jimmie Foxx (.325).
Pujols, a three-time National League most valuable player who led the Cardinals to the 2006 and 2011 World Series titles, has a career .409 on-base percentage, .599 slugging percentage, 529 doubles and 1,512 runs batted in.
He is the only player in history to begin his career with 10 straight .300-hitting, 30-homer, 100-RBI seasons. He's never struck out more than 76 times in 13 seasons, a rarity in a game filled with many all-or-nothing sluggers.
McGwire, who hit 583 homers but later admitted to using performance-enhancing drugs, could tell in 2001 that Pujols would be an elite slugger.
"The way he approached hitting, he had very little movement," McGwire said. "I was always taught that the less movement, the less room for error. He was born with that. He doesn't have any flaws in his swing, and he's been that way since day one. It's remarkable.
"His work ethic is off the charts. Guys like this don't come around too often. He has the gift, he's taken it to the umpteenth power, and he's never satisfied with what he does. He always wants to be better, and that's why I think he's going to smash records."
Injury and, perhaps, age, have diminished Pujols' prowess in Anaheim. He had a brutal start in 2012, hitting .190 with one homer and nine RBIs through May 8 before rebounding with a .309 average, 29 homers and 96 RBIs in the next 124 games.
He was slowed in 2013 by a painful left heel injury, hitting .258 with 17 homers and 64 RBIs before suffering a season-ending tear of the plantar fascia in his left foot in late July.
Pujols has regained his health and power stroke in 2014 — he entered Monday with six homers, which ties him for the major league lead, and a team-high 14 RBIs. And his stature remains strong.
Angels star Mike Trout, 22, still marvels at the sight of Pujols in the on-deck circle when he's batting. Trout was 10 when Pujols broke in with a rookie-of-the-year season in which he hit .329 with 37 homers and 130 RBIs in 2001.
"Every time you turned on Xbox or PlayStation, you always wanted to pick Albert — he was hitting some home runs, for sure," Trout said. "It's pretty wild to be in the same clubhouse with him, to see him chase history. They call him 'The Machine,' so I pick his brain every chance I get."
Trout, then 20, seemed intimidated by Pujols in 2012 — the two barely spoke in spring training — but they have since forged a strong bond built on mutual respect and a drive to be the best player in the game.
"When I was first in the clubhouse with him, I tried to give him his space," Trout said. "But once I got to know him better, he's been an unbelievable guy. He's always been great to me. I can talk to him any time, anywhere, on and off the field. He's been there, done that."
With his muscular 6-foot-3, 236-pound frame, a menacing glare and the way he bites his tongue as a pitch is coming in, Pujols can be an intimidating presence.
"When he gets in that box, he knows he's the man," Freese said. "You've got to have that as a hitter to put up the kinds of numbers he has."
But there is another part of Pujols' game that is more subtle, one that teammates and coaches have grown to appreciate.
"It's so obvious and evident, if you watch him closely, that from his rookie year to today, he has played the game to win," La Russa said. "That means when he's on base, he's trying to do something to win a game as a baserunner. It's the same on defense, at bat. If he needs to start a rally, he'll stroke an opposite-field hit.
"The biggest compliment I can give Albert is he's never changed. He's a perfect player. In all categories of the game — hitting, running defense, cheerleading, being a mentor — you see Hall-of-Fame greatness."
Twitter: @MikeDiGiovanna
---
Get our high school sports newsletter
Prep Rally is devoted to the SoCal high school sports experience, bringing you scores, stories and a behind-the-scenes look at what makes prep sports so popular.
You may occasionally receive promotional content from the Los Angeles Times.