Angels' Mike Trout isn't worried about strikeouts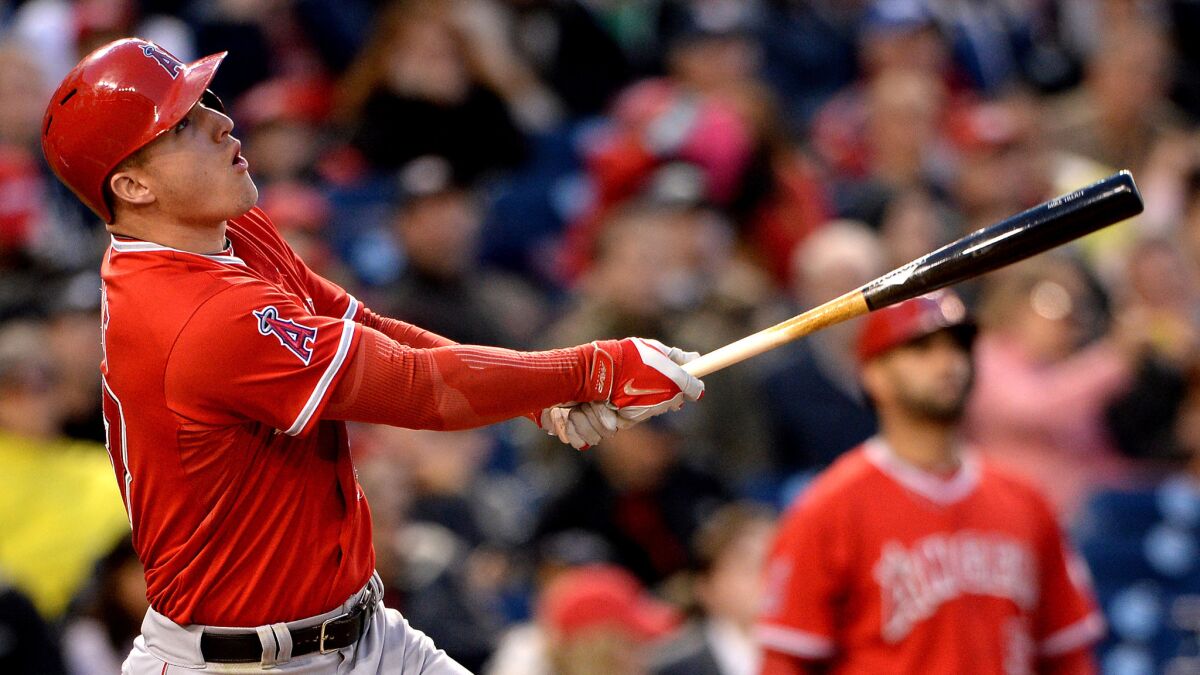 To harp on Mike Trout's strikeouts would be like hiking through Yosemite on a gorgeous spring day, taking in the grandeur of Half Dome rising above the tree line and saying, "That's nice, but where's the other half?"
Yes, the center fielder has whiffed at an alarming rate, 39 times in 30 games through the Angels' 14-3 loss to the Texas Rangers on Sunday in Angel Stadium.
Only Chicago's Marcus Semien (41) and Seattle's Abraham Almonte (40) have more strikeouts in the American League. At his current 28.3% strikeout pace, Trout would whiff 210 times. He had 136 strikeouts in 2013 and 139 in 2012.
BOX SCORE: Rangers 14, Angels 3
But Trout's overall body of work in his third full season is still worthy of an Ansel Adams print.
Trout, 22, is batting .300 with six home runs and 19 runs batted in, and he ranks among the league's top 10 in runs (22), hits (36), on-base percentage (.384), slugging (.550), total bases (66), extra-base hits (16) and pitches per plate appearance (4.57).
Trout is losing some battles but winning the WAR. He began Sunday with an AL-leading 2.5 wins above replacement (WAR), the sabermetric figure that measures a player's total contribution including offense, base-running and defense.
"I think you worry about strikeouts when they aren't balanced by walks or production, and I think he's doing OK in those departments," Manager Mike Scioscia said. "For guys who work counts, strikeouts might follow."
Trout, who finished second in AL most-valuable-player voting in 2012 and 2013, has two three-strikeout games and had the first four-strikeout game of his career in Detroit on April 19.
"It's not a concern for me," Trout said. "My last couple of years, I've had over 100 strikeouts. Sometimes I'm chasing pitches, trying to do too much, like I did in the first month last year, when I was too anxious. I have to look for my pitch and hit it. Pitchers are throwing good pitches too. You have to give them credit."
Trout, who rarely swings at the first pitch, said in spring training he would try to be more aggressive early in the count, but he has been just as patient as he was in 2012 and 2013.
Trout has put the first pitch in play only five times in 117 at-bats. He put the first pitch in play 35 times in 589 at-bats last season and 31 times in 559 at-bats in 2012.
The fact that Trout has been caught looking 14 times and often takes first-pitch strikes suggests he is too passive. If he's going to strike out, the Angels prefer he go down swinging.
"Mike works counts, and when you work counts, you're going to add some walks, you're going to add some strikeouts," Scioscia said. "He's taken a called third strike at times. It happened last year, and it's happened this year.
"It's still a small sample size. His last 25 at-bats or so, he's trying to find a comfort zone. I don't think it's anything you're going to put a lot of weight on right now."
Trout pushed his average to .327 with 11 multi-hit efforts in 16 games from April 11 through last Monday but has only two hits in 16 at-bats in the last four games.
He is one of few players in baseball who has hit Yu Darvish well, with a .321 career average (nine for 28) and four homers against the Rangers ace before Sunday. The only other player with four home runs against Darvish is Oakland's Brandon Moss.
But Darvish got the best of Trout on Sunday, retiring Trout on a routine fly ball to right field in the first inning, striking him out with a nasty slider in the second and getting him to ground out to third in the fifth.
"I don't go up there trying to do too much, but when I swing through pitches, sometimes I'm swinging too hard, pulling off pitches," Trout said. "Once I get into a rhythm and find my swing, it'll come, for sure."
---
Get our high school sports newsletter
Prep Rally is devoted to the SoCal high school sports experience, bringing you scores, stories and a behind-the-scenes look at what makes prep sports so popular.
You may occasionally receive promotional content from the Los Angeles Times.