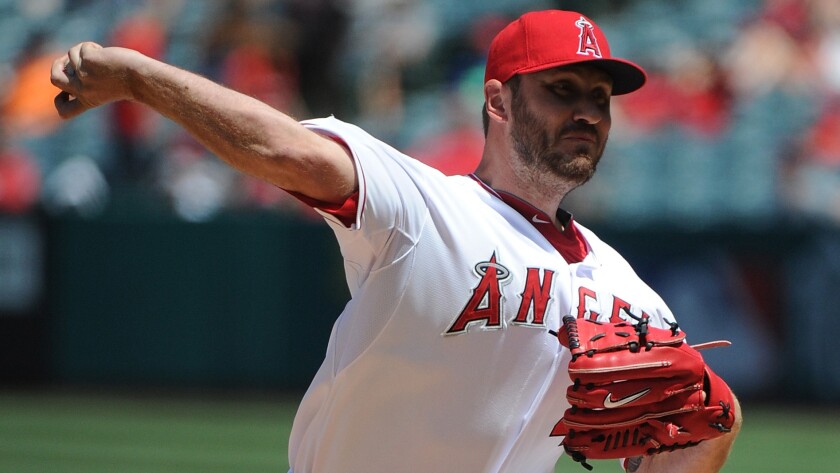 AT THE PLATE: Erick Aybar and Albert Pujols hit solo homers in the first inning — it was the 502nd homer of Pujols' career — but the Angels managed little else against Rangers ace Yu Darvish, who gave up three runs and seven hits in 61/3 innings, striking out nine and walking one, to improve to 7-1 with a 3.82 ERA in 11 career starts against the Angels. Ranger Michael Choice hit a three-run homer and a run-scoring single; Prince Fielder had two run-scoring doubles and a single; .077-hitting catcher J.P. Arencibia had a solo homer, single and sacrifice fly; and Alex Rios hit a three-run triple for the Rangers.
ON THE MOUND: Angels left-hander Tyler Skaggs fell behind too many hitters and was rocked for six runs and eight hits in 22/3 innings, walking three and striking out none, by far his worst start of the season. He needed 38 pitches to get through a 20-minute first inning, in which Texas scored three runs on four hits. Reliever Kevin Jepsen gave up Choice's three-run homer in the fourth. The Angels used five relievers, and Manager Mike Scioscia said the team will probably make a roster move to add bullpen help on Monday.
EXTRA BASES: The Angels got a huge scare in the fifth when Pujols was hit in the bill of the helmet by a Darvish fastball, but the slugger got up quickly and remained in the game. … Pujols, who has some tightness in his right hamstring, started at designated hitter for the second straight game. … Howie Kendrick is hitless in 19 career at-bats against Darvish. … Raul Ibanez, who hit cleanup Sunday, is batting .144 with 30 strikeouts on the season. … The game took 3 hours 57 minutes.
YANKS ARE COMING: The Angels will hold a pregame ceremony Wednesday to honor retiring Yankees shortstop Derek Jeter, who will make his last regular-season visit to Anaheim beginning Monday night. Since 2000, the Angels are 66-61 against the Yankees, New York's only losing record against an American League club. The Angels are 26-13 in their last 39 home games against the Yankees.
UP NEXT: Right-hander Jered Weaver (2-2, 4.00 ERA) will oppose Yankees right-hander David Phelps (0-0, 3.86 ERA) at Angel Stadium at 7 p.m. Monday. On the air: Fox Sports West; Radio: 830 AM.
---