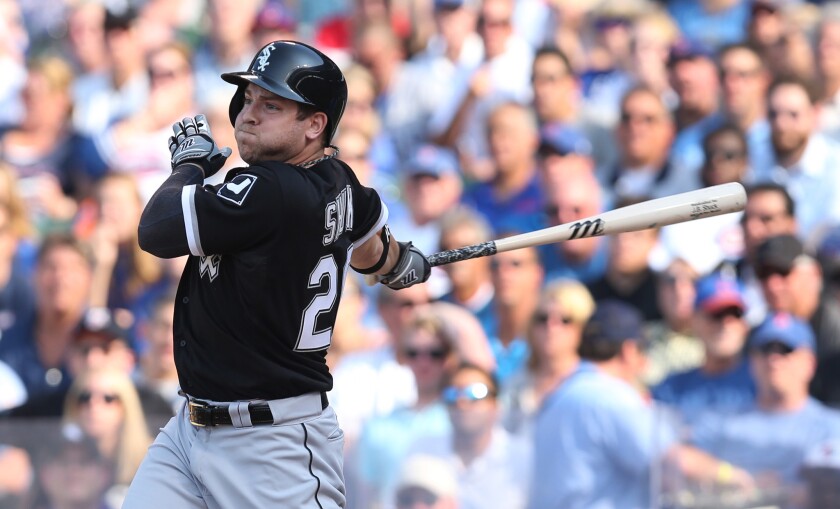 Outfielder J.B. Shuck on Saturday was put on the 15-day disabled list by the Chicago White Sox because of a strained left hamstring.
Shuck was hitting .278 with 11 runs batted in. He was injured Friday when he scored on a wild pitch in the seventh inning of Chicago's 13-6 loss to the New York Yankees.
Kyle Kendrick, Corey Dickerson are put on DL by Rockies
Right-hander Kyle Kendrick and outfielder Corey Dickerson were put on the 15-day DL by the Colorado Rockies.
Kendrick left Friday's 7-0 loss to the Cardinals after one inning because of shoulder inflammation.
Dickerson broke two ribs while diving for Jason Heyward's line drive during the Rockies' 9-8 loss to the Cardinals on Thrusday. Dickerson is hitting .315 with five home runs and 18 RBIs.
Dayan Viciedo is signed by White Sox to minor league deal
Outfielder Dayan Viciedo was signed by the White Sox to a minor league contract and assigned to triple A.
Viciedo hit .221 in 30 games for Nashville, the Oakland Athletics' triple-A team, before being released in July.
He batted .254 from 2010 to 2014 with the White Sox.
Mike Wright is put on DL by Orioles
Rookie right-hander Mike Wright was put on the 15-day disabled list by the Baltimore Orioles because of a left calf strain.
Wright was recalled from triple-A Norfolk on Friday night. He entered the game in the fourth inning and got three outs before the injury forced him out.
It was Wright's seventh game with Baltimore, the first as a reliever. He's 2-3 with a 4.99 earned-run average.
Bobby LaFromboise is sent to minors by Pirates
Left-hander Bobby LaFromboise was optioned by the Pittsburgh Pirates to triple-A Indianapolis to open a roster spot for starter J.A. Happ, who was acquired from Seattle.
Happ will move into the rotation spot of A.J. Burnett, who is on the 15-day DL because of inflammation in his pitching elbow. Happ was 4-6 with a 4.64 ERA in 20 starts and one relief appearance for Seattle this season.
Larry Lucchino to step down as Red Sox president, chief executive
Larry Lucchino is stepping down this year at the Boston Red Sox's president and chief executive.
The Boston Herald first reported the move.
Lucchino, 69, was part of the ownership group that purchased the Red Sox in 2002
.
---