The best scenario played out for the UC Irvine men's basketball team.
The Anteaters saw the Big West Conference's regular-season championship wrenched from their hands in a double-overtime loss to UC Davis on Saturday. The moment hardly called for a net-cutting ceremony. It left Irvine as the third-seeded team in the conference tournament, which begins Thursday and runs through Saturday at the Honda Center.
If history is any indication, the Anteaters are better off.
Irvine has won more conference regular-season games than any other Big West team the last five years, going 60-20. The Anteaters have won or shared three conference championships in that time, yet have only one NCAA tournament bid for that work, which came after a second-place finish in 2015.
"I know some people would be frustrated over that. I'm not," Irvine coach Russell Turner said. "Conference tournaments are what make college basketball great. Everybody has a chance for something special. Anybody who makes an argument about that misses the point."
Nine teams have won the Big West tournament, and the automatic berth into the NCAA tournament, in the last 10 seasons. That, Turner said, is "what makes college basketball such a great spectator sport."
It also can be a drag on the conference's NCAA success.
There are 68 spots in the NCAA tournament, 32 of which are automatic. Each conference gets one. That leaves 36 at-large berths, 32 of which went to the power conferences — Atlantic Coast, Big 12, Big East, Big Ten, Pac-12 and Southeastern — last season.
It has created a one-and-done situation for smaller conferences, like the Big West, which could see its best team stay home.
"That's the question: Why are you risking so much for your regular-season champion?" said former Boston Globe writer Mark Blaudschun, who tracks the NCAA tournament for TMGCollegeSports.com. "If you have a regular-season champion that goes 16-2 and you won't get an at-large bid, why are you doing it?"
Conferences are contractually required by ESPN to hold a tournament, even if that may not be in their best interest.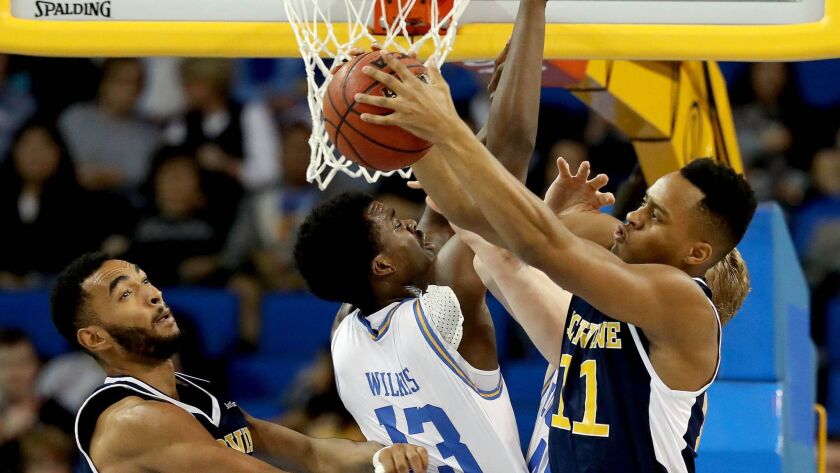 The Big West regular-season champion failed to win the conference tournament 12 of the last 17 seasons. Conference teams have won only three NCAA tournament games in the last 10 years. Two were basically play-in games between 16th-seeded teams.
A lack of success in the NCAA tournament decreases the chances for a conference getting an at-large bid when the selection committee divvies up portions.
"We fully recognize that, and that's why our conference tournament means something," Big West Commissioner Dennis Farrell said. "It really is the first round of the NCAA tournament for us."
Farrell said the current system "really hurts when you got a team with a good resume and it doesn't get selected after losing the conference tournament. There have been a number of those in recent years."
Illinois State shared the Missouri Valley Conference title with Wichita State last season and then lost to the Shockers in the conference title game. Illinois State, with a 27-6 record, was passed over by the selection committee.
Blaudschun, who correctly picked the entire field of 68 last season, said he sees few opportunities for smaller conferences to earn at-large bids this season.
"ESPN is throwing up content every night with these conference tournaments. That's part of the understanding," Blaudschun said. "But what are the conferences getting? Everyone knows the big boys, the ACC, the Big Ten, are getting in. There is no buzz."
The Big West could rate a buzz this season. Davis is the top-seeded team, but the top four teams finished within two games of each other in the conference standings. Hawaii was 8-8 in conference play and is the sixth-seeded team. The Warriors have beaten every team that finished ahead of them. They also lost to every team that finished behind them.
"The team that won the regular-season championship might not be the best representative in March," Farrell said. "The team that is on a hot streak may be the best team. It's a philosophical argument."
Big West tournament
at Honda Center
MEN
Thursday's quarterfinals
No. 1 UC Davis vs. No. 8 UC Riverside, noon
No. 4 Cal State Fullerton vs. No. 5 Long Beach State, 2:30 p.m.
No. 3 UC Irvine vs. No. 6 Hawaii, 6 p.m.
No. 2 UC Santa Barbara vs. No. 7 Cal Poly, 8:30 p.m.
WOMEN
Wednesday's results
UC Riverside 86, UC Irvine 74
Cal State Northridge 72, UC Santa Barbara 63
Friday's semifinals
No. 6 UC Riverside vs. No. 1 UC Davis, noon
No. 5 CS Northridge vs. No. 2 Cal Poly, 2:30 p.m.
---