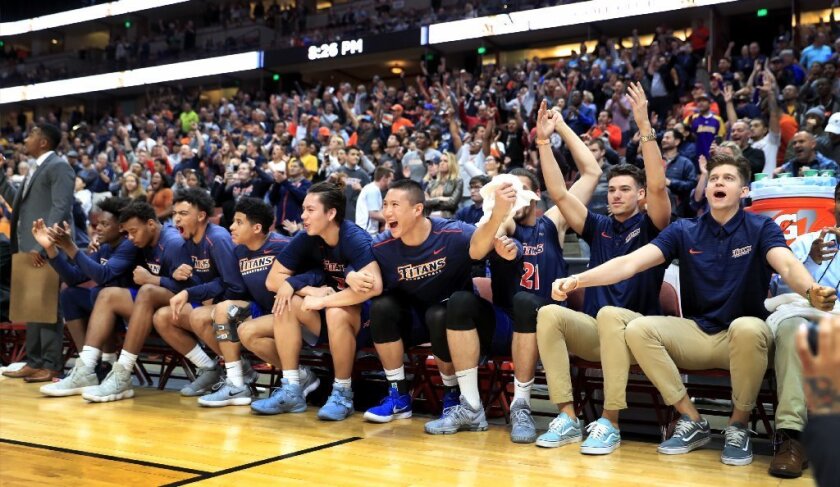 The phrase "drama queen" gets tossed around a lot in an era of reality television and social media addiction.
Yet there is no denying that Cal State Fullerton basketball players revel in the organized chaos they bring to the court. They have developed a faith in living on the edge.
"It's fun," guard Khalil Ahmad said.
Those good times continued for the Titans in the Big West Conference tournament Friday. They relentlessly pursued regular-season champion UC Davis and came away with a 55-52 victory in the semifinals.
In the all-Orange County championship game, the Titans will face UC Irvine, which defeated UC Santa Barbara 61-58.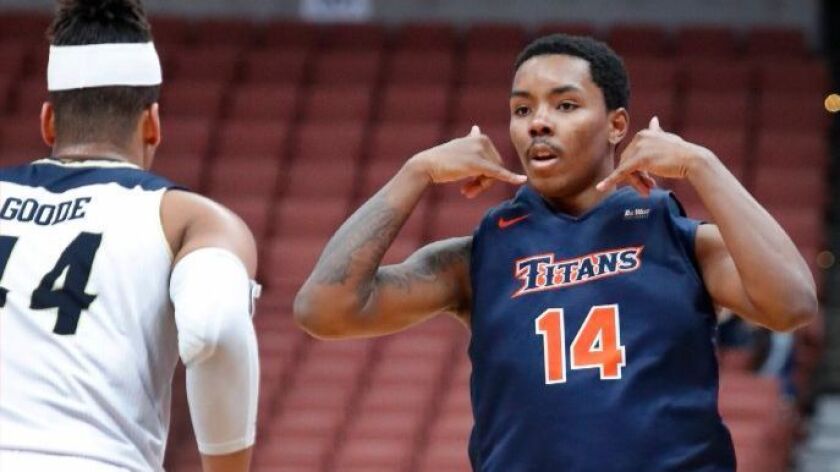 Fullerton (19-11) spent the final six seconds watching Davis (22-10) miss three of four three throws, then had to mill about a few more minutes while referees decided how much time was left on the clock. What followed was a last 0.4 off the clock that included two free throws by Fullerton's Arkim Robertson and a wild three-quarters-court shot by Davis' T.J. Shorts II that landed a few rows deep at Honda Center.
All it produced was a shrug from the Titans.
"We love it," Ahmad said. "It gets the blood pumping and the adrenaline flowing. You never want the game to end. And this is win or go home, that just makes everything more intense."
The Titans' style has them in the tournament final for the first time since 2007.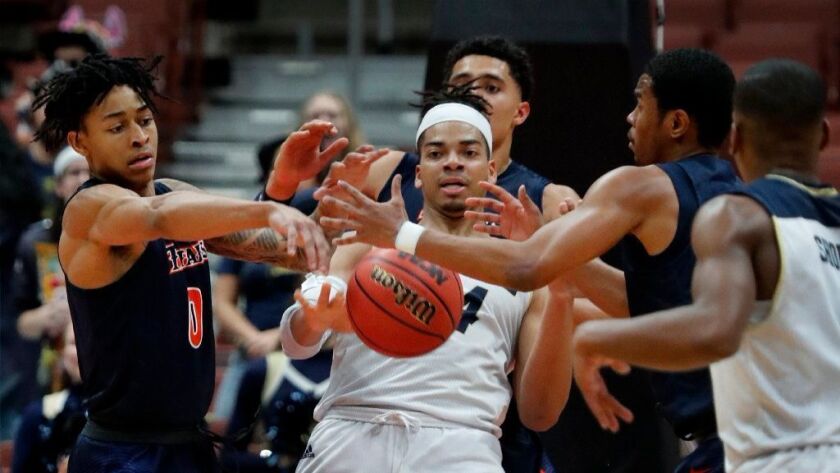 "We want our guys to take a step back and enjoy it," coach Dedrique Taylor said. "But let's finish this. We want our players to shower back at the hotel and let everything wash off. We have to reset because we have an opportunity to do something special."
The opportunity remains because the Titans were able to rally from a 12-point deficit in the final 13 minutes. They outscored the Aggies, 24-9, the remainder of the game.
"Honestly, we had to find a spark, something to get us going," said Jackson Rowe, who had a team-high 16 points and 11 rebounds.
What followed was more mosh pit than ballet. The Titans were unable to make a living from beyond the paint. They made one of 13 three-point attempts. But 16 of Fullerton's 20 field goals came attacking the basket, most on bull-rush drives to the rim.
"We had to get in transition," said Ahmad. "That's the way we play best."
Dwight Ramos' tip-in gave Fullerton a 50-49 lead with 4:32 left. Two free throws by Ramos upped the lead to 52-49.
This was the second consecutive season the two teams met in the semifinals, Davis winning in overtime last year on a last-second shot. Fullerton swept the two regular-season meetings.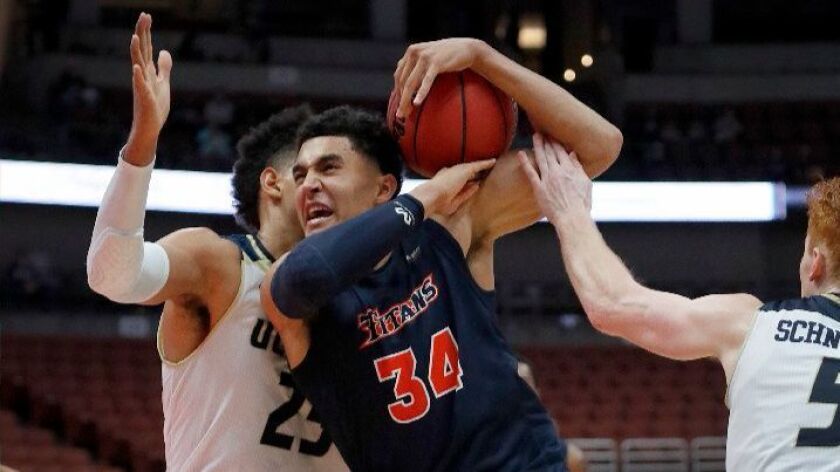 Such familiarity has led to a little contempt. There were tense moments following Fullerton's 85-70 victory in January, though they were limited to nose-to-nose jawing.
The issues appeared to be unresolved as of Friday. By halftime, the Aggies had carved out a 31-25 lead. The Titans, though, seemed in their comfort zone.
A struggled between Shorts and Ahmad resulted in a foul on Ahmad, with both players refusing to let go of the ball as referees repeatedly blew whistles. As players on the court sized each other up, Davis coach Jim Les sprinted from the other end, yelling at officials, "You see what happens, you see what happens!"
Emotions calmed, but moments later Shorts and Fullerton's Robertson were given technical fouls. "We were just going at each other," Ahmad said. "Neither one of us wanted to go home."
UC Irvine 61, UC Santa Barbara 58 — The Anteaters' depth got them to the final for the fourth time in the last six seasons.
Irvine's bench outscored Santa Barbara 31-1. Max Hazzard had a team-high 16 points and Elston Jones 11.
The score was tied at 57-57 when John Edgar Jr. converted a turnover into a basket to give the Anteaters (18-16) the lead with 2:40 left. Edgar finished with 14 points. Max Heidegger had 18 points for the Gauchos (23-9).
---