Bob Baffert has supporters and detractors in how he deals with jockeys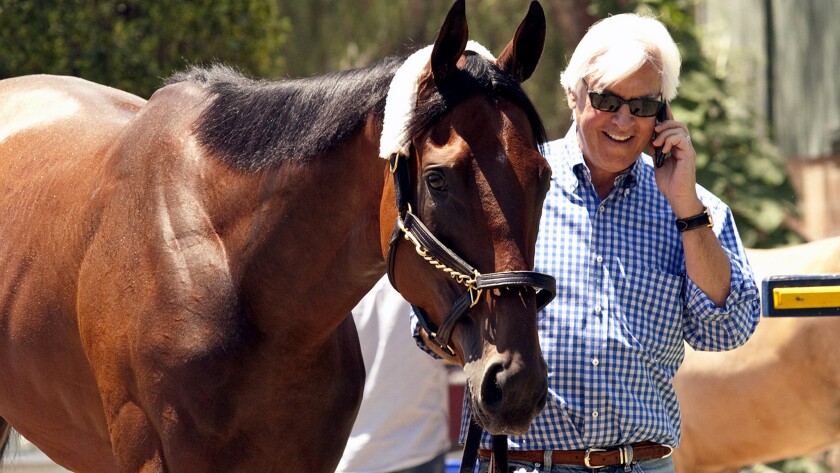 Bob Baffert, still fresh and snappy after hours of morning interviews, steps into his stall-sized office at Barn 5 near the front of the Santa Anita backstretch.
He immediately looks on his desk to find a faded winner's circle picture from a long-ago quarter-horse track.
"See who the jockey is? What do you think of that?" he asks.
At the middle of the page on the right side were the words: "Up: B. Baffert."
Slightly less than four decades ago, the country's most famous and arguably successful trainer was a quarter-horse jockey, winning a self-proclaimed 25 out of "about 2,000 races." Actually it was much fewer, but Baffert didn't mind poking fun at himself.
The relationship between trainer and jockey is one based on trust and the fact that two humans can build a plan that can be executed by a 1,000-plus-pound animal.
Baffert's supporters say he is one of the best at understanding the aspects of the trainer-jockey relationship. His detractors, including his jockey on Triple Crown winner American Pharoah, see it differently.
Baffert's most tumultuous relationship with a jockey seems to have reached détente recently when he welcomed back longtime regular rider Martin Garcia after a very public split in April.
"Martin was riding all my horses and it was tough for him because he wasn't getting any outside mounts," Baffert said. "I think there was always that thing in his head, what if I just went out on my own, and so he tried that. And then in August he came and said he missed being back here."
Like most splits, it's rarely about one thing, and there is usually a healthy splash of emotion.
Hall of Famer rides at Breeders' Cup
"I was always a bit of a father figure to him and sometimes I treated him like a father, and I was a little bit hard on him," Baffert said.
Garcia recognizes it's not always a pleasant process.
"A long time ago he gave me a chance and he gave me this advice, 'I want you to be the best and I get mad at you so you can be the best.' We don't like it when somebody gets mad at you and you get upset. But all my time with him [since 2009] I have learned a lot."
Garcia won some races away from Baffert, but not enough.
"It was very humbling thing for him to come back and say, 'Put me in, Coach,'" Baffert said
"One thing about racing, a lot of times you'll get upset with someone, yet we live in confinement here. It's almost like we live in a prison and you have to try and get along. Forgive and forget. I'm a pretty softie kind of guy. I wasn't really mad at him. I was kind of upset the way he kind of left without giving us a heads up. He just snapped.
"I think I needed some time away from him and he needed some time away from me. And so he came back and now and you can tell he's different now."
Garcia echoed Baffert's recounting of what went down.
"Whatever Bob says is right," Garcia said before exactly hearing Baffert's side. "I'm not going to say it was like running away from home. But, it was not good. Sometimes people need something like this to clear up their minds and you come back stronger. I'm back. And I thank him for having me back."
Garcia has been rewarded with riding Dortmund in the Breeders' Cup Dirt Mile on Friday at Santa Anita, replacing Rafael Bejarano, and he'll be aboard Drefong on Saturday in the Sprint, a case where the jockey dumped Baffert.
"I don't have a problem with it as long as they tell me ahead of time," Baffert said of a jockey switching horses. "I had Mike Smith on Drefong … and his agent says, what do you want me to do here?"
The agent was asking for absolution to move Smith from Baffert's horse to the favored and older Masochistic.
"I said, 'You ride the horse you think you want to ride and I'll get someone else,'" Baffert said.
Smith, a Hall of Famer who will ride Arrogate for Baffert in the Classic on Saturday, said that attitude was not unusual.
"Bob's really good at understanding situations like that," Smith said. "He's all for, 'If you can beat me, good for you. I'll get someone else, I'll be all right.'
"And he might say so-and-so is riding better than you right now and I'm going to go with him. You have to learn to take it both ways. And I have done that. He's actually taught me a lot of that. I totally understand it's nothing personal, it's just a decision for that day and for that race."
Last month a story by Bob Ehalt in Thoroughbred Racing Commentary painted a picture of a rift between Baffert and American Pharoah jockey Victor Espinoza.
Espinoza said he was appreciative that Baffert supported him when the owners wanted to take him off the horse. But Baffert's comments stung, saying Espinoza was "getting a little greedy" trying to cash in on the horse. Baffert wanted him to just focus on the horse and eliminate all the distractions.
Baffert now says the whole thing was overblown.
"There was never a feud," Baffert said. "I don't know where that story came from. … It was one instance over a business disagreement between the owners and Victor's agents or lawyers over the sponsorship. The stuff they wear on their pants. And the guys settled it and that was it."
Wednesday, Espinoza was not so quick to settle things.
"Bob is Bob," Espinoza said. "He just likes attention and if someone is trying to take his place, he turns things and puts them down. Hey, whatever makes him happy."
Espinoza believes he has been cast unfairly as the villain.
"You know good guys always finish last, right?" he said. "I'm the one who tries to do everything for the sport and I'm always in trouble. I try and do things to bring new people into the sport, but I always get criticized for it."
Baffert too believes he's misunderstood.
"I'm really not [tough on jockeys]," Baffert said. "Most trainers here, they ride whoever's hot. If they get cold, boom, they get rid of him. But for some reason, I stick with a jockey the longest and when you do have the separation it's a story.
"I'm not going to mention any names, but there are some [trainers] that are really, really tough. There is a lot of pressure and you're trying to find the right jockey. These guys ride all year long and they can't stay up all the time. They stay up, then they go down. But me, I ride it out. I use them while they are riding this thing out."
Riding it out, in whatever form, seems to be one of the fundamental principles of horse racing.
ALSO
Clippers' poor shooting leads to first loss of the season
Lakers earn their first road win of the season, beating the Atlanta Hawks, 123-116
108 is enough: Cubs beat Indians to end baseball's longest World Series drought
---
Get the latest on L.A.'s teams in the daily Sports Report newsletter.
You may occasionally receive promotional content from the Los Angeles Times.