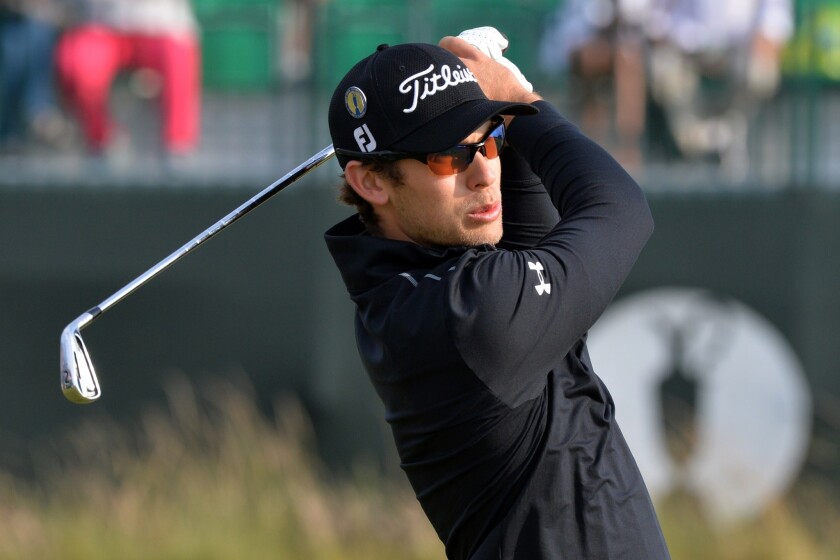 FROM HOYLAKE, England —
An event such as the British Open can create heroes among the unheralded.
There is Bryden Macpherson, for example.
The 23-year-old Australian and former University of Georgia player, exempt into this event because he was fourth at the 2013 Australian Open, shot 90 in his first round at Royal Liverpool. That included a run to open his back nine Thursday of 7-6-8-4-7.
Friday, he picked it up a bit, shot 80 and said, with humor and a sense of perspective, "I actually hit the ball in play today."
He also had other gems:
—"Yesterday, my short game was actually really good."
—"There are glimpses out there."
—"It would be a little weird for me to retire, I think. It's a little character building, that's all it is."
Out of the factory
Also in the unheralded hero category would be John Singleton, who lives close to the Royal Liverpool course, works 9-to-5 in an area resin factory and plays his golf after work in a municipal course across from Royal Liverpool. He qualified to get in and had a big local following for his first round, but he slipped badly on his back nine and shot 78 Thursday. He rebounded with a two-under par 70 on Friday, but did not make the cut.
Singleton is 30. He played college golf in Illinois for a while and was a pro golfer for a couple of years before two knee injuries forced him back home and to the resin factory.
Better than any hospital stay
Then there is Erik Compton, a two-time heart transplant recipient who continues to amaze people with his pursuit of pro golf. He shot a 71, one under par, in the first round and was asked about some of the bogeys in his round.
"This was a better day than any day I ever had in the hospital," Compton said.
Mickelson's magic
And in the category of heralded heroes, we have the ever-present, never-to-be-explained-nor-figured-out Phil Mickelson, the defending champion.
He is struggling just to stay above the cut line, so it didn't bode well for him when he drove it out of bounds Friday on the par-five 10th hole.
So what did Phil the magician do? He re-teed, hit his third shot well down the fairway, his fourth to six feet of the pin and his fifth into the cup.
Routine par.
John Daly struggles
John Daly is playing here. Yes, he is still playing and is exempt in the British because he is a former champion (1995 at St. Andrews).
It is kind of sad. They have him teeing off very late or very early with the other projected noncontenders, and he verified the organizers' lack of faith in him at this late stage of his career by opening with a 77 on Thursday.
Hazards on course
The fan who was struck in the face Thursday by Ernie Els' drive on the first hole has yet to be identified by the Royal and Ancient, which runs this event. But officials did say he was taken to the hospital, had some stitches, was not seriously injured and was given tickets to come back for the weekend.
Els was so shaken — the man bled a lot — that he lost all focus, three-putted the first hole from two feet and shot 79, a horrible start for somebody who has won this cherished event twice, including as recently as two years ago at Royal Lytham & St Annes.
The man was not the only one hit Thursday. A marshal named Bill Davis got conked twice, once by Rickie Fowler and once by Charl Schwartzel. Davis said both were nice to him but told the London Times, "Fowler seemed more interested at first in where the ball was."
Sergio Garcia nears lead
Sergio Garcia holds the lead among the pros for most consecutive majors entered with 61. He is second, behind Lee Westwood's 65, with 63 majors entered and no victories.
Friday, Garcia got it going early by muscling a shot out of the rough and into the hole on No. 2, an eagle that put him at five under and, at the time, just a stroke back of leader Rory McIlroy.
---