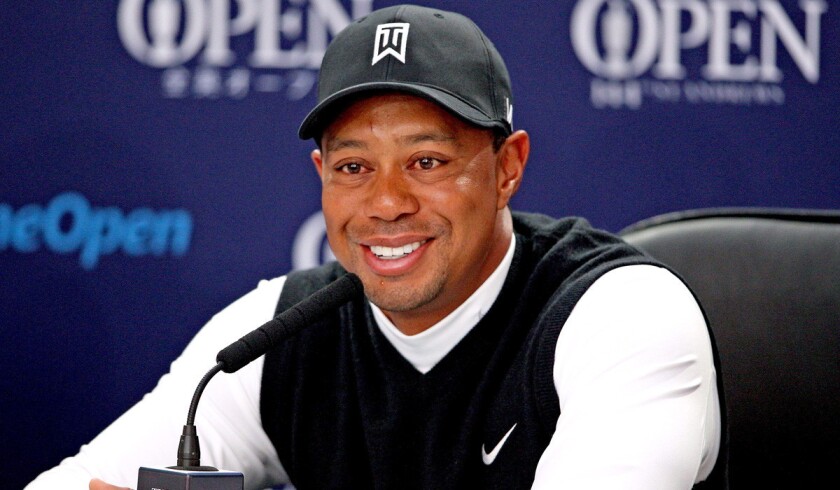 Reporting from ST. ANDREWS, Scotland —
As usual, the room was packed with reporters here Tuesday for Tiger Woods.
His golf game has failed him for seven years of major tournaments, since that famous U.S. Open limp-athon at Torrey Pines in 2008.
But that hasn't dulled the interest. If he is no longer the best golfer in the world — not by far now — he apparently remains the most interesting man in the world of golf.
He was asked about retirement. He will be 40 on the second-to-last day of this year.
"I don't have my AARP card yet," he said.
Woods was asked about the key elements of playing at St Andrews, where he has won two of his three British Open titles.
"A five-degree wind change can change the course dramatically," he said, adding that more than once he has played directly into the wind on the first nine here and then, when he turned for home on the back nine, the wind changed and he had to play into it again.
He was asked about Jordan Spieth, for the moment the new him.
"He's playing well, obviously," Woods said. "He's won two major championships and just won last week. Obviously, he's in great form. It's just a matter of going out there and executing his game plan."
How much of the current Woods state of the union the media are buying is hard to tell. One member, Golf Channel analyst Brandel Chamblee, left no doubt where he stands.
"Watching Tiger Woods go from belief to doubt, and watching him build his body up and break it down," Chamblee said, "and watching him try to reconcile all these difficulties and then try to manufacture a game and see how much he struggles with that mentally, he is a shell of the man that he was when he came here in 2000 and 2005."
Moving on
Dustin Johnson replayed his three-putt on the 18th hole that cost him last month's U.S. Open at Chambers Bay.
"I don't know why it [his second shot into the green] stayed where it did, above the hole," he said. "But unfortunately, it stayed up there, and it was just a tough putt. … I wanted it, if it went in, to barely go in, and it still went past by four feet."
He was also asked about his no-show at the awards ceremony, where presentations are also made to second-place finishers, in this case, him and Louis Oosthuizen.
"I didn't know," Johnson said. "For sure I didn't know. But it was time to get out of there. I'd had enough. I was ready to go."
Johnson will be paired with Spieth in the first two rounds here.
Attention-getters
Spieth teed off for his practice round Tuesday at 1:30 p.m. Before that, he was like a dignitary in a receiving line. One golfer after another, plus numerous tournament officials, wandered by to chat.
Another player getting lots of attention was Jason Day, who so famously persevered in the U.S. Open despite battling vertigo.
Victory dinner
Two-time Masters champion Bubba Watson, who ate at a Waffle House after one of his Augusta victories, was asked where he might dine here if he won.
"I noticed there was a Domino's Pizza right across the street here," he said. "I haven't seen a McDonald's yet, and I know from past experience there's a Subway."
Follow Bill Dwyre on Twitter @DwyreLATimes
---