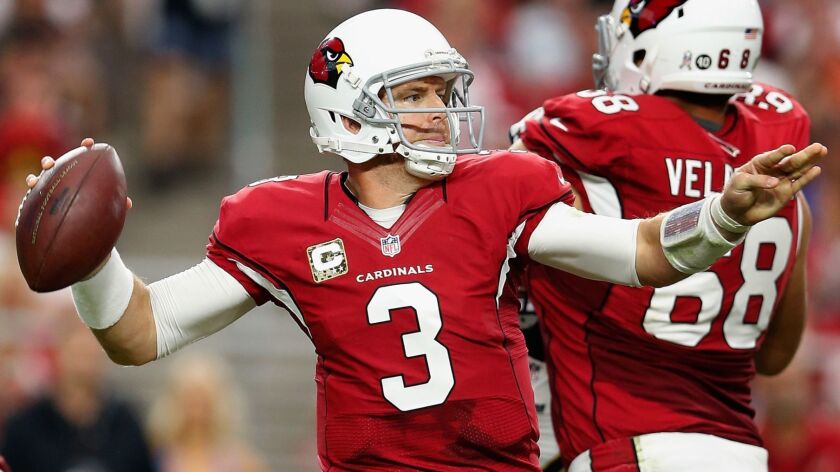 Carson Palmer will always be remembered around here as a Trojan. The former USC quarterback's No. 3 jersey was retired after a college career that included a Heisman Trophy in 2002 and the second-most passing yards (11,818) in team history.
As far as his 14-year NFL career is concerned, Carson might be most associated with the Cincinnati Bengals, who drafted him No. 1 overall in 2003 and notched their first winning season in 15 years during his first season as a starter in 2005.
But he will be immortalized by another NFL team, the one with which he spent the last five years of his career. The Arizona Cardinals announced Tuesday that Palmer will become the 18th member of the team's Ring of Honor at State Farm Stadium.
"I am absolutely honored," Palmer told Cardinals president Michael Bidwell in a Facetime chat tweeted Tuesday by the team. "Five years was not enough for me — I wish I could have gotten there earlier."
Palmer put up some of his best numbers during his time with the Cardinals, including his top three seasons in passing yards — 4,671 in 2015, followed by 4,274 in 2013 and 4,233 in 2016. His passer rating of 91.1 is second among players who attempted more than 20 passes for the Cardinals, and he's fourth on the team's all-time list for passing yards (16,782) and passing touchdowns (105).
Sign up for our daily sports newsletter »
He retired in 2017, two years after leading the Cardinals to the NFC championship game. He will be inducted into the Ring of Honor on Sept. 29. That night, the Cardinals host the Seattle Seahawks, who just happen to be coached by Palmer's former college coach, Pete Carroll.
Twitter: @chewkiii
---