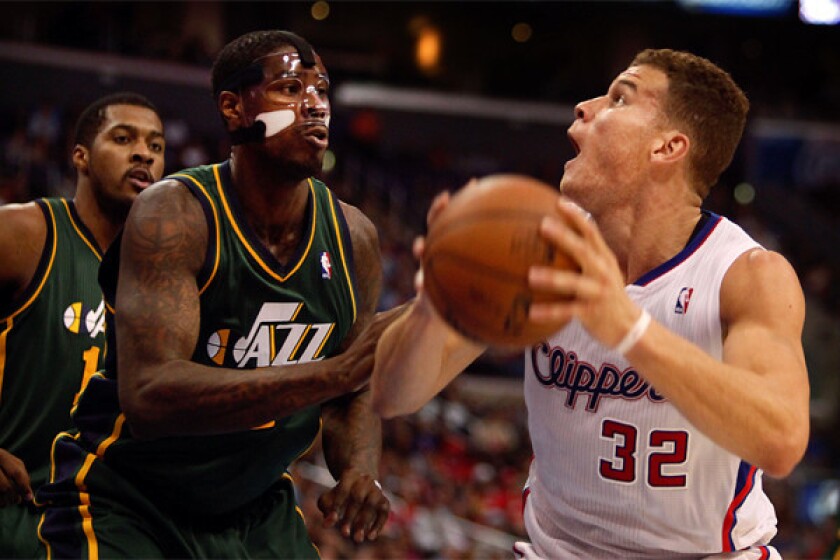 The Clippers were going to have to find the energy from somewhere after they used so much of it in their previous two games, emotional losses at Golden State and Portland.
And the Clippers were going to have to summon all they had while playing against a team, the Utah Jazz, with one of the worst records in the NBA.
Blake Griffin had the energy and the right game to power the Clippers to a 98-90 victory Saturday night at Staples Center.
Griffin scored a season-high 40 points on 13-for-20 shooting, overpowering Derrick Favors, Enes Kanter and Marvin Williams.
Griffin even made his first 11 free throws before missing one in the fourth quarter. He finished 14 for 17 from the line. He also had 10 rebounds. His only downside: Eight turnovers.
"We're getting him the ball in the right spots," Coach Doc Rivers said. "We trust him. He's good."
Chris Paul was one assist short of a triple-double, finishing with 21 points, 10 rebounds and nine assists.
The Clippers had to play all out until the end to make sure they didn't lose three straight games for the first time all season.
With 2 minutes 33 seconds left, right after a Griffin turnover, Paul fouled Trey Burke, who made both free throws to tie the score at 90-90.
But Griffin responded, scoring on a left-handed dunk off a pass from Paul.
Then Jamal Crawford, who was having a bad shooting night, made a three-pointer from the corner off a pass from Paul. Crawford was four for 16 from the field, two for seven from three-point range, in scoring 13 points.
When Paul made two free throws with 1:37 left for a 97-90 Clippers lead, they could finally breathe easily. Or easier, anyway. .
The Clippers were coming off two physically and emotionally taxing games, Christmas night against the Warriors and Thursday night against the Trail Blazers, two of the NBA's better teams. The Clippers lost by two points at Oakland and in overtime in Oregon.
But the Jazz was not the kind of team to inspire the Clippers, given its poor record (now 9-24) and the fact it was playing the second of back-to-back games.
Also, the Clippers — who didn't have backup center Ryan Hollins because of personal reasons — had defeated the Jazz six consecutive times before Saturday night.
So when Griffin picked up two fouls early in the first quarter, forcing him to the bench, it was another sign of how difficult this night was going to be for the Clippers.
"It was just one of those nights," Rivers said. "We just made enough plays to win the game."
Twitter:@BA_Turner
---