Column: Kevin Durant to the Clippers? There are some signs it just might happen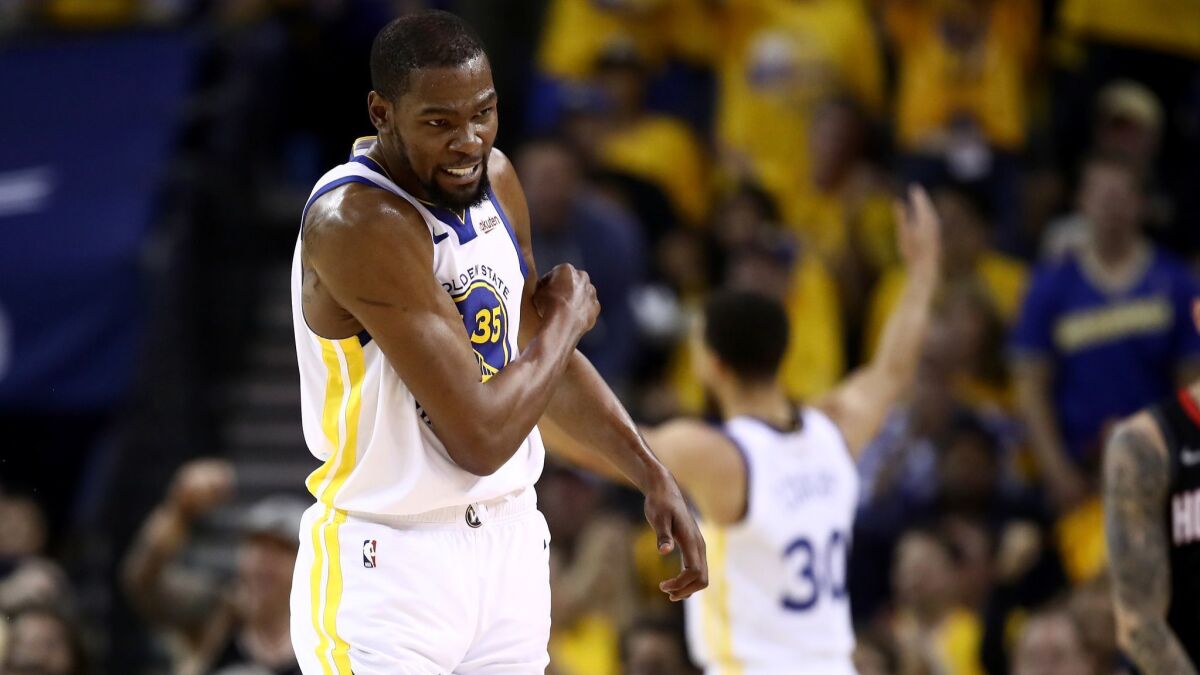 The Clippers' season ended last month but they were the most talked-about team in the league on Wednesday.
That's what happens apparently when you have an off day on the NBA playoff schedule and the Lakers take a momentary break from airing their dirty laundry on national television.
While the Clippers have long been thought of as the favorite to land Kawhi Leonard in free agency, they emerged as perhaps an equally favored destination for Kevin Durant when he also becomes a free agent this summer.
Marc Stein of the New York Times sent NBA Twitter into a frenzy when he wrote, "Within the last month, very smart and plugged-in people I have consulted say that the Los Angeles Clippers have emerged as an equally dangerous threat to the Knicks to sign Durant away from Golden State. And I believe it."
The Clippers will have two maximum slots to sign players this summer and they were always going to make a run at Leonard and Durant but were viewed as more of a longshot for Durant. While speaking on a panel in New York this week, Rich Kleiman, Durant's business manager, said Durant is "100%" undecided about his future.
That makes sense for a player in the midst of trying to win his third straight title, but his interest in the Clippers also makes sense. Kendrick Perkins, who was a teammate of Durant's in Oklahoma City and played for Doc Rivers in Boston, further fueled the Durant-to-the-Clippers talk when he sat down with Kristine Leahy on her show "Fair Game."
"Don't be surprised if K.D. signs with the Clippers," Perkins said. "Everybody is screaming New York but do not be surprised if K.D. signs and plays for Doc. I don't even have to recruit him. He likes the organization. He likes Doc Rivers."
The Clippers will have some familiar faces in the room should they sit down with Durant this summer. Clippers consultant Jerry West was with the Warriors when Golden State successfully recruited Durant three years ago. He helped sell Durant on the idea of the Warriors being the best landing spot for him if he wanted to win championships and have fun.
When West, who successfully recruited Shaquille O'Neal to the Lakers in 1996, talks, people listen. There's just something about advice coming from the man silhouetted in the NBA logo that carries a little more weight.
Durant knows and respects Clippers general manager Michael Winger, who was with Oklahoma City for seven seasons and was the assistant general manager while Durant was there, and Clippers assistant coach Rex Kalamian, who was an assistant in Oklahoma City from 2009-2015.
Durant, who has an offseason home in Malibu, filmed his "Boardroom" show at the Los Angeles Athletic Club and has aspirations to do more off the court and in technology, which Steve Ballmer, Clippers owner and former Microsoft chief executive, knows a thing or two about. The Clippers will sell Durant on building a legacy of his own on a team of his own.
There's no denying Durant's greatness as a player, but the Warriors' six straight playoff wins while he has been sidelined with a calf injury drives home the popular belief that they don't need Durant to win a championship. They had won a championship and were coming off a record-breaking 73-win season when Durant joined Stephen Curry, Klay Thompson, Draymond Green, Andre Iguodala and Shaun Livingston in 2016.
Even if Durant returns to the court to win his third straight title and third straight Finals MVP, many will believe he simply joined a team that would have won it all without him.
With the Clippers, he could cement his legacy as one of the greatest players ever by doing what no player has ever done before — turn them into champions. He would be making history if he just got them past the second round, which is something the franchise has never done. But the tandem of Durant and Leonard, arguably the top two players this postseason when healthy, would make the Clippers at least co-favorites to win it all next season along with the Warriors.
"You can see Kevin Durant going there," Perkins said Wednesday while talking to Colin Cowherd on FS1. "They're in L.A. He can flourish and be himself and it would be his team. I would love to see K.D. play for a coach like Doc Rivers and assistant coaches like Rex, Sam Cassel and Armond Hill. They have a great group of guys. The way Doc draws up plays with his play calling, I could just imagine the plays he would draw up for Kevin Durant."
Durant saw during the Warriors' six-game series with the Clippers how good their returning core is. Lou Williams and Montrezl Harrell are both up for the sixth man of the year award, Rivers is up for coach of the year and the rookie backcourt of Shai Gilgeous-Alexander and Landry Shamet were selected to the all-rookie second team.
The Clippers exceeded expectations last season by winning 48 games and nearly pushing Golden State to the distance in the playoffs. The team now wants to exceed expectations this offseason.
If Durant wants to carve out his own legacy and be remembered for more than riding the coattails of an already great team, his clearest path would be signing with the Clippers and leading them to their first title. In doing so he would be rewriting the history of a franchise and altering the perception of a player far greater than a replaceable cog on a championship squad.
---
Get our high school sports newsletter
Prep Rally is devoted to the SoCal high school sports experience, bringing you scores, stories and a behind-the-scenes look at what makes prep sports so popular.
You may occasionally receive promotional content from the Los Angeles Times.