Column: Fasten your seat belts! Ralph Lawler is retiring as voice of the Clippers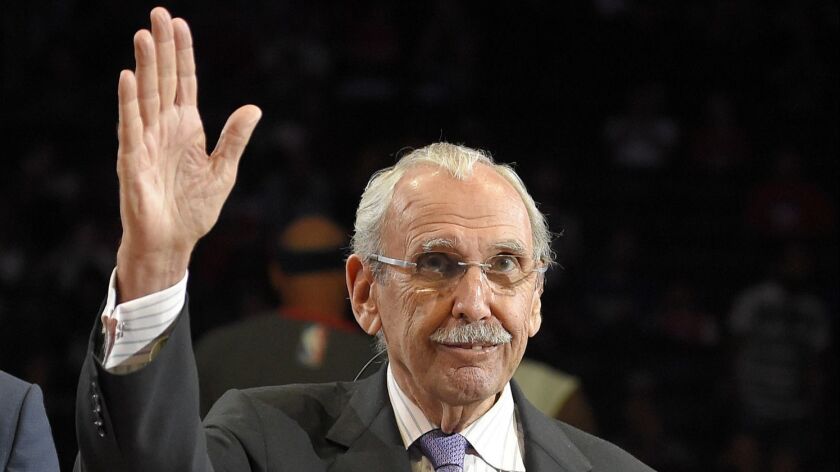 Ralph Lawler sighed. There is no law for this. Fastening your seat belts won't stop this. Calling bingo won't change this.
"This is my 40th year with the Clippers, my 60th year in broadcasting, my 80th year on earth … and it just seems inescapable,'' he said.
The voice of the underdog will soon be silent, the bard of bottomless hope is going still, the greatest narrator of losing in the history of basketball is finally at the end of his uphill journey.
Oh me, oh my, Ralph Lawler is retiring.
After enduring more than 2,000 losses in more than 3,000 games, the Clippers beloved longtime broadcaster says this upcoming season will be his last.
"It's hard to imagine life without the Clippers, but this is the time to do it,'' Lawler told the Los Angeles Times. "I'll be retiring at the end of the season.''
He has missed three games in 40 years. He has worked through flu, strep throat, kidney stones and, on one difficult night, a variety of ailments so debilitating he was slurring his words. He has seen more losing than one man should bear. Yet, as an entertainer who brought fans out of the shadows to create an unlikely Clippers Nation, Lawler is undefeated.
"Clippers fans have a heartfelt love for this franchise that might not be shared by any other fans of any other franchise in this town," said Lawler, who has been their primary broadcaster for all but two seasons since the franchise moved to San Diego in 1978. "If you love the Clippers, by God, you just love the Clippers, and I have such adoration for those fans.''
Lawler said he is good health, and that he actually made the decision a year ago. He was going to wait until April 10, the final regular-season game at Staples Center, to reveal it, but the Clippers wanted to properly honor him throughout the year, so he is announcing it now.
"The Clippers want to spend this year celebrating it, embarrassing the heck out of me, and they've been so good to me so long, I couldn't refuse,'' he said. "My Dad told me many years ago, 'When you reach the end of your rope, tie a knot and hang on,' and that's what I'll be doing all season long."
Throughout the years, Lawler has created a fun atmosphere that helped transform a franchise culture.
Clippers fans have never seen their team advance as far as the Western Conference finals, but they've had a blast serenading three-pointers with Lawler's trademark, "Bingo!''
Clippers fans haven't seen any championship buzzer beaters, but in the final moment on many winter nights, they've delightfully heeded his call to, "fasten your seat belts!''
And, yes, the most important and recited rule at Staples Center during Clippers games comes not from the ushers, but from the announcer. The moment one team scores 100 points, you can hear fans murmuring, "Lawler's Law,'' an infamous and league-adopted edict that states the first team to 100 will win the game.
"This isn't the national news, it's just sports,'' Lawler said. "I've always tried to make it fun.''
As interest in the Clippers has risen, so has Lawler's popularity, his shaggy mustache and professorial glasses as recognizable as a Blake Griffin dunk. He will retire having made an imprint on his organization that mirrors those made by the three great Los Angeles announcers who retired before him: Vin Scully, Chick Hearn and Bob Miller.
"Ralph Lawler isn't just the voice of the team, he has been the heart and soul of the Clippers,'' team owner Steve Ballmer said in an e-mail. "Ralph has lived every single moment with this team and has been an essential connection between us and our fans, who rightfully adore him.''
Lawler, the league's third-longest tenured broadcaster, will be feted by the Clippers and throughout visiting arenas during his final season, but he is missing one honor that hopefully will be rectified soon.
This isn't the national news, it's just sports. I've always tried to make it fun.
— Ralph Lawler
How is he not in basketball's Hall of Fame? The Curt Gowdy Media Award has given a Hall of Fame home to play-by-play broadcasters ranging from Hearn to Johnny Most to Hot Rod Hundley. How can Lawler not be among them? Is it because voters equate him with all the Clippers' losing?
On the contrary, he should be in the Hall of Fame because he helped stoke interest in the Clippers despite all that losing. "Even when the team was down 20 in the first quarter, you have an obligation to your club and to the fans to give people a reason to keep watching,'' he said.
Could voters be punishing him for the one-game suspension given to him and then-partner Michael Smith in 2009 after a complaint that they mispronounced, "Iran'' and "Iranian'' when describing Memphis center Hamed Haddadi? At one point, Lawler was criticized for repeating a compliment he often uses when inserting a player's home state or country into a game description, saying, "I guess those Iranians can pass the ball.''
Los Angeles has had few sports personalities with a stronger record of community leadership than Lawler, and it would be unfortunate if that one moment kept him out of the Hall.
"That's a stain on my life and career and so contrary to who I am and what I actually said,'' Lawler said. "It still makes me angry just to talk about it.''
Bill Walton said he has sent the same letter of recommendation and made the same phone calls every year trying to drum up support for his former longtime broadcasting partner.
"The Hall of Fame is reserved for people who make history, change history and direct history," Walton said, "and that is Ralph Lawler.''
NBA Commissioner Adam Silver also chimed in, saying in a statement, "We wish Ralph continued success in his final NBA season and thank him for his incredible commitment and dedication to NBA basketball.''
Besides the one-game suspension, Lawler missed just two other games in his career.
Once, he was stuck in a six-hour traffic jam while driving in from his desert home. The absence so upset him and wife Jo that they sold the house and moved to Marina del Rey.
The other time, he was recovering from kidney stone surgery and a breathing tube left him with a raspy voice.
"I should write a book called, 'The Survivor,''' Lawler said. "A lot of young broadcasters in this league ask me how I do this, but I don't have any words of wisdom. I just tell them, keep your head down, work every night and keep the people entertained.''
The Clippers so value his contributions that in the past dozen years, they have allowed him to be the only broadcaster in basketball to travel with his wife. But still, he is weary of missing holidays at home, and longs to fully enjoy his three children, seven grandchildren and one great-grandchild.
"You want to be able to have some of the time you have left to spend with your family,'' Lawler said. "I feel great, but I would hate to have health force me to retire. … I don't want people seeing me sick.''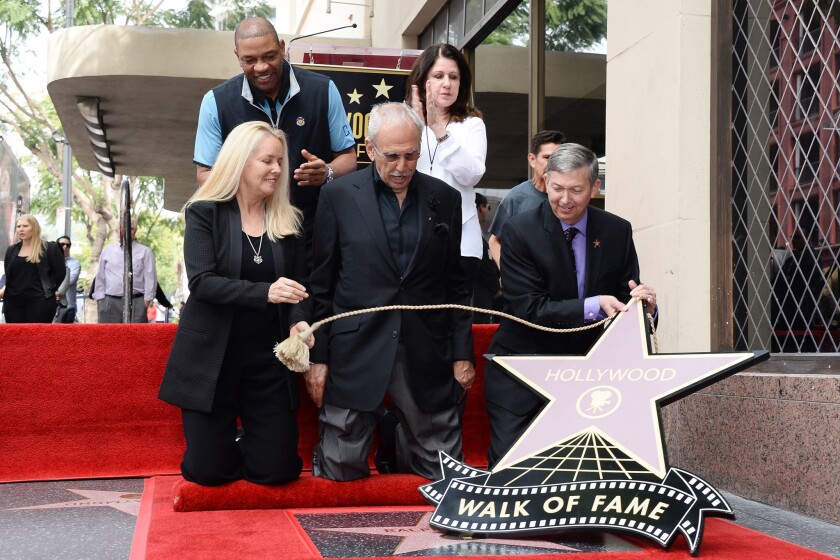 Last spring, he and Jo visited his star on the Hollywood Walk of Fame, an honor he received in 2016. It's on Vine Street, near the Pantages Theatre. They took out their phones and shined the flashlights on his name.
"If nobody ever remembers anything else about me, I guess I'll always have that,'' he said.
Oh, he'll have that and much more, this voice of hopeless hope, this narrator of endless promise, this keeper of Los Angeles' wildly flickering, never quite roaring, red and blue flame.
It figures that the humble Lawler began repeating his trademark saying only when urged by a friend, former Clippers executive Mitch Huberman.
"Mitch would tell me, 'I just love when you say, "Oh me, oh my," because it's just like saying hello,''' Lawler said.
After 40 of some of the greatest years in Southern California sports broadcasting, that meaning, and a rich part of Clippers history, will soon go in a different direction. s
Oh me, oh my, goodbye.
Get more of Bill Plaschke's work and follow him on Twitter @BillPlaschke
---
Get our high school sports newsletter
Prep Rally is devoted to the SoCal high school sports experience, bringing you scores, stories and a behind-the-scenes look at what makes prep sports so popular.
You may occasionally receive promotional content from the Los Angeles Times.