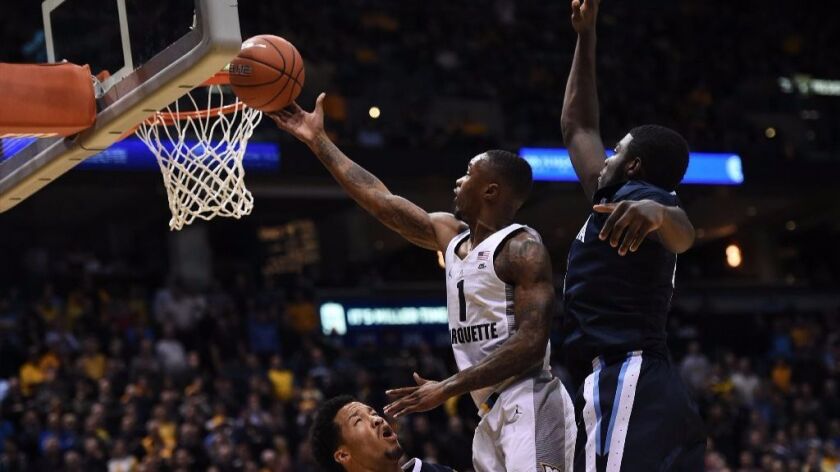 Katin Reinhardt made two free throws with 11.6 seconds left, Jalen Brunson missed a layup at the buzzer and Marquette upset top-ranked Villanova, 74-72, on Tuesday night at Milwaukee.
The Golden Eagles (14-6, 5-3 Big East Conference) rallied from a 17-point deficit.
Reinhardt's three-point basket from the right wing tied the score, 72-72, with 1 minute 4 seconds to play. He later made two free throws for the final points of the game.
Mikal Bridges had a season-high 20 points for the Wildcats (19-2, 7-2).
at No. 18 West Virginia 85, No. 2 Kansas 69: Esa Ahmad broke out of a shooting slump with a career-high 27 points and the Mountaineers (16-4, 5-3 Big 12 Conference) ended a winning streak by the Jayhawks (18-2, 7-1) at 18 games. Svi Mykhailiuk's three-point basket put the Jayhawks ahead, 59-58, midway through the second half but that was their last lead.
at Tennessee 82, No. 4 Kentucky 80: Robert Hubbs III scored 25 points and the Volunteers (11-9, 4-4 Southeastern Conference) ended the Wildcats' winning streak at seven games. Tennessee earned its first victory over a top-five team since an 83-76 triumph over No. 3 Pittsburgh on Dec. 11, 2010. Malik Monk scored 25 points for Kentucky (17-3, 7-1).
No. 12 Virginia 71, at No. 14 Notre Dame 54: London Perrantes scored 22 points and the Cavaliers (16-3, 6-2 Atlantic Coast Conference) pulled away late for their 10th consecutive victory over the Fighting Irish (17-4, 6-2). Perrantes' fifth three-point basket got the Virginia lead into double digits with just under four minutes to go.
No. 20 Purdue 84, at Michigan State 73: Caleb Swanigan had 25 points and 17 rebounds for the Boilermakers (17-4, 6-2 Big Ten Conference), who are off to their best eight-game record in the conference since the 2010-11 season. Miles Bridges scored 33 points for the Spartans (12-9, 4-4).
at No. 22 Maryland 67, Rutgers 55: Melo Trimble scored 17 points and the Terrapins (18-2, 6-1 Big Ten) went on a second-half surge to reach their best record after 20 games since 1998-99. Maryland led, 38-35, shortly after halftime. Corey Sanders scored 15 points for the Scarlet Knights (12-9, 1-7).
---