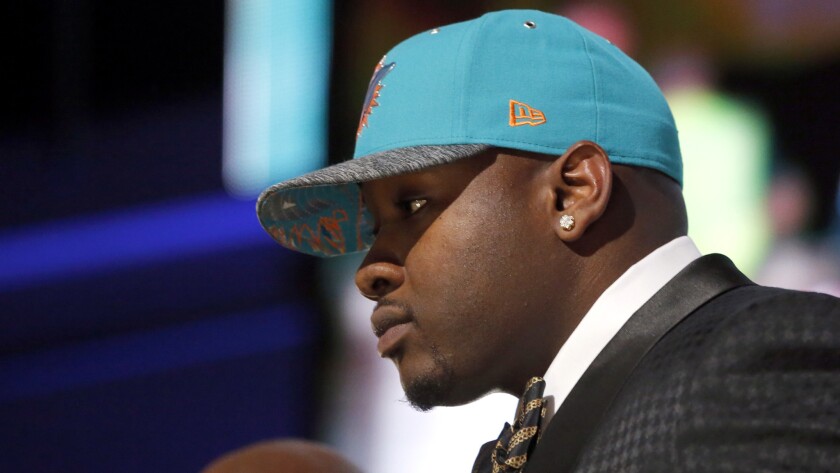 Mississippi says it will investigate former offensive lineman Laremy Tunsil's comments that he accepted money from a member of the football staff while playing at the school.
The university said in a statement Friday it is "aware of the reports from the NFL draft regarding Laremy Tunsil and potential NCAA violations during his time at Ole Miss" and "will aggressively investigate and fully cooperate with the NCAA" and the Southeastern Conference.
The question arose after a post on his Instagram showed an alleged text message exchange between the offensive lineman and a Mississippi football staff member that included Tunsil's request for money to pay bills.
When Tunsil was pressed about whether he took money, he said, "I'd have to say yeah."
The school is already under an NCAA investigation and received a notice of allegations from the governing body in January regarding possible violations in football, women's basketball and track and field.
Etc.
Crimson Tide Coach Nick Saban announced the resignation of Alabama defensive line coach Bo Davis in a two-sentence statement. Saban didn't elaborate on reasons.
::
Iowa has rehired the son-in-law of football Coach Kirk Ferentz to a staff position three years after he departed following questions about nepotism. Tyler Barnes will be the team's new director of recruiting.
::
Ray Anthony Lewis III, a Coastal Carolina defensive back and son of former Baltimore Ravens star Ray Lewis, has been arrested on suspicion of third-degree criminal sexual conduct. The allegation stems from a Jan. 23 incident in Conway, S.C., in which 20-year-old Lewis is suspected of engaging in sex with an 18-year-old woman incapacitated from using drugs or alcohol. Lewis was suspended from the team.
::
Prosecutors said they will not appeal a ruling that threw out some of the most serious criminal charges against three former Penn State administrators related to their handling of the Jerry Sandusky child molestation scandal.
---