Column: David Feherty's career is not just garden-variety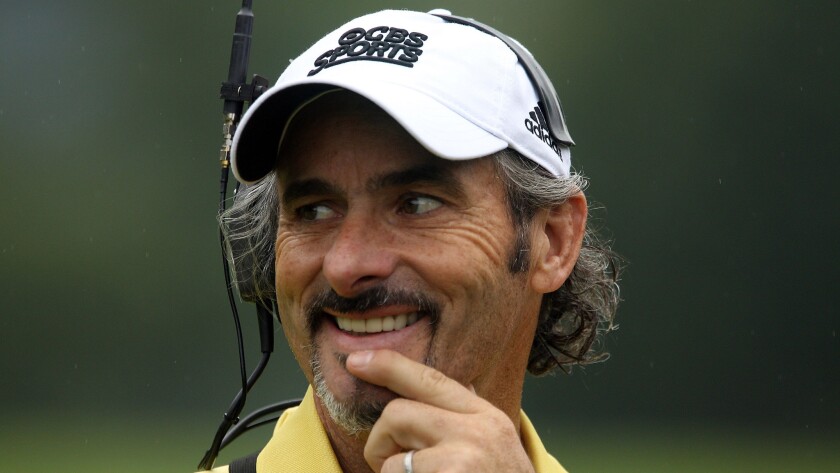 TV star David Feherty isn't the most complicated man in the world, but he's in the conversation.
He will turn 56 in two weeks, and the odds of that actually happening 10 years ago were not good.
He was a pro golfer, yet another good linksman from Northern Ireland, who won five times on the European Tour and finished in the top 10 of the tour's Order of Merit twice. He also was a European Ryder Cup player in 1991.
Considering his problems, those are incredible accomplishments.
Much of the time, he didn't so much play his way around the tour as drink his way around. His famous quote, one of hundreds of self-deprecating quips from his nonstop flow of Irish blarney, was: "I didn't quit drinking because I was a bad drunk. I quit drinking because I was a spectacular drunk."
He also fought off, and is still battling, bouts of depression. His Emmy-nominated Golf Channel interview show and his weekend work on CBS keep him constantly on the run.
"Time on my hands is my biggest enemy," he says.
Some of his offerings on the hourlong Golf Channel show, "Feherty," are sessions with Donald Trump, Samuel L. Jackson, President Bill Clinton, Rudy Giuliani and friends Tom Watson and Lanny Wadkins. Also Jim Furyk, whose swing he once characterized as resembling "a one-armed man trying to wrestle a snake in a phone booth."
So, we find ourselves in the Brentwood backyard of Al Michaels, Feherty's next interview victim. We are surrounded by the usual TV production equipment, always in such abundance that it looks as if they are going to dig for oil, not tape a show.
Quickly, the conversation branches out, so to speak.
Production guy: "Hey, David. Tell everybody what kind of tree that is."
Feherty: "Let's see, there's a Chinese Elm. And that one's a redwood."
Michaels: "I have a Redwood? I live here 28 years and I didn't know I had a redwood."
Production guy: "David knows 'em all."
The question is obvious: Why would a golfer from a childhood of the '60s and '70s in war-troubled Northern Ireland, who spent a major portion of his adult life in pubs and now spends a major portion of it on airplanes and in front of TV cameras, know a dandelion from a tulip?
There is a story, of course. There is always a story.
"My grandpa [David Weir] came back from World War I. He was 21 and he couldn't, or wouldn't speak," Feherty says. "It wasn't a physical injury. He was shellshocked. All we got was an occasional grunt. He had seen 90% of his company left dead all over battlefields. His memory was of limbs, body pieces. He was horrified to the point of being struck dumb."
And so Weir, a master carpenter, went about the rest of his life in silence, often taking grandson David on walks and writing down the names of plants and trees as they came upon them.
Feherty, who acknowledges that he can forget what hotel he is staying in and the names of his children, never forgot the trees and plants.
So there you have David Feherty — TV star, spellbinding interviewer, golf analyst, recovering alcoholic, battler of depression, former golf champion, father of five, world traveler, master of the quip and model of the egg-beater hairstyle. Also an amateur arborist.
Go figure.
Grandpa is also huge in the existence of Feherty's Troops First Foundation, which raises money for U.S. veterans.
"I could go do standup for an hour for them [which he still does, frequently]," he says, "but in an hour, I'd be in a helicopter, going somewhere else. The foundation does things that last longer."
He became a U.S. citizen on Feb. 23, 2010. He lives in Dallas, wears his love for the U.S. on his sleeve and will always be a big booster of our military. Thanks again, Grandpa.
"The size of their good deed is so underrated," he says.
His Ryder Cup experience is his biggest golf credential. In that '91 match at Kiawah Island, "The War by the Shore," the U.S. won by one point. Feherty halved one of the team matches, lost the other, and beat no less than Payne Stewart in singles.
So, come this year's Ryder Cup in Scotland, his European loyalty should be obvious. Or not.
"I'll root for the Americans," he says. "I pledged allegiance to the flag. Also, when I say that, it pisses off Colin Montgomerie."
It was Feherty, years ago, who suggested to Montgomerie that he pose for the cover of Golf Magazine dressed as Mrs. Doubtfire.
The day was to continue with interviews of Michaels, with the program set to begin its run during Michael's bread-and-butter time, the NFL season. They would jump in Michaels' pool, hit some golf balls at a nearby country club and generally spice up the show as best they can. But the real flavor comes from the interview.
"I like to think of it as a conversation more than an interview," Feherty says. He also says he is taken by how often Michaels, in his legendary broadcast career, has been in the right place at the right time. Example: "Do you believe in miracles?"
"I need to find out about that," Feherty says. "He has a sense, a sixth sense, I guess.
"He probably has a seventh sense too. Nobody every talks about that one, and it's an important one. A sense of humor. Why isn't that a seventh sense?"
If it were, Feherty would own it.
For now, think of him, among dozens of other things, as the world's leading standup arborist.
---
Get our high school sports newsletter
Prep Rally is devoted to the SoCal high school sports experience, bringing you scores, stories and a behind-the-scenes look at what makes prep sports so popular.
You may occasionally receive promotional content from the Los Angeles Times.