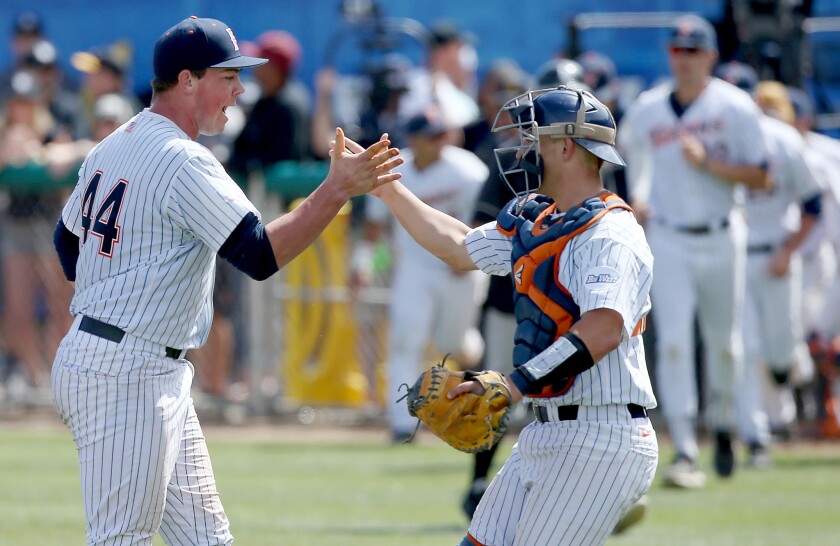 For as intimidating a figure as he casts at 6 feet 6 and 250 pounds, John Gavin is nuanced beyond that exterior.
"I will be the first one to tell you, I'm an emotional guy," Gavin said.
The Cal State Fullerton left-hander had to curb that side of his personality throughout a 12-0 win over Long Beach State on Saturday in Game 2 of an NCAA baseball super regional.
That reserve translated to Gavin's first career complete game as Fullerton tied the best-of-three series to set up the deciding game Sunday at Blair Field.
Gavin threw a seven hitter with two walks and Fullerton put the game away with a seven-run third inning. He came back out for the ninth inning with his pitch count at 109 and retired the Dirtbags in order.
Titans fans chanted his name.
"Goosebumps," Gavin said. "That was something I will never forget the rest of my life. They did it when I went out [earlier] and it got me really nervous and I think I threw one to the backstop. I got really scared there because I knew [Fullerton coach Rick Vanderhook] was watching and I thought he was going to pull me right after that. So I knew I had to get my emotions under control."
That will be important for both sides in what seems like a natural ending to the chippy Southland rivalry: A winner-take-all game for a berth in the College World Series.
"It's tee it up, toe to toe," Vanderhook said. "The Big West against the Big West. It's going to be a blast."
Said Fullerton shortstop Timmy Richards: "It doesn't really get much better than this."
Richards and Chris Hudgins led a statement attack. Hudgins was three for five with a two-run ground-rule double and a two-run home run in the eighth to cap the scoring.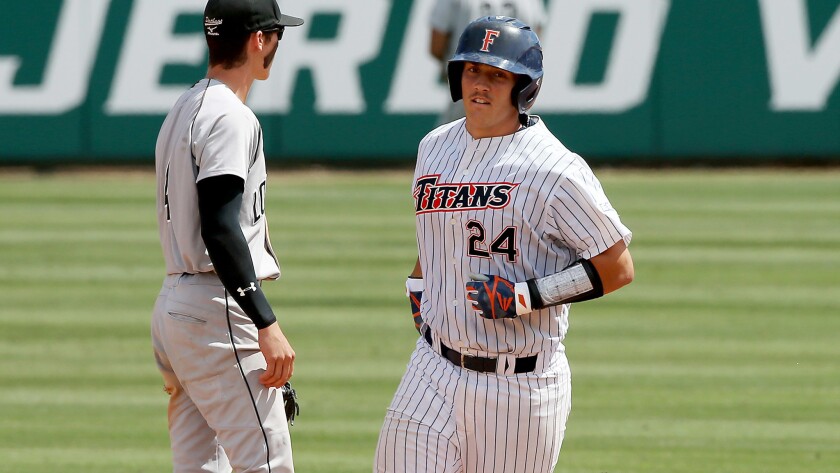 Richards, a product of Long Beach Wilson High, was three for four with two RBIs and is four for seven in the series played at his former venue.
"It's kind of full circle for me," Richards said. "I grew up watching the Dirtbags all the time, and now to be able to play them in a super regional, for Cal State Fullerton, as their rival, it's pretty awesome."
Dirtbags starter Dave Smith was done in by the third inning after giving up nine runs and 11 hits. He had not given up any runs in 13 postseason innings and had not given up a run in 13 2/3 innings against Fullerton this season.
Long Beach State coach Troy Buckley said it was too much to put on Smith, who pitched Monday. Smith hit the first two batters of the game.
"He's out of gas at this particular point, and that's on me for asking him of that," Buckley said.
Fullerton had eight hits in the third inning. With no relievers warmed up, Smith was stuck on the mound and gave up the second hits of the inning to Richards and Hank LoForte to make it 9-0.
"The bottom line is we had one bullet in the gun, and the gun was going to be used, and that bullet was going to get shot," Buckley said of leaving in Smith.
Fullerton is expected to start Colton Eastman for Game 3. Eastman, a preseason All-America selection, sat out nearly three months because of an elbow injury but beat Stanford last week.
"We were lucky to get him back at the right time," Vanderhook said. "He's seasoned enough to do this."
Long Beach State will likely start John Sheaks or Tyler Radcliffe. The Dirtbags can draw on having played three elimination games in the first round.
"We're battle tested," Laine Huffman said. "We had to win three games to even be here right now. So we've been through a lot as a team."
---