Column: Dodgers make the right move by giving manager Dave Roberts a new contract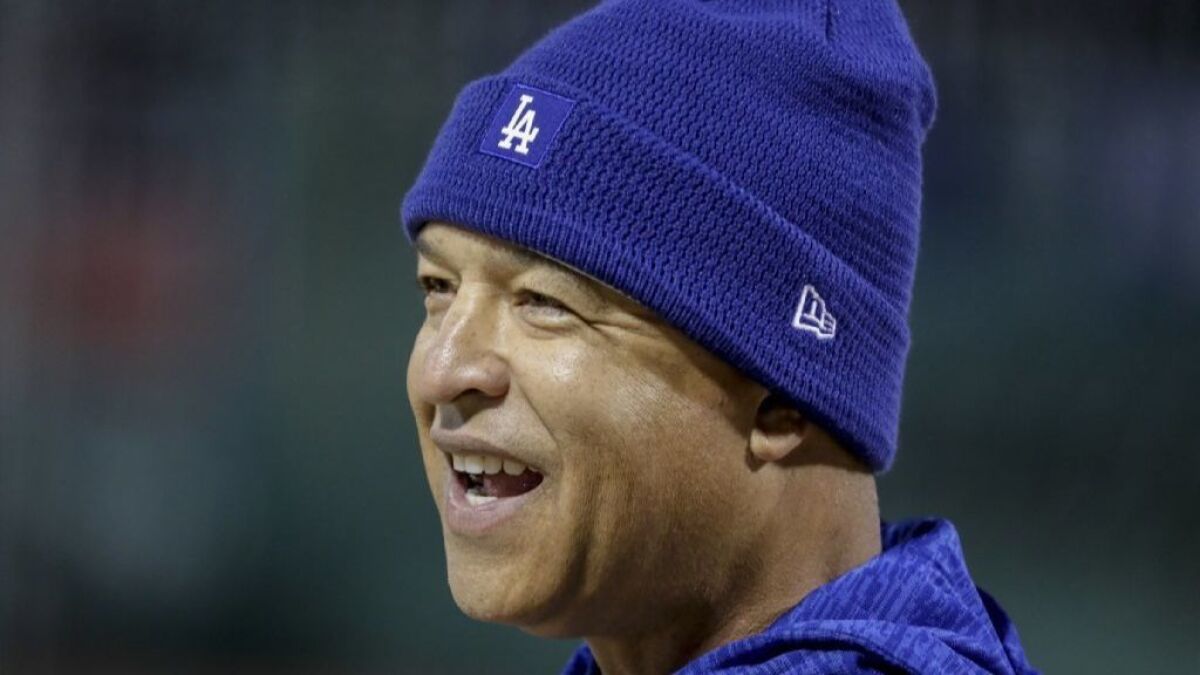 The roster changes daily. The lineup changes nightly. The bullpen reorganizes. The rotation rotates.
Throughout the last three Dodgers seasons, amid the constant rearranging of a clubhouse that sometimes feels like a bus station, there has been one constant presence, one unwavering voice, one clear caretaker of the culture.
It has been Dave Roberts.
He's the one who has convinced even the most hardened veterans to buy into the persistent platooning. He's the one who has gained the trust of even the most precocious of pitchers as they adjust to playing musical roles.
Roberts has used old-school nurturing to sell a cold analytics blueprint to a team that has responded by following him deep into October, and if you don't think that's crazy strong, you try telling Clayton Kershaw he's not starting the first game of the playoffs.
A cornerstone amid the cacophony, Roberts has been the unquestioned leader of this team, something the Dodgers smartly recognized Monday in making what could be their most important move of the offseason.
About a month after exercising a one-year option on a contract that could have cut into his clubhouse credibility and made him a lame duck, the Dodgers announced Roberts had agreed to a four-year deal that gives him the security his job requires and his accomplishments deserve.
"Like I said from the beginning, this is where I want to be, I love this city, I love this fan base, and we've done some good things together,'' he said Monday night in a phone interview. "For me to get that vote of confidence from the organization is just great.''
There were indications that if the Dodgers had insisted Roberts manage this season under that one-year deal, they would lose him to another team next offseason. Now, if he keeps the job for three more years, he will be the longest-tenured Dodgers manager since Tommy Lasorda, and it only figures that Roberts celebrated it with Lasorda swagger.
"With the culture we've created, this team has a legitimate chance to win the World Series every year,'' Roberts said. "And we're going to do it, we will win a championship here soon, I expect it to be in 2019, and it ain't going to be just one championship.''
In ranking fourth among all managers for regular-season wins (287) in his first three years, Roberts has led the Dodgers to consecutive World Series appearances after a National League Championship Series berth.
Three seasons, three West Division championships, three final fours, what's there to argue?
Well, OK, those Dodgers fans who chanted for Roberts' firing throughout this year's World Series loss to the Boston Red Sox might debate.
I know why some of you are still mad at him. Lots of people were mad at him. He made some lousy bullpen decisions. He was criticized for them in this space.
He should never have replaced Pedro Baez with Alex Wood in a Game 1 loss. He never should have gone to Ryan Madson instead of Baez in a Game 2 loss. And he never, ever, ever should have pulled Rich Hill while the left-hander was throwing a one-hitter in the seventh inning of a Game 4 loss.
Of that Hill decision, I wrote, "A horrible managerial move,'' and then I described a postgame scene featuring cheers and jeers.
While Boston fans chanted, "Let's go Red Sox,'' there were Dodgers fans chanting, in the same rhythmic pattern, "Let go of Roberts.''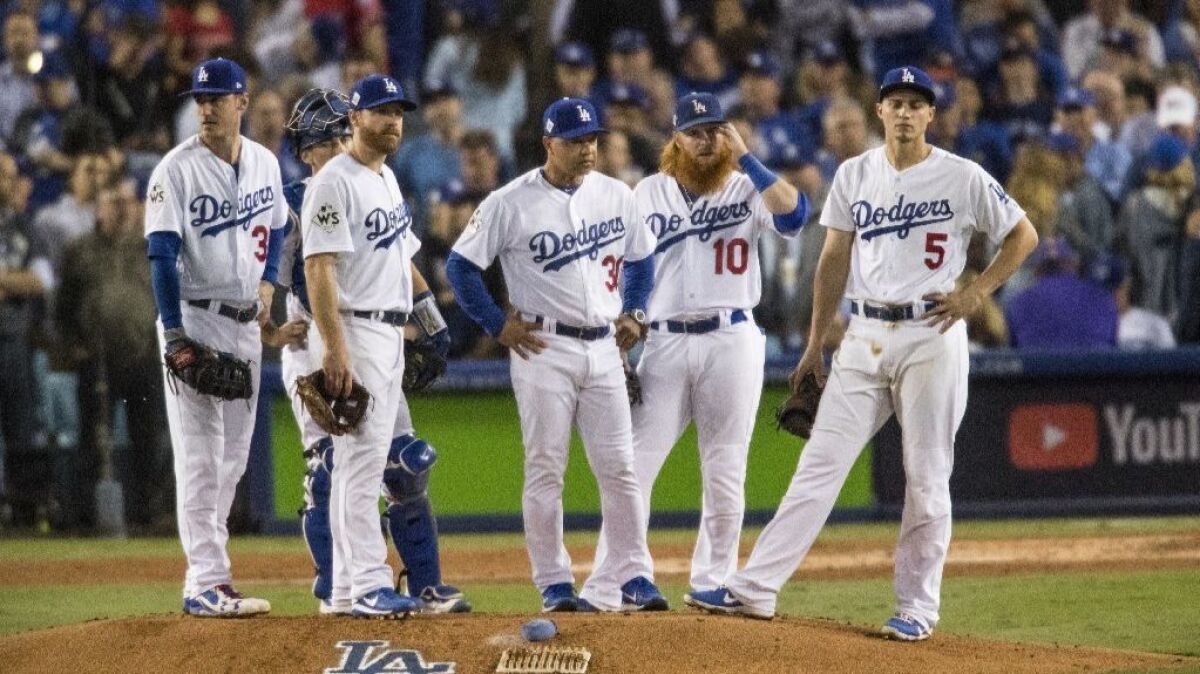 Actually, some of you folks are still mad at Roberts for pulling Yu Darvish too late in Game 7 of the 2017 World Series against the Houston Astros, and I get that, too.
Certainly, he has had some tough moments when the Dodgers have been on baseball's biggest stage, and fans have had every right to boo.
"That's what I signed up for,'' Roberts said. "This passion and care that our fans have for their team, that's something I don't take lightly.''
But it says here, the Dodgers would have never reached the World Series without him, particularly this season, when they were totally outclassed by the Red Sox and were fortunate to even slip past the Milwaukee Brewers in the NLCS.
And, understand, once they reach the postseason, the front-office involvement can be intense. Although Roberts makes the final calls on the pitching changes, the front-office directives are even more detailed, and that can make things tricky.
The guess here is, over the last three years, no manager in baseball has had to deal with more dugout scripts, more clubhouse upheaval, more front-office decisions that require a strong will to execute them.
The obscure personnel moves and maddeningly lineup switches made by the Andrew Friedman regime have been successful in the regular season — he's four for four in division series — but the commotion has come with a price. It is the price of having to explain to a guy that is getting benched the night after he hits two home runs. It is the price of asking a starting pitcher to come out of the bullpen in a high-leverage situation.
It is the price of dealing with the human side of a numbers racket, and Roberts pays that price daily, with a smile and a swagger, and he does it well.
"That's the toughest challenge of this multilayered culture,'' Roberts said. "Winning has to be the ultimate goal, but you have to make each player feel relevant and valued. I spend a lot of my time building individual relationships and encouraging each player to facilitate their relationships within the team, which allows us to buy into the entire Dodger philosophy."
Good thing he's sticking around to do more of that stuff, especially with the Dodgers surrounding him with four new coaches this season, including hitting coach Robert Van Scoyoc, a 32-year-old launch-angle guru who never played professional baseball. There are more changes surely coming in the clubhouse, with the Dodgers expected to attempt to trade Yasiel Puig and another outfielder for some pitching help.
More than ever, the Dodgers will need a clear vision and strong voice to guide them through the tumult.
Now, and for the foreseeable future, they have one
Get more of Bill Plaschke's work and follow him on Twitter @BillPlaschke
Get our high school sports newsletter
Prep Rally is devoted to the SoCal high school sports experience, bringing you scores, stories and a behind-the-scenes look at what makes prep sports so popular.
You may occasionally receive promotional content from the Los Angeles Times.