Ducks' Teemu Selanne could play Wednesday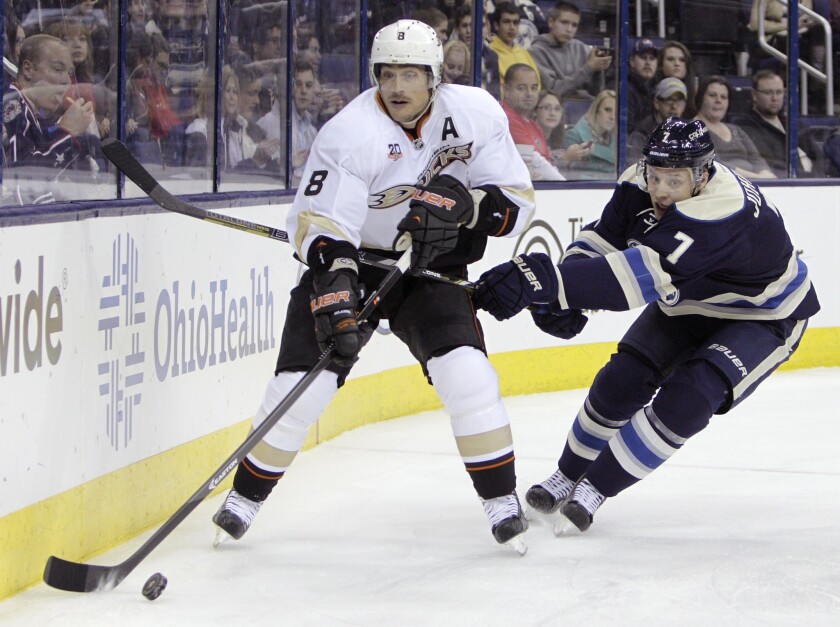 That dreaded trip to the dentist's office turned out to be less unpleasant than anticipated for Teemu Selanne, who flashed new pearly whites Tuesday and declared he's "ready to go" for Wednesday night's Ducks' game against the Phoenix Coyotes.
Selanne, 43, was struck on Oct. 29 with a high stick from Philadelphia Flyers defenseman Luke Schenn, and was originally declared out for two weeks and in need of oral surgery after needing 40 stitches to close his wounds.
Selanne said the four front upper teeth knocked out by Schenn were "fake ones," replacements for originals he had previously lost. There was no need for oral surgery, just some cement applied to insert a new four-tooth bridge in his mouth.
Selanne practiced Tuesday with the Ducks at Honda Center, where they returned after a 5-2-1 showing on a 15-day road trip.
"I was lucky in many ways, it could've been way, way worse," said Selanne, who has had all the stitches removed. "The mouthguard saved me. It was just a half hour to put the new ones in."
Ducks Coach Bruce Boudreau said Selanne is day-to-day and his playing status for the Phoenix game will be evaluated after Wednesday's morning skate.
"I'm ready," Selanne said. "I skated today, and I've been skating a couple days already."
Expendable?
Goalie Jonas Hiller has six wins for a team that finds itself with even greater goalie depth than it had after Viktor Fasth's emergence last season.
Rookie Frederik Andersen, substituting for an injured Fasth, followed his shutout of Dallas in relief of Hiller on Oct. 20 with a 3-0 showing on the eight-game trip.
NHL teams are expected to pursue Hiller. He's in the final year of a contract that pays him $4.5 million this season.
Does Hiller expect to last the season with the Ducks?
"I don't know," he said. "I can't decide everything. The only thing I can do is play as good as possible. That gives me the most opportunity for next summer. We have a good team here. It's way more fun to have success as a team and personally. If the team plays well, it's better for a goalie. I like it here. I'd love to stay."
Boudreau dismissed the suggestion Hiller has become expendable.
"Hiller's a great goalie and gives us great depth," Boudreau said. "Andersen's played good, but it's a very small sample size. Hiller's been great for five years. You're not giving up on anybody who has been that good for you, who's won playoff rounds for you, and then . . . anoint a guy who's won four games."
Injury updates
Center Saku Koivu (concussion) was absent from Tuesday's practice because of a follow-up medical evaluation but "should be on the ice" Wednesday, Boudreau said.
Forward Matt Beleskey (broken left thumb) practiced with a light wrap over his thumb and can expect to play "sooner, rather than later," Boudreau said.
Wednesday's game
VS. PHOENIX
When: 7 PST.
Where: Honda Center.
On the air: TV: Fox Sports West; Radio: 830.
Record vs. Coyotes: 1-0.
Etc.: Coyotes defensemen had scored at least three points in five straight games before the streak ended in Saturday's shootout win over San Jose.
Twitter: @latimespugmire
---
Get the latest on L.A.'s teams in the daily Sports Report newsletter.
You may occasionally receive promotional content from the Los Angeles Times.