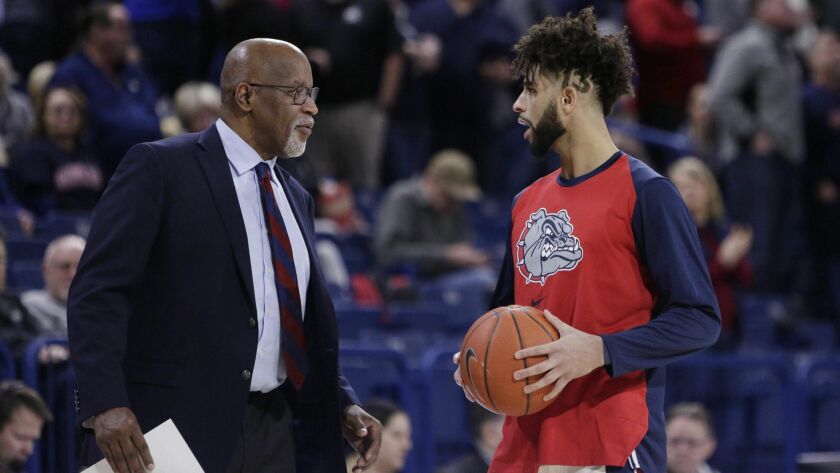 It might have seemed like folly to some when Donny Daniels departed UCLA for Gonzaga nearly a decade ago.
The veteran assistant coach appeared to be moving up only in terms of geography, leaving Ben Howland's Bruins for a program that was going to the NCAA tournament every season under Mark Few but never advancing past the second weekend.
Making the change all the more curious, Daniels' Bruins had been part of that March misery.
Some of the goosebumps haven't faded from Jordan Farmar and Cedric Bozeman trapping Gonzaga's J.P. Batista and forcing the steal that would lead to the go-ahead basket during an epic comeback victory over the Bulldogs in a 2006 NCAA tournament regional semifinal.
But something Farmar once said about Gonzaga had stuck with Daniels like a season-ending loss. The point guard raved about the family environment he experienced in Spokane, Wash., after nearly picking the Bulldogs over the Bruins coming out of Taft High in Woodland Hills.
"I think the whole team came to one of his games and he visited [Gonzaga's campus] twice on his own," Daniels recalled Friday while standing in a hallway inside the Bulldogs' locker room at the Honda Center. "That was one of the reasons I decided to come here."
Nearly a decade later, it's looking like a decision as wise as John Wooden.
Gonzaga will make its third appearance in a regional final in five years Saturday afternoon when the top-seeded Bulldogs (33-3) face third-seeded Texas Tech (29-6). If Gonzaga wins, it will advance to its second Final Four in three years.
"I still don't believe the success that we've had here," said Daniels, a Los Angeles native who left UCLA in the spring of 2010 after seven seasons with the Bruins. "It's crazy."
Equally wild is the hard times that have befallen the Bruins. UCLA missed the NCAA tournament for the second time in four years and is seeking a new coach. Daniels said he still considered the opening an elite job.
"If you say, 'college basketball,' " Daniels said, "UCLA isn't mentioned first, but it ain't long before it is. And I think a coach wants that."
The grandfatherly Daniels, 64, sought the sustained success he's found at Gonzaga, which has advanced to at least a regional final for five consecutive seasons. He said the winning formula has involved the continuity of the staff — Daniels, in his ninth season, is the second-least-tenured coach — as well as a firm understanding of the program's identity and an ability to recruit accordingly.
The Jesuit school scours the world over in search of grinders who don't mind toiling in a remote corner of Washington. This season's team features players from France, Serbia and Japan.
"We're able to get good guys, good players that don't have a problem with Spokane," Daniels said. "Because it's on the east side of the state, there's not a lot to do but a lot of guys don't need that to be successful."
Daniels trotted out an old quote from former Bulldogs power forward Johnathan Williams as a reminder of the team's mentality: "There's nothing to do in Spokane; I just go to the gym and shoot."
Gonzaga's post players do much of their shooting alongside Daniels, who has become a big-man specialist since his days as an assistant under Utah's Rick Majerus. Bulldogs forward Brandon Clarke said Daniels told him his legs were too close together when he shot, prompting an adjustment that improved his accuracy.
"He always tries to give tips for us," forward Killian Tillie said. "He reminds you of little things that are important, to go rebound or box people out."
When Gonzaga defeated Florida State on Thursday, it was Daniels' 12th appearance in a regional semifinal. He's gone three times with UCLA, four with Utah and five with Gonzaga. He said his favorite NCAA tournament memory came in the Honda Center in 1998 when the Utes defeated Arizona in the regional final to advance to his first Final Four, where they lost to Kentucky in the championship game.
Daniels went back to the Final Four three more times with the Bruins as part of a career that's spanned more than three decades.
"I wish somebody would do a story on Donny," Few said. "He's got enough experiences to write a book. Are you kidding me?"
Few said he was thrilled to add Daniels to his staff in part because it meant they no longer had to go head to head in recruiting. Daniels was credited as the chief recruiter of Utah stars Andre Miller and Keith Van Horn before helping the Bruins land several recruiting classes that ranked among the best in the nation.
Some of the honors are now coming Daniels' way. He's one of eight Division I coaches who will be inducted into the A STEP UP Assistant Coaches Hall of Fame in May in Atlanta. A STEP UP, which stands for Athletic Symposium to Elevate Professionals and Uplift Performance, provides professional development for coaches.
Sign up for our daily sports newsletter »
Daniels said he doesn't need be a head coach again after getting a three-year taste of that lifestyle at Cal State Fullerton before accompanying Howland to UCLA in 2003.
"If that time comes, I mean, that's outstanding," Daniels said, "but I've had a heck of a career. I mean, I want to win a national championship worse than anybody, but if I look back on my career, I've got no beef. I mean, I've had the best seat in the house for the last 35 years. No one's had a better seat.
"I mean, if someone told me you've got 50-yard-line seats but you'll be 10 rows back, I would be pissed. I'd be like, what do you mean 10 rows?"
Follow Ben Bolch on Twitter @latbbolch
---