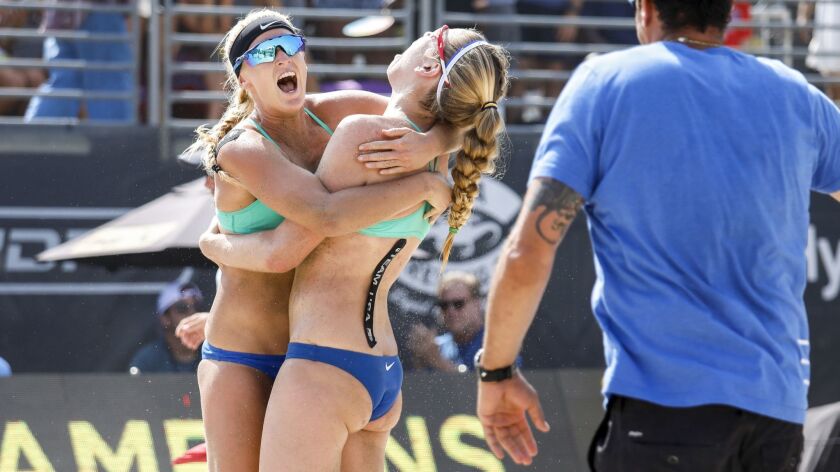 Breaking in a new partner takes time, but the sun may be rising on a new dynamic duo in women's beach volleyball.
Summer Ross and Sara Hughes got valuable on-the-job training and walked away with $15,000 after outlasting the "A-Team" — two-time Olympic medalist April Ross and four-time Stanford All-American Alix Klineman — 19-21, 21-19, 17-15 in a marathon one-and a-half-hour championship match Sunday afternoon at the Hermosa Beach Open.
It was the second AVP Tour title in as many tries for Ross and Hughes, who also won the $20,000 Gold Series event June 7-10 in New York City. Hard as they had to work for their latest triumph, they had precious little time to celebrate. Minutes after popping the champagne bottles they scurried home to shower and change for a 7 p.m. flight to Austria for the Vienna Major, a five-star FIVB event.
"We both live right up the street [in Hermosa Beach] and yeah, we gotta go," said the 23-year-old Hughes, who grew up in Costa Mesa, was an indoor All-American at Mater Dei High in Santa Ana and served as captain of the USC beach team for three years. "We've only been playing together for four months but we've known each other since we were 8 and 10."
Summer Ross hit off a block to set up the first match point, but it took 23 points before the match was finally decided when her serve down the middle could not be handled.
"This was so intense ... I'm still shaking!" said Ross, a 25-year-old from San Diego who played at Washington and Pepperdine and was the FIVB Youth Under-19 and Junior Under-21 world champion in 2010 — the only player to win both titles in the same year. "What a huge relief!"
Klineman, a South Bay native and prep star at Mira Costa High in Manhattan Beach, served a clean ace to snap an 8-8 tie, then spiked for a two-point lead in the first set. April Ross dove to dig a spike attempt, then recovered to angle a cross-court kill for a 19-15 lead. In the second set, Hughes and Summer Ross strung three straight points together out of a timeout to level the match.
"We're still a fairly new team but we needed to trust each other," Hughes said. "We've grown a ton, especially from the eight or nine international events we've been to. You want to win every tournament but the important thing is to learn from the losses. The ultimate goal? Of course a gold medal in Tokyo in 2020."
Caitlin Ledoux and Geena Urango shared third place with Kelly Claes (Hughes' former partner at USC) and Brittany Hochevar, who staved off four match points before falling to Ross and Hughes in the semifinals, 21-18, 21-19. Ross pounded 21 kills, including the match-winner, six digs, one block and three aces.
By the time the men's final ended, the sun was sinking into the sea but the grandstand crowd was treated to an epic comeback by top-seeded Theo Brunner and tour veteran John Hyden, who savored his first victory in Hermosa and 13th AVP title with a 21-19, 16-21, 16-14 triumph over Billy Allen and Ryan Doherty.
Back-to-back blocks by Brunner leveled the decisive set 14-14 and a lift violation two points later sent the winners into an emotional celebration after stringing together four straight points to emerge victorious in the four-day, 24-team competition.
"I guess this shows that we're resilient and we don't give up, which is something we haven't been doing this year," said Brunner, who earned his third AVP title. "Johnny had faith in me and I had to get it done for him."
Playing only his fourth event with his new partner but 142nd on the AVP Tour, the 45-year-old Hyden has learned to relishevery victory.
"I find 13 to be very lucky," said the Sherman Oaks resident, who has racked up nearly 30 first-place finishes since turning pro and was named FIVB Most Inspirational Player last year. "Every time I win, every time I get a new record, it's special. With the freeze rule, [side-out scoring once match point is reached] you can never give up. You have to battle back."
The match of the day proved to be the second men's semifinal in which Brunner and Hyden outlasted second-seeded Taylor Crabb and Jake Gibb 21-16, 18-21, 15-12.
After 10 consecutive side outs, Brunner ended the marathon with a spike to dethrone the defending tournament champions.
---