Michael Wrona hopes Santa Anita is his final port of call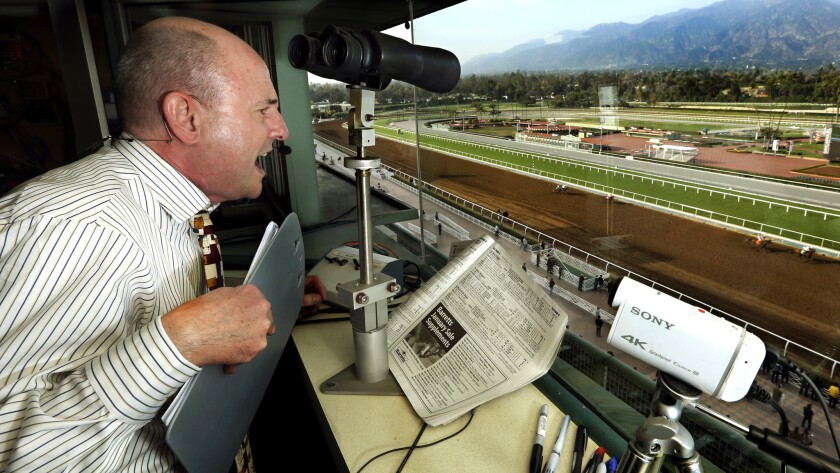 The 3-year-old chestnut gelding rounded the turn for home, taking the lead in the deep stretch during the fourth race last Saturday at Santa Anita.
The race wasn't important, just 5 1/2 furlongs for horses that had never won. But track announcer Michael Wrona, voice swaddled in an Australian accent, saw it as a moment to add a touch, show some flair, even though it would be missed by all but the most knowledgeable fans.
"Denman's Call strikes the front at the 16th pole. And Denman's Call, moving like a winner, races away to beat Cupid by four lengths," Wrona said.
The phrase "moving like a winner" has long been tied to Santa Anita race caller Trevor Denman, whom the horse was named after. Denman announced his retirement from L.A.'s signature racetrack shortly before opening day after more than 20 years.
Wrona, who does not like to rehearse lines, handled things differently this time.
"I thought it would be nice to use one of Trevor's lines, but I didn't know anything about the horse's ability or racing style," Wrona said.
"I thought maybe if the horse were a long ways back and struggling I might say 'Denman's Call needs to sprout wings,'" echoing another classic Denman call.
Denman, who will still work at Del Mar, is considered the best race caller in the U.S., and Wrona wants to replace him at Santa Anita.
He's on the short list, along with Frank Mirahmadi and a few undisclosed national and international announcers whom Santa Anita plans give the most public of auditions. Wrona and Mirahmadi are alternating three-week stretches.
Wrona's apprenticeship has been long and difficult, a series of losing jobs, a failed marriage, and a life that makes storage units a probability and home ownership an impossibility.
It started 35 years ago on his bedroom floor in Brisbane, Australia. Wrona's grandfather bought him a roll-the-dice horse racing game.
"I got the most enjoyment by abandoning the rules and just pushing the horses by the roll of dice and calling out their names," Wrona, 49, said of his teenage years.
With lengendary race caller Trevor Denman no longer in the both, Australian Michael Wrona looks to makes his mark at Santa Anita Park.
Still, the dice roll was too slow, so he figured out something else.
"I took to drawing the color of the silks on the jockeys and horses on little pieces of paper about an inch by an inch-and-a-half and I would push them across the floor," Wrona said. "I accumulated more than 1,000 of these pieces of paper and kept them in different brown paper bags."
"I spent a lot of my early teens on the floor calling out these races at the top of my lungs."
Race callers identify horses by the colors the jockey is wearing, not the number on the horse. "But we do love the grays," Wrona said.
He called his first race at 17 and got his first radio gig at 19.
Scott Hazelton, who has been at TVG for more than a decade, was quick to inform television viewers about the subtle brilliance of the Denman reference Saturday. He also considers himself a fan of Wrona.
"He not only calls the races, he paints a picture," Hazelton said. "There are so many layers to his call. His preparation adds to the description, but they are not overdone. They just flow so naturally. What he does is take a minute to two minutes of canvas and makes the most of it."
Wrona's idol was legendary Australian caller John Tapp, whom he had never talked to until he received a call from him in 1990. Hollywood Park owner Marje Everett wanted Tapp to call some races, but Tapp was more interested in a short family vacation. So, Tapp brought Wrona with him.
See more of our top stories on Facebook >>
"Before I knew it, I was meeting my idol for the first time at Sydney Airport, bound for Los Angeles with his wife, two daughters and mother-in-law," Wrona said. "Obviously, it was life changing, not just career changing."
Wrona described what followed and his succession of jobs as a "checkered passage."
One year at Hollywood Park, ousted after a change in management. Up to Northern California, where he called Bay Meadows and added Golden Gate Fields, but a change in management at Bay Meadows left him with only five months of work at Golden Gate.
"I figured this was for me for as long as I wanted," Wrona said. "Wrong again."
He headed to Texas and in 1995 was at Retama Downs in San Antonio. The track declared bankruptcy before the end of its first season.
He was headed back to Australia when Arlington Park in Chicago hired him. He worked two years there before the track was shuttered as the owner tried to figure a way to compete with riverboat casinos.
"So I lost four jobs in seven years," Wrona said.
From there, he was back in California to do Golden Gate Fields, but when the Hollywood Park announcer went to Churchill Downs, he moved downstate. That lasted a year. Wrona wanted a longer-term contract and Hollywood Park didn't. It was the first time he left a job of his own volition.
They are just flirting with danger. I'm the kiss of death.
Michael Wrona, who has called horse races at four tracks in seven years
It was back to Texas and a new track near Dallas called Lone Star Park. He also picked up the Fair Grounds in New Orleans. Things were going well except his wife was in New York working in theater and he was in the Central time zone.
He was at Lone Star for five years, but after the track hosted the Breeders' Cup in 2004, budgets were cut and they wanted to do the same to his salary. About the same time, he lost the job at Fair Grounds when the track was sold.
Most announcers get paid by the day. There is usually no sick pay, no vacation pay, and if racing dates go from five to four a week, it amounts to a 20% cut.
Neither Wrona nor track officials would talk about Santa Anita's pay structure. Announcers such as Denman and New York's Tom Durkin may command a couple of thousand dollars a day, other big track announcers might make $500 to $800 a day.
After spending some time with his wife in New York, it was back to Northern California for Wrona. His wife, however, headed to Los Angeles as the relationship was nearing an end. He was calling at Golden Gate Fields and picked up Bay Meadows, until it was bulldozed in 2008. He closed yet another track.
"I don't know why anyone would hire me, quite frankly," Wrona joked. "They are just flirting with danger. I'm the kiss of death."
Get the latest in sports with our free newsletter >>
Wrona has since settled in at Golden Gate. The track is owned by the Stronach Group, which also owns Santa Anita. So, the opportunity of a lifetime, being the full-time caller at Santa Anita, is within sight but not in grasp.
Joe Morris, senior vice president of West Coast operations for Stronach, will decide who will replace Denman at Santa Anita.
Calling it perhaps the most important decision he makes this year, Morris says he won't make it in a vacuum.
"Fan input is probably the biggest factor to the decision," Morris said "How to quantify that is the challenge."
A choice is expected before the end of the meeting in early April.
Until then, Wrona will be shuttling back and forth, staying three weeks at a time at a hotel near Santa Anita, to discover what's next in this 25-year American adventure.
Follow John Cherwa on Twitter: @jcherwa
---
Get the latest on L.A.'s teams in the daily Sports Report newsletter.
You may occasionally receive promotional content from the Los Angeles Times.