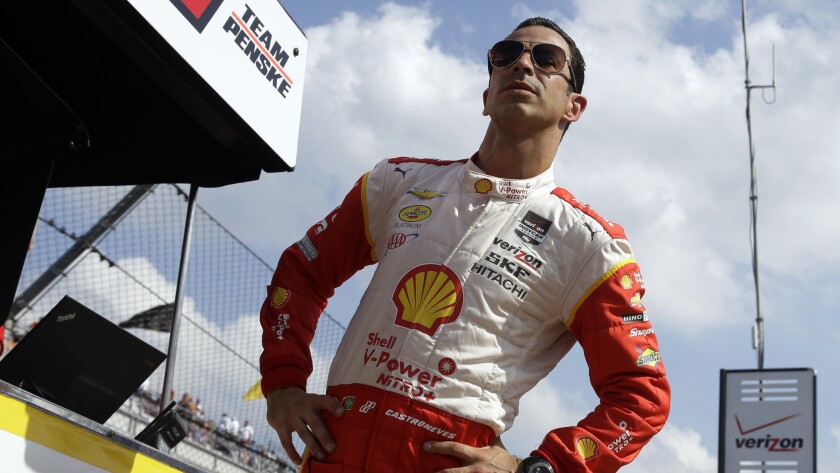 REPORTING FROM INDIANAPOLIS —
Upside down, staring directly at blue skies above, was not how Helio Castroneves planned to start his march toward a record-tying fourth win at the Indianapolis 500.
During practice two weeks ago, Castroneves' car spun at 200 mph at Indianapolis Motor Speedway, crashed into the Turn 1 wall, then went airborne and flipped over.
But the car landed on its wheels and the Brazilian wasn't hurt. "You can't be scared when you go out there," Castroneves said.
Indeed, Castroneves resumed practice that day in a backup car and kept his focus on his prize: another trip to Victory Lane on Sunday in the 99th running of the legendary race.
Castroneves is trying to become the fourth driver win the Indy 500 four times. The others are A.J. Foyt, Al Unser and Rick Mears, with Mears the last driver to achieve the feat with his fourth win in 1991.
Castroneves, who drives for team owner Roger Penske, came within a whisker of getting No. 4 last year, when he battled Ryan Hunter-Reay for the lead in the final laps.
Hunter-Reay edged him by less than a car length in the second-closest finish in Indy 500 history.
This year, after shaking off his spectacular practice crash, Castroneves' No. 3 Chevrolet-powered car has been among the fastest in the 33-car field, and he'll start fifth Sunday.
His Team Penske crew also won the Pit Stop Challenge contest among pit crews Friday at the speedway.
"I feel as good as I did last year," Castroneves said. "We have a very strong car, and I have the best in the business on the strategy [with Penske]. Now we just proved we have the best crew, so I'm ready."
But a fast car and unwavering confidence go only so far. The Indy 500, at 200 laps around the 2.5-mile, rectangular speedway, is a race fraught with potential problems.
The decades have seen innumerable front-runners derailed by mistakes on pit road, crashes, mechanical parts that failed and fuel strategies that backfired.
"It's incredibly difficult to win once," said team owner Chip Ganassi, whose driver, Scott Dixon — who won the race in 2008 — will start on the pole Sunday.
Fate also smiles on some drivers more than others.
The Unser family won nine Indy 500s — Al Unser with four, his brother Bobby with three and Al Unser Jr. with two.
Yet the Andretti family — led by Mario, son Michael and grandson Marco — has only one victory among its drivers, Mario's win in 1969.
Castroneves won his first Indy 500 in 2001, then won again the next year: He's the last driver to win back-to-back Indy 500s.
He drank the race's celebratory milk in Victory Lane for the third time in 2009, which is another way of saying he has tried and failed in the last five years to win his fourth.
"Three Indy 500 wins is more than I ever could have dreamed, but I really want to get that fourth," Castroneves said.
Excitable, loquacious and camera friendly, Castroneves has 29 career wins overall in the Verizon IndyCar Series. He has also been one of the series' main public faces throughout his career — in good times and bad.
His fame expanded well beyond racing fans in late 2007 when he won the "Dancing with the Stars" television competition with partner Julianne Hough.
Castroneves was back in the headlines a year later when he was indicted on federal tax-evasion charges, which could have ended his racing career. But he was acquitted by a jury in Miami in April 2009.
One month later, he won his third Indy 500, and his rebound from a possible prison sentence to another Brickyard win left him sobbing in Victory Lane.
Castroneves turned 40 this month, so he doesn't have a lot of chances left to win his fourth Indy 500.
But Al Unser won his fourth, in 1987, when he was five days shy of 48. He remains the oldest winner of the race.
Still, being a four-time Indy 500 winner is "a damn near impossible feat to do," said Eddie Cheever Jr., who won the Indy 500 in 1998 and is now an IndyCar analyst on ABC.
"And I think Sunday it's not going to happen," Cheever said. "There are 10 phenomenal drivers who are nearly more interested in [Castroneves] not winning his fourth than they are winning their own because [with another win] he becomes the driver of the era."
---