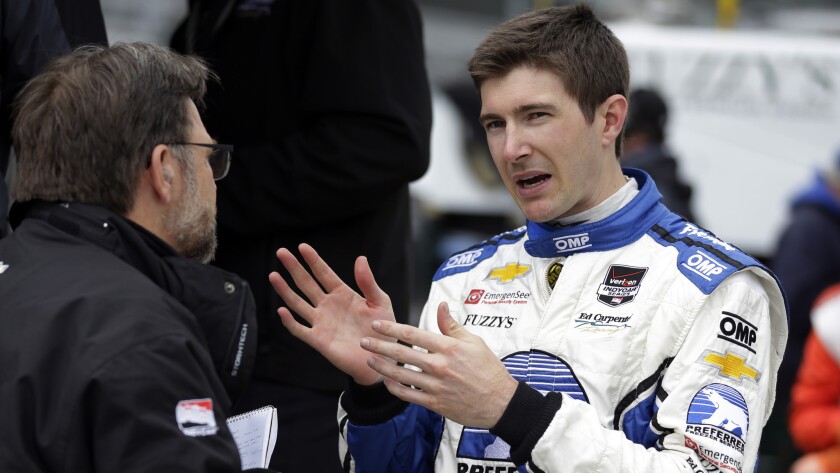 Reporting from Indianapolis —
Surprisingly, J.R. Hildebrand isn't sick of talking about it.
Hildebrand is a 26-year-old driver from Sausalito who nearly leaped from obscurity to Indianapolis 500 winner as a rookie three years ago. But he made a shocking mistake.
Leading comfortably on the last lap, Hildebrand lost control of his car on the final turn — just a few hundred yards from the checkered flag — and the right side of the car slammed into the wall at Indianapolis Motor Speedway.
As the car skidded along the wall, Dan Wheldon — who months later died in a crash in Las Vegas — swept past for his second Indy 500 win. More than 200,000 spectators at Indy, and millions more watching on television, were stunned.
Then last year, Hildebrand crashed again on only the fourth lap of the Indy 500 and, in short order, was fired by his team, Panther Racing.
Instead of having his face engraved on the silver Borg-Warner Trophy with other Indy 500 winners, Hildebrand and his career in the Verizon IndyCar Series were defined not by victory but by loss.
On Sunday, however, Hildebrand has another shot at redemption with the 98th running of the Indy 500. Hired by owner-driver Ed Carpenter for just this race, Hildebrand has been quick all month and qualified his car to start ninth in the 33-car field.
Carpenter himself will start on the pole after posting the fastest qualifying time of 231.067 mph at the 2.5-mile Indianapolis track.
Hildebrand not only takes it in stride that others will constantly remind him of that fateful day in 2011, he uses it as motivation.
"I know that I'm going to get asked about [the crash] all the time," Hildebrand said in an interview.
"But I want to be the guy who went through all this and had to deal with answering this question year after year after year and then added a chapter to this story," he said.
Can Hildebrand win? "Absolutely," Carpenter said. Looking back at 2011, "I look at the upside and say [Hildebrand] ran 199 good laps to be in position to win this race. He was one corner from winning the race."
Hildebrand is a thoughtful and articulate driver who excelled in school as he pursued a racing career, starting with go-karts and working his way up through various series of more sophisticated race cars.
He graduated from high school in Corte Madera, Calif., with a 4.12 grade-point average, was a National Merit Scholar and was accepted to Massachusetts Institute of Technology. He chose racing instead.
Hildebrand won the championship in IndyCar's second-level series, Indy Lights, in 2009 and reached the IndyCar series full time in 2011.
One of Hildebrand's friends is Angels pitcher C.J. Wilson, who owns a sports-car racing team. Wilson said that despite repeatedly being reminded of the 2011 crash, Hildebrand has put it behind him.
"The biggest thing for [Hildebrand] is what's in front of him," Wilson said. "The thing that struck me is that he isn't really fazed by anything. He's very composed."
After Hildebrand lost his job with Panther Racing, he was contacted by Carpenter, the stepson of Tony George, former head of Indianapolis Motor Speedway.
"I didn't think [Hildebrand] deserved to lose his job," Carpenter said. "I reached out to him just to tell him that I was confident that better things would be ahead for him ... and see if we could ever work anything out to do something together.
"Even back in his Indy Lights day he was a talented, well-rounded racer, [a] smart guy," Carpenter said.
Carpenter, 33, also has unfinished business at Indianapolis, his hometown. He also won the pole for the Indy 500 last year and led a race-high 37 of the 200 laps. But after getting shuffled back in the field later in the race he finished a disappointing 10th.
So both he and Hildebrand are focused on staying up front until the final laps Sunday. They've set up their cars "to allow ourselves the strategy to run hard but run in a way that's not overly aggressive" and risk a wreck, not unlike the one that's marked Hildebrand's career, Hildebrand said.
Hildebrand hopes to compete in additional races for Carpenter if Carpenter's team can find the sponsorship money.
"When this weekend's over I'm not trying to leave my options open," Hildebrand said in reference to auditioning for other teams. "I want to be here with these [Carpenter] guys and this team."
In the meantime, Hildebrand has driven in the sport of drifting, where race cars slide sideways through the corners of a twisty course, with drivers judged on accuracy, style and speed.
Hildebrand has driven on a Formula Drift series team led by Tyler McQuarrie, who also races for Wilson's sports-car team.
Now living in Boulder, Colo., Hildebrand also has been developing studies for high-school math and science courses using the voluminous data collected from racing.
In his press conference immediately after the 2011 crash — with the moderator saying, "[I] don't even know where to start" — Hildebrand spoke with a composure that surprised many.
"He handled it better than I would have," Carpenter said, adding that since then Hildebrand's wreck "was never a concern for me. I felt like he dealt with everything in 2011 really well."
On Sunday, Hildebrand will try to make people forget his costly mistake once and for all.
"I don't try to ignore what happened, it's part of my story," Hildebrand said. "I choose to look at it as one of many things that drives me to want to win the race.
"That's why coming here with Ed was so important to me, to be here in a car and with guys and in equipment that I think can run up front," he said. "I want to come here and try to win this race."
---