UC Irvine wants to continue record-breaking season all the way to the NCAA tournament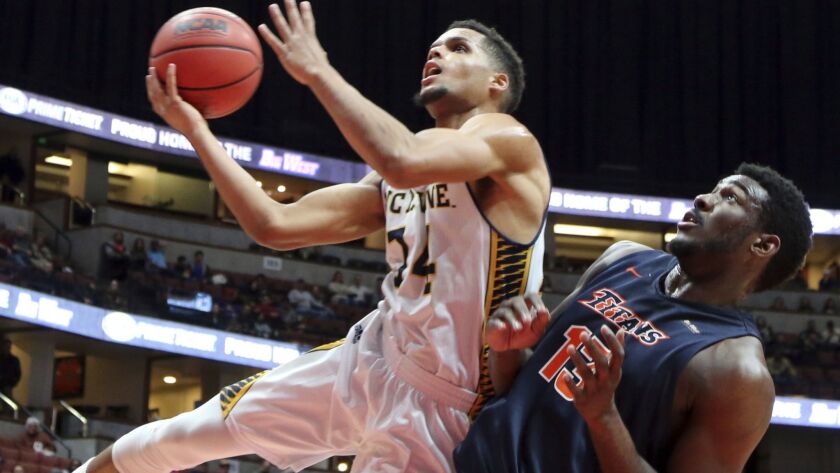 You can have opinions and you can have reality and, sometimes, you can have both.
So it was with supreme frankness this week that coach Russell Turner spoke of his UC Irvine men's basketball team.
"When I got here, I felt like there was a little bit of an inferiority complex at Irvine and in our program that we're not UCLA or we're not USC," he said. "But, right now, we're better than they are."
Better, indeed, and by so many measures.
In the alphabet soup that attempts to bring order to college basketball — RPI, NET, BPI — the 27-5 Anteaters rank higher than the Bruins and Trojans. Ken Pomeroy's ratings also favor Irvine.
"In college basketball, it's easy to quantify," Turner continued. "There are a million different ways to quantify who's what. Right now, we're ahead of them in every quantification. So it's not really arguable."
And yet, entering the Big West tournament in Anaheim, all of this means nothing for the top-seeded Anteaters. Nothing, at least, as it relates to the NCAA tournament.
Even though this team has won 13 in a row, has the nation's top road record at 13-2, just established a school standard for regular-season wins and losses, Irvine still has zero room for error.
Now, more than ever, the Anteaters can't lose.
"We know we gotta win three games in three days," forward Jonathan Galloway said. "It's really that simple."
Barring something unforeseen, claiming the Big West tournament is the only way Irvine will move on to the sport's signature tournament, which has happened just once in school history.
Turner, who is in his ninth season, guided the Anteaters into the 2015 NCAAs, where they fell in their first game 57-55 to Louisville.
Irvine has won four regular-season Big West titles over the last six years and lost in the finals of the conference tournament each of the last two seasons.
The Anteaters open at 6 p.m. Thursday at Honda Center against UC Riverside knowing that ending the weekend with a victory this time is their only ticket forward.
"We like reality," Turner said. "I like being able to give it to my guys straight. I think they expect that and they appreciate it. What we're certainly not going to do is cry about that. We're going to try to make the most of it."
No one knows where this season will end for Irvine, but it certainly began in a strange place: Seoul, South Korea.
The Anteaters went 4-1 in August as the only U.S.-based team in the Asia Pacific University Challenge.
The trip tested and bonded the players and also gave an early glimpse of the group's potential, although even Turner admitted he never saw 27 regular-season wins coming.
Before going 15-1 in conference play, Irvine won at Texas A&M, Santa Clara and St. Mary's, the team that just beat No. 1 Gonzaga in the West Coast Conference finale.
The Anteaters were paid to travel to face each of those three schools, their perfect performance prompting Turner to call his players "the Robin Hoods of college basketball."
They are experienced, play grinding defense and rebound. They are 3-1 in overtime and 8-0 in games decided by five points or fewer. They have the Big West's coach, defensive player and sixth man of the year.
Galloway is their top rebounder and interior defender, a graduate student studying criminology who hopes to one day carry on his family's tradition of working in law enforcement.
Sign up for our daily sports newsletter »
Yes, one day in practice, an assistant coach began calling Galloway "the Sheriff."
Irvine has no one averaging more than 12.1 points per game but eight players averaging at least 6.4.
"We don't have big-time number guys," Turner said. "But I do think we have big-time guys."
This is a team still trying to make a name for itself even though its leading scorer is Max Hazzard (grandson of late UCLA great Walt Hazzard) and its rotation includes Spencer Rivers (son of Clippers coach Doc Rivers).
The Anteaters this season have appeared on ESPN2, ESPN3 and ESPNU but never on ESPN.
They've spent the season unranked and, in fact, just received their first mention — a single vote in the latest coaches top 25 — in either of college basketball's biggest polls.
"In my opinion," Riverside coach David Patrick said, "they're one of the best teams on the West Coast."
And now, Irvine has one chance to prove it belongs in the national tournament, while sitting outside the national discussion despite giving people all sorts of reasons to talk.
"The questions we get about the pressure are the toughest," Turner said. "I get that idea. But we have an opportunity here to play a tournament to make the NCAAs. And that's great. That's college basketball and that's fun."
Twitter: @JeffMillerLAT
---
Get the latest on L.A.'s teams in the daily Sports Report newsletter.
You may occasionally receive promotional content from the Los Angeles Times.