UC Irvine is full of wins and confidence as it heads into NCAA tournament against Kansas State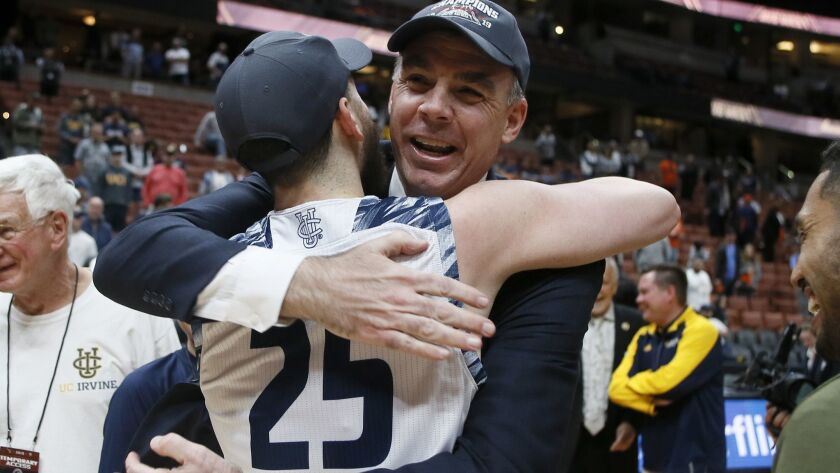 The school is known for its lofty academics and goofy nickname and doesn't have a football team but does have the L.A. Rams.
UC Irvine — and Anteater Nation — is in the NCAA tournament for just the second time ever, another story of basketball hope reemerging on the same campus where the Rams hold training camp.
But this hoops team is hardly a joke.
"We're legit, man," coach Russell Turner said. "We got 30 wins, and we did that against some good opponents. We're not going to sneak up on anybody. But I don't think we have to in order to compete."
Irvine, which won the Big West regular-season and tournament championships, officially returned to March Madness on Sunday as the No. 13 seed in the South Regional.
The Anteaters will play Kansas State at 11 a.m. Friday at SAP Center in San Jose.
"We're going to have to defend all game," junior guard Max Hazzard said. "We have to keep it close early. It doesn't have to go down to the wire, though. We could beat them handily. I don't see why we couldn't."
Sign up for our daily sports newsletter »
Yes, this is a confident bunch. Irvine (30-5) has won 16 in a row and more games overall than any team to represent the Big West since the 1990-91 Nevada Las Vegas Runnin' Rebels, who fell in the national final to Duke to finish 34-1.
The Anteaters have lost only once since the start of 2019 and feature rebounding and defense ranked among the best in the nation.
They clinched their NCAA berth Saturday by winning their conference title game — over rival Cal State Fullerton — by 28 points.
"Our guys will not be intimidated," Turner said. "I think we can stay in this game on the boards. If we can do that, that gives us a chance."
The game will be a rematch of a meeting in November 2017, when Irvine traveled to Manhattan, Kan., for a nonconference warmup and was hammered by the Wildcats 71-49.
Kansas State scored the game's first 11 points, led 18-4 and then 37-24 at halftime. The Anteaters closed the gap to 39-30 with 16 minutes left before succumbing.
"They imposed their will on us in that game," Turner said. "We've gotten a lot better since then. We improved dramatically last year throughout the season, and I think we've done that even more this year."
Irvine has thrived with an unselfishness best captured by the All-Big West selections over the last two seasons.
A year ago, forward Tommy Rutherford made the first team and guard Evan Leonard the second. This season, both dropped to honorable mention behind teammates Jonathan Galloway (first team) and Hazzard (second).
"But I don't think either one of them minds," Turner said "That's the nature of this team. We really are a team. It's hard maybe to get your hands around that because of how rare it is. But we really are a team."
And, while the Anteaters should be getting healthier with the return of junior guard Eyassu Worku — he has been out with a leg injury — the Wildcats could be without one of their two All-Big 12 first-team performers.
Forward Dean Wade has been slowed by a foot problem, his status for Friday still unknown. The 6-foot-10, 228-pound senior was the only player in the conference to earn first-team honors each of the last two years.
Of course, Kansas State advanced to the Elite Eight last year minus Wade, who was out with a foot injury then too. The Wildcats (25-8) also still have guard Barry Brown Jr., who was first-team all conference and voted the Big 12's top defender.
"They made us real uncomfortable on offense last time," Galloway said. "They're great at scoring the ball too. We respect them. We know we've got our hands full, but we'll be ready."
Twitter: @JeffMillerLAT
---
Get the latest on L.A.'s teams in the daily Sports Report newsletter.
You may occasionally receive promotional content from the Los Angeles Times.