Jamon Brown has provided the Rams' offensive line with strength and stability, as well as a sweet voice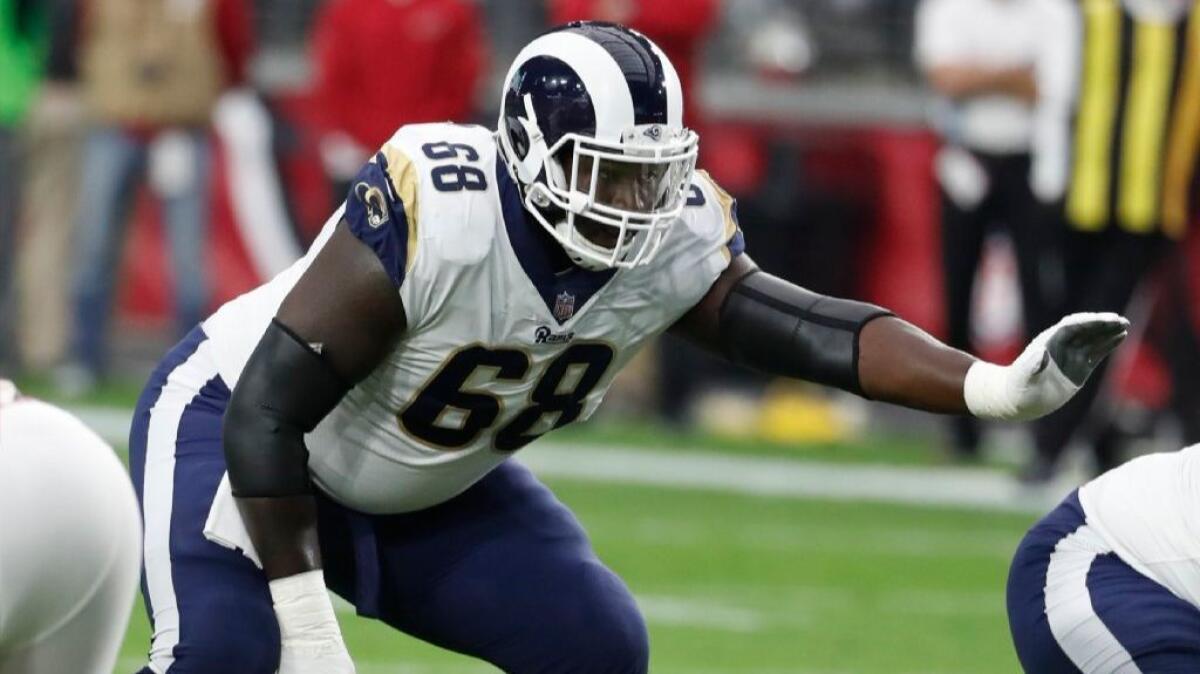 The requests came at 38,000 feet as the Rams flew home from an NFC West-clinching victory in Nashville.
Amid their celebration, players requested that offensive lineman Jamon Brown serenade them with a song.
Earlier in the week, Rams players heard the full extent of his musical talent when a Sports Illustrated video circulated of Brown's singing John Legend's "Ordinary People."
But on the plane, Brown wasn't feeling it — until first-year coach Sean McVay got involved.
"McVay kind of says in his big-man voice, 'Hey, the head coach is telling you to get on the mic' and I kind of felt the pressure," Brown said. "So I got on the mic and I sang a song."
The 6-foot-4, 330-pound Brown stood in the aisle behind the first-class seats and crooned "Ordinary People" through the plane's intercom.
Brown's performance, receiver Robert Woods said, "ignited the team."
Said McVay: "He's a smooth big fella."
On the football field too.
Brown has played an integral role for an offensive line that has protected quarterback Jared Goff and paved the way for running back Todd Gurley's MVP-caliber season.
After starting only five games during a 4-12 season in 2016, Brown started every game at right guard for an offense that transformed from the NFL's worst to one of its best.
The Rams are 11-5, and under McVay have gone from the league's lowest scoring team to the highest, averaging 29.9 points per game.
The Rams host the Atlanta Falcons on Saturday at the Coliseum in their first playoff game since 2004.
Brown is a member of the NFL's only offensive line to start the same five players for 15 consecutive weeks. (The Rams rested many starters in the final week.)
Brown, a third-round pick from Louisville in 2015, has played an "intricate part" in helping Gurley rush for 1,305 yards, and keeping Goff upright, McVay said. Last season as a rookie, Goff was sacked 26 times in seven winless starts. In 15 games this season, he was sacked 25 times.
"He's a young player that has a lot of upside," McVay said about Brown, "a lot of ability and we're very encouraged."
Brown has excelled at football, but music was his first passion.
"I love singing," he said.
June Embers, Brown's mother, enrolled her twin boys, Jamon and Jamal, into their church choir in Louisville, Ky., when they were 3 years old.
"They just loved it," Embers said in a telephone interview. "From then on, they were singing solos, and everyone in the church would just love to hear them sing at any occasion."
Embers, a single mom, filled her home with gospel music. It often became a sing-a-long.
"It was like for us as a family, singing was kind of like an anecdote for some of the things that we were going through," Embers said, adding, "We didn't have a lot of money … I kind of instilled in them that it isn't about money, it isn't about the material things.
"We just made the best of it."
Jamon and Jamal joined the West Louisville Boys Choir in middle school. The program included an incentive: If they stuck with the program through the end of high school, the choir would provide a full scholarship to Louisville.
Brown said he loved the choir, which also provided an opportunity to travel around the South. The chance to earn a scholarship was a bonus.
"My mom was obviously stoked about having the opportunity to receive a full scholarship," Brown said.
But football started to dominate Brown's time at Fern Creek High. He started three seasons, which left little time for singing and he had to leave the choir.
Embers supported his decision long before he was offered a football scholarship.
"Football really kind of took the majority of his time so he focused on that," Embers said. "But he never left singing or loving music."
Embers is happy that her son has helped the Rams to the playoffs. She was overcome with joy to learn that he sang to the team on their way home from Nashville.
"He knew that football one day was going to take him somewhere," Embers said. "Because he told me, he said, 'Mom, I'm going to be in the NFL.' And I said 'OK hon, if that is your dream,' I said, 'You know we're going to put it in God's hands' and I said, 'If it's God's will then you'll be in the NFL.' "
"And here he is."
Follow Lindsey Thiry on Facebook and Twitter @LindseyThiry
Get our high school sports newsletter
Prep Rally is devoted to the SoCal high school sports experience, bringing you scores, stories and a behind-the-scenes look at what makes prep sports so popular.
You may occasionally receive promotional content from the Los Angeles Times.