Mt. SAC wins California community college football championship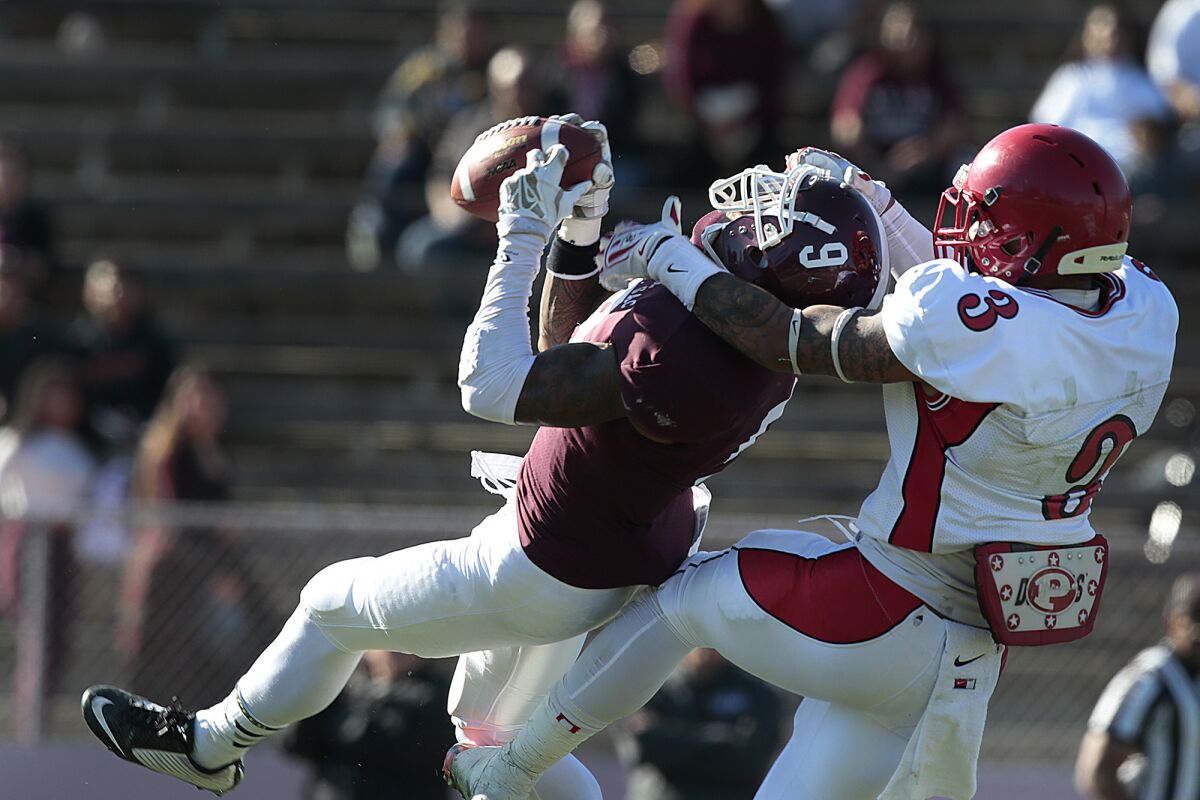 Justin Alo was lost on the island.
He left Carson High for Hawaii as a quarterback in 2011. He sat out with an injury. He moved to wide receiver. He moved back to quarterback. He was fifth on the depth chart in the spring of 2013.
Alo then found himself at Mt. San Antonio College, and finished a two-year restructuring of his career with the California community college championship. He threw for 283 yards and ran for two touchdowns in a 27-17 victory over City College of San Francisco on Saturday.
"I didn't want to be somewhere where I was just going through the motions," Alo said about leaving Hawaii. "I took a leap of faith."
Hundreds of other football players have as well, each with hopes that a two-year stint at a community college can lead to a four-year program.
"There are two main types of kids who come to community colleges," said San Francisco Coach George Rush. "Those who are looking for a second chance and those who were overlooked in high school."
Saturday's game had both.
Connor Brennan was just a big lug when he left Larkspur (Calif.) Redwood High two years ago. Now the San Francisco offensive lineman is headed to Illinois.
San Francisco's Shalom Luani came from America Samoa three years ago, where he was a soccer star. He was named the defensive player of the game and is being pursued by USC, Oregon State and Washington.
Others wait, such as Alo, who has to earn his associate of arts degree this spring before he can transfer.
"When I take care of school, hopefully the offers will come in," said Alo, who guided Mt. SAC to its fourth state title.
These were two of California's elite programs, who were meeting in the title game for the third time in five seasons. They underscore the gap in community college football programs.
"There are no state standards, every school uses the resources it wants," Rush said. "There is a great disparity between the haves and have nots."
Saddleback College, located in Mission Viejo, has plans to build a $25.5-million stadium. Los Angeles Southwest College was ready to fold football in January before a last-minute fundraising effort saved the program, which costs the college $110,000 annually.
The "haves" tend to get the players.
Alo said he picked Mt. SAC because of its history. Nick Montana, the Mounties' previous quarterback, was a bounce-back from Washington. Montana transferred to Tulane after last season.
"They put me through experiences I have never had," Alo said.
The bigger programs tend to use community college players to fill gaps. UCLA and USC both currently have three community college players.
Programs on the Football Bowl Subdivision second tier mine those schools more. San Diego State and Fresno State each has nine community college transfers. San Jose State has 10.
All prefer high school players, who "they can get in the system early and mold," according to Bob Jastrab, Mt. SAC's coach.
Jastrab said the Mounties are unlikely to have a player sign a letter of intent this winter. None can enroll early, something four-year schools prefer so they can participate in spring practice.
Brennan will do just that after coming to San Francisco from a high school program that was constantly changing coaches.
"This provided me an opportunity that my high school couldn't," Brennan said. "I learned how to play the game."
More than football is required.
All players need an associate of art degree to transfer. Those who were non-qualifiers out of high school have to load up on English and math classes before they can transfer.
"It's like the people who make the decisions don't want [community college] transfers," Rush said. "They hide behind academics. It's shameful."
Those thoughts were far from players' minds Saturday.
San Francisco, playing without injured quarterback Anthony Rodriguez, led, 10-3, with 10 minutes left in the first half. Alo, the game's most valuable player, responded by hitting deep passes to set up touchdowns. Mt SAC's defense did not allow another point.
San Francisco's final score came on a 100-yard fumble return by Tavita Faaiu. It was a showcase moment for the linebacker, who has drawn interest from Oregon State.
"A lot of these kids, if there wasn't football, who knows what they would be doing," Jastrab said. "This is a positive influence. When they're done, they have their degree, or are within a year of having it."
Twitter: @cfosterlatimes
---
Get our high school sports newsletter
Prep Rally is devoted to the SoCal high school sports experience, bringing you scores, stories and a behind-the-scenes look at what makes prep sports so popular.
You may occasionally receive promotional content from the Los Angeles Times.