Keith Jackson returns to the Rose Bowl game, just not in the broadcast booth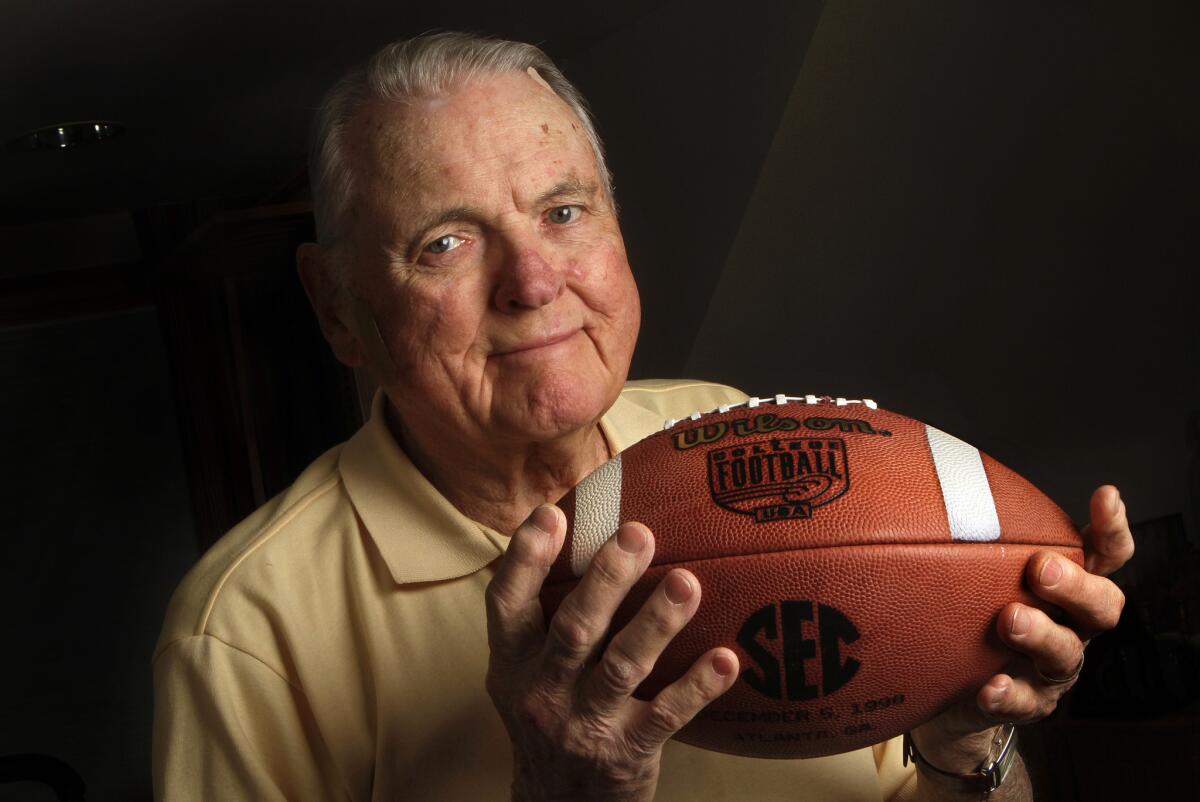 This year's Rose Bowl will feature a legendary comeback, no matter what happens on the field between USC and Penn State.
A college football icon is coming home.
Announcer Keith Jackson, whose voice was the quintessential Saturday soundtrack for generations, will be at the game as a spectator. He hasn't attended a college football game since the Bowl Championship Series title game at the Rose Bowl on Jan. 4, 2006, when Texas beat USC. That was the final game of his broadcasting career.
"I have a longstanding relationship with Penn State," Jackson said by phone from his Sherman Oaks home. "The history of the school is incredible. The coaches, I knew them all. I knew a lot of families that sent their people there. Just ties. So that they wouldn't feel so terribly lonesome, I thought I'd go over there and mill around a little bit, chew the fat and stay out of the way if I can."
Jackson, 88, also has lots of close friendships with people at USC, among them marching band director Art Bartner, who sent the Spirit of Troy to perform at the stadium in December 2015 when the broadcast center was named in honor of Jackson, a mainstay with ABC Sports from 1966 to 2006.
"USC is tough," Jackson said in that folksy, down-home style so familiar to untold millions of viewers. "They're just a bunch of big ol' bulldogs. They can load up on you and run over you. Unless you have some depth, they're probably going to whup ya."
Longtime football coach Harvey Hyde had Jackson on his radio show recently and asked him afterward if he'd like to come back for the game, planting the seed for the comeback. The Rose Bowl Legacy Foundation took it from there, making the arrangements for him to attend the game and sit in their suite. The foundation was formed in 2010 to help pay for major renovations to the stadium, promote the rich history of the Rose Bowl and further engage with the Pasadena community. Jackson did attend the BCS title game between Texas and Alabama at the Rose Bowl in 2010, but left after participating in the coin-flip ceremony.
"For a guy who has written the narrative for how special this place is as many times as he has, to have him back as a fan is really cool," said Dedan Brozino, executive director of the Rose Bowl Legacy Foundation. "It's special to have the opportunity to watch him watch a game."
As exciting as that national championship game was 11 years ago, Jackson remembers the miscues. He was surprised Reggie Bush wasn't on the field at some critical moments, and he was disappointed by defensive and officiating breakdowns.
"All those things sort of took some glow out of the dance," he said. "Really, in hindsight, it was not one of the great games of all time."
He has higher hopes for Monday's game.
USC quarterback Sam Darnold, he said, "is another one of those kids with some good in his gizzard. He's looking to show the world how brave he is. He's got some athletic ability, and those are the kind of guys who can beat you."
As for Penn State?
"This is a chance for them to show they've still got the pride that made them so good for so many years, and will be again. They still want to represent their school and their people. They want to win. Because that's what sports in this country is all about. We're people with grit. We want to go out there and play and show that we can still play hard and tough and win.
"This is the heart place for big ballgames. If this is just a decent match, it will be memorable. It's something for these young people to remember: `I played in the Rose Bowl.'"
Follow Sam Farmer on Twitter @LATimesfarmer
Get our high school sports newsletter
Prep Rally is devoted to the SoCal high school sports experience, bringing you scores, stories and a behind-the-scenes look at what makes prep sports so popular.
You may occasionally receive promotional content from the Los Angeles Times.