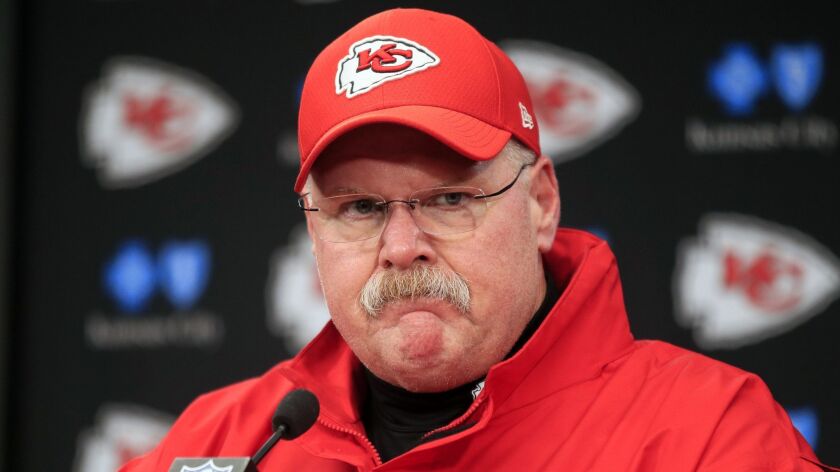 A longtime Kansas City, Mo., sports radio host was suspended indefinitely Tuesday for suggesting during the previous day's broadcast that Andy Reid's family life is evidence that the Chiefs coach "is not good at fixing people."
Many folks assumed WHB-AM (810) host Kevin Kietzman was referencing the death of Reid's oldest son, Garrett, who died of a heroin overdose in 2012. Kietzman said in an email to Awful Announcing and on Twitter later that day that he actually was talking about Reid's history of choosing to work with people, including Garrett and another son, who have troubled pasts.
But Union Broadcasting, which owns and operates the station, announced the next day that Kietzman would be taken off the air "until further notice as we review this matter." The company also issued an apology to Reid, the Chiefs and the station's listeners.
About two hours later, Kietzman tweeted out a recorded statement in which he also apologized for his comments.
"What I said has been interpreted by many as hurtful, insensitive and cold. And in hearing from listeners and relistening to what I said, I can understand why," said Kietzman, who is listed on the WHB staff directory as vice president-sports director and identifies himself as a partner at Union Broadcasting on his LinkedIn profile.
Sign up for our daily sports newsletter »
"I can barely find the words to even say out loud what some people believed I was trying to convey. I never mentioned and would never, ever suggest that Coach Reid was at fault for his son's tragic death. Or that any parent would be at fault for such an unspeakable tragedy. … Please know that this was not my intention and was not even on my mind when I made the comments that I did. And if Coach Reid or any listener interpreted it that way, I again apologize."
Kietzman also noted that he reached out that morning to apologize to Reid personally but was told the coach was not available that day.
Twitter: @chewkiii
---