From Southern California to Final Four, Virginia's Kihei Clark stands tall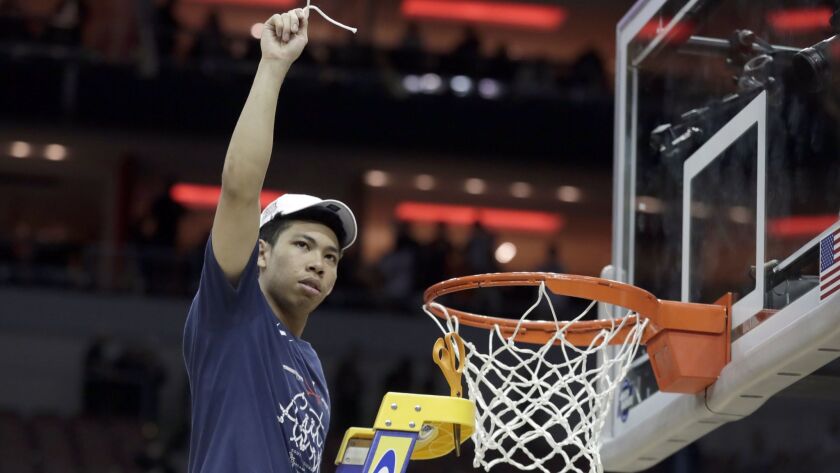 Reporting from Minneapolis —
Kihei Clark assessed his options quickly, coolly, because his team's season depended on it.
Just make a play, he thought. It wasn't going to be easy.
Only a few seconds remained in Virginia's NCAA tournament regional final last weekend against Purdue, and the Cavaliers trailed by two points. Clark chased down a loose ball that was batted into the backcourt after a missed free throw.
The freshman point guard from the San Fernando Valley pivoted near the three-point line as he retrieved the ball with 3.5 seconds left. He took two dribbles toward halfcourt. His father, watching from the stands, figured his son was going to take the shot, knowing his fearlessness.
Clark sized up the situation and figured it wasn't the right move.
He spotted teammate Mamadi Diakite standing open on the perimeter, on the other side of the court, and fired a one-handed pass. Diakite caught the ball above his head and, in one fluid motion, got the shot off. It fell through the net to tie the score and send Virginia to an eventual epic overtime victory.
This was how the most implausible play of the NCAA tournament was made by a player who always seems to come up bigger than his 5-foot-9 stature.
"I always have something to prove," Clark said Friday inside U.S. Bank Stadium, where his team prepared for its first Final Four in 35 years when it faces Auburn on Saturday in a national semifinal. "Being my size, I never pass the eye test."
His career trajectory nearly suffered as a result. Clark starred for Woodland Hills Taft High but appeared headed for the college basketball hinterlands, originally committing to UC Davis. Recruiters who came to see him always departed with the same reservations.
"Every single one said he was too small," said Derrick Taylor, Clark's high school coach, "and it didn't matter how productive he was."
Taylor told them to take another look. This was a player who was tough enough to hold up along the bottom of his team's 2-3 zone defense, often out-rebounding counterparts who were several inches taller.
His bulldog mentality had come in large part from his father, Malik, a 5-10½ guard who played for the University of Hawaii-Hilo and named his son after the city on the island of Maui where he had proposed to his wife.
Malik knew all about facing doubts. That's why he taught his son how to stay in front of the player he was defending and to always pick up full court.
So maybe it should have come as no surprise that a guard who chased down the opening tipoff in a high school all-star game found Clark standing only inches away seconds into a largely meaningless game.
"The kid's comment was, 'Really, Kihei?' " Taylor recalled with a chuckle.
Yes, really. Going all-out is the only way Clark knows how to play.
Interest in him skyrocketed after he was named the most valuable player of the Peach Jam, a prominent summer club tournament. UCLA was among the suitors but never offered a scholarship because it was already committed to other players.
"I was technically their last option if they were trying to recruit me that late and Virginia jumped on right away," Clark said, "so that's where I wanted to be."
Cavaliers coach Tony Bennett knew a gamer when he saw one, having been an undersized but gritty guard himself. The 6-footer carved out a three-year NBA career with the Charlotte Hornets as the backup to the even more diminutive Muggsy Bogues, who constantly befuddled his counterparts despite standing only 5-3. That reinforced Bennett's belief that heart and determination can outweigh size.
"If you can play, you can play," Bennett said earlier this week. "So many people get caught up in dimensions, and there's value and importance in that, but toughness, quickness, feel, savvy, those things are there."
Bennett already had a template for what Clark could become. London Perrantes, a 6-foot guard from Encino Crespi High, had made the same cross-country trek to Charlottesville and more than held his own before playing briefly with the Cleveland Cavaliers and forging a career overseas.
Clark is already on the same track after moving into the starting lineup only six games into the season. He broke his wrist in early December but never missed a game, playing with a cast six days later. He's averaged 4.4 points and 2.5 assists per game, statistics that don't begin to describe his output for the Cavaliers and overlooked players everywhere.
"He's every small guard's dream," Malik Clark said, "to play at a big school like that and not only play but contribute."
Kihei's play against Purdue earned him a response on campus that didn't measure up to his teammate's, which was perfectly fine for someone who thrives in the shadows.
"I didn't get any standing ovations like Mamadi," Clark said, "but I definitely got a couple of high-fives."
Sign up for our daily sports newsletter »
Follow Ben Bolch on Twitter @latbbolch
---
Get our high school sports newsletter
Prep Rally is devoted to the SoCal high school sports experience, bringing you scores, stories and a behind-the-scenes look at what makes prep sports so popular.
You may occasionally receive promotional content from the Los Angeles Times.