Column: Win to get in? 'Lose for Hughes' is really the Kings' best option for their future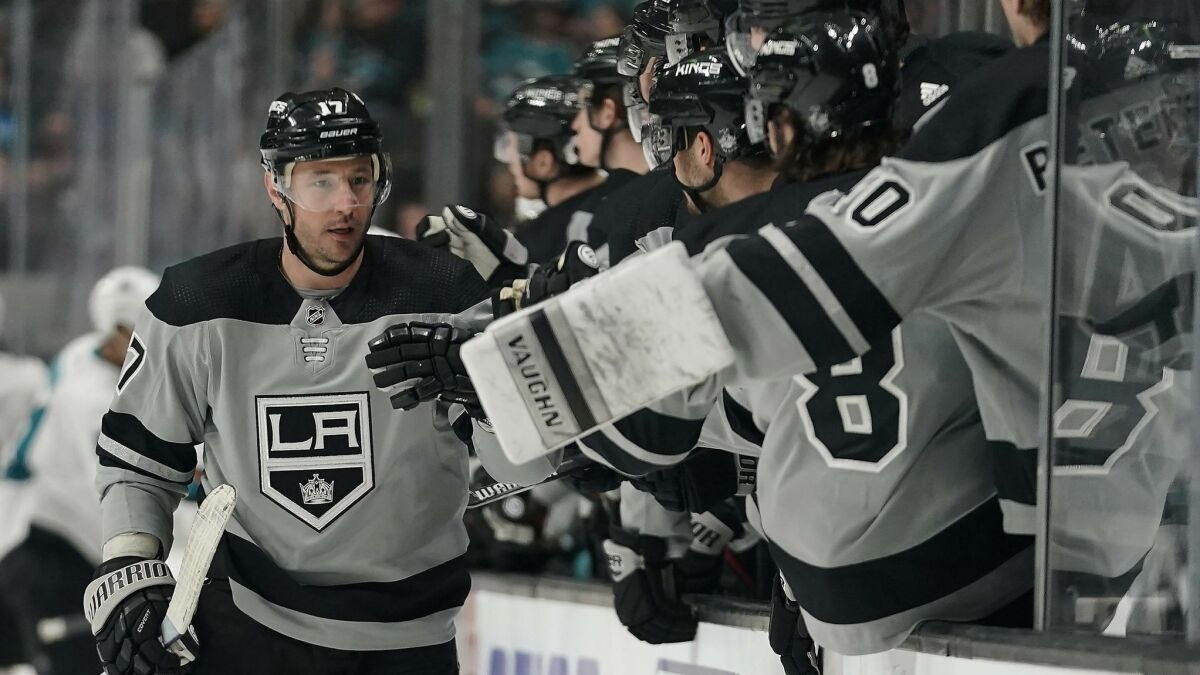 Leave it to the Kings to mess up a perfectly good opportunity to tank and increase their odds of landing consensus No. 1 pick Jack Hughes in the draft lottery.
Just when their season seemed lost, when the gap between them and the final playoff spot in the Western Conference was growing by the minute and fans consoled themselves with the slogan "Lose for Hughes," the Kings beat three good teams in a row. On Thursday, after the Christmas break, they extended their winning streak to four by beating the Arizona Coyotes to stay eight points behind the second Western Conference wild-card berth.
Their victories over Winnipeg, San Jose and Vegas and their comeback in a sluggish game against Arizona provided glimpses of the best-case scenario they hoped would develop, not the worst-case, last-place team they've become. The kids stepped up to score and shouldered significant responsibility. The veterans played well enough to explain why club executives thought they had another Stanley Cup championship in them. Everyone blocked shots and the goaltending was solid, a high point in an otherwise dreary season.
It's not likely they'll finish in the top three in the Pacific Division, but the two West wild-card spots are up for grabs. The idea the Kings could snare one isn't as laughable as it was a couple of weeks ago. It's certainly not ridiculous, which is ridiculous in itself.
But should the Kings even think about making the playoffs this season?
It's not worth delaying their rebuilding process to make a brief postseason appearance that would delay their draft turn and give them a later and potentially less talented pick than they could get in the lottery. They don't have the depth or speed for a long postseason run, and squeaking in as the second wild card only to exit swiftly would set them back.
They've won one playoff game since their 2014 Cup title and they need an infusion of prime talent to climb back to the top. The draft is the best way to replenish, especially for a team that's as close to the salary cap as they are and can't add impact players through free agency.
Forward Dustin Brown downplayed the playoff implications of their winning streak. "I think we're trying to just take it one game at a time, quite honestly," he said Thursday, adding that the surge is most important as a learning tool. "We have a lot of new guys with not a lot of experience of what it takes to win at this level."
They must prove they can win consistently, a common stumbling block for young players.
The Kings would be better off conceding this season and trading veterans — at least those whose contracts lack a no-trade clause — in order to collect prospects and draft choices. Remember, former general manager Dean Lombardi traded their 2013 first-round pick (for Jeff Carter, a success), their 2015 pick (a bust, for short-timer Milan Lucic), and their 2016 selection (another bust, for 16 games of Andrej Sekera). Players taken in those draft years have become mainstays on other teams. The Kings have nothing to show for Lucic or Sekera, who left as free agents. Their 2017 first-round pick and 11th overall, forward Gabriel Vilardi, has been plagued by injuries that cloud his future. Rasmus Kupari, their first-round pick and 20th overall in 2018, is playing for Finland at the world junior championships.
Their biggest trade chip may be goaltender Jonathan Quick, who has a salary-cap hit of $5.8 million through 2022-23. Jack Campbell and Cal Petersen have developed well enough for the Kings to feel secure about trading Quick if they can get a substantial return. They'll have to wait for Campbell to fully recover from knee surgery, but he was sent to Ontario of the American Hockey League for a conditioning assignment and is expected back soon. Quick has had enormous value as a feisty leader and competitive heart of the Cup-winning core. He'd be the gift that keeps on giving if the Kings can get a young scorer and/or prospects from a team seeking a proven winner as the final piece to a Cup-winning puzzle. The names of Carter and defensemen Alec Martinez and Jake Muzzin often pop up in trade speculation and there surely will be a market for defensemen as the Feb. 25 trade deadline approaches.
No matter what happens, general manager Rob Blake can't let sentiment be part of the equation. Lombardi, gifted a get-out-of-jail-free card he should have used to buy out a fading Mike Richards after the 2012-13 lockout, allowed emotion to guide him and kept Richards. After the Kings acrimoniously terminated Richards' contract, they were left with a salary-cap hit of $1.32 million through next season and Richards' name on their payroll through 2031-32.
Blake declined a request to discuss the Kings' future, and that's understandable. There are a lot of moving parts in play, and he probably hasn't plotted his course yet. He has made some debatable decisions, among them giving 35-year-old Ilya Kovlchuk a three-year, $18.75-million contract and replacing John Stevens with interim coach Willie Desjardins, who hasn't taken full advantage of Kovalchuk's skills. Blake must get this one right. In this case, it means focusing on being competitive in the future, painful though the road leading there will sometimes be.
Follow Helene Elliott on Twitter @helenenothelen
---
Get our high school sports newsletter
Prep Rally is devoted to the SoCal high school sports experience, bringing you scores, stories and a behind-the-scenes look at what makes prep sports so popular.
You may occasionally receive promotional content from the Los Angeles Times.