Kings' Colin Fraser returns to practice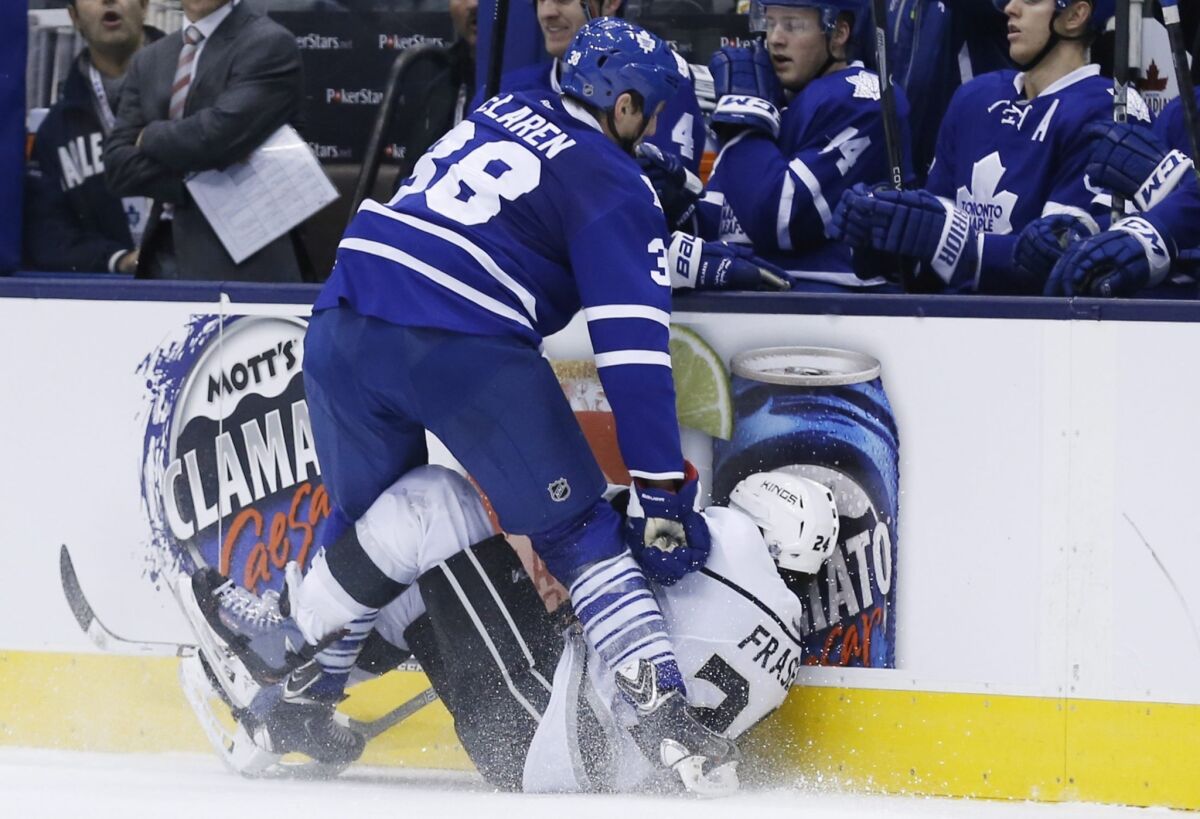 Colin Fraser has that secret, that certain veteran savvy, to know what would happen if he made a play. Or, in this case, did not.
And so, the Kings center didn't back off when faced with a bigger and stronger Frazer McLaren of the Maple Leafs last week in Toronto.
"I knew he was coming. I saw him, the whole way," Fraser said Monday. "The old-fashioned take-the-hit to make the play. I know I'm going to get hit. If I'm a foot closer to the boards, I don't bang my head off the boards....
"He's 240 pounds. He outweighs me by about 50 pounds. He's probably going to outmuscle me. I play the game hard. If I don't go for that puck, I probably don't play the rest of the game."
Yes, you could say Fraser knows how a Darryl Sutter team operates.
The hit was big but legal. Still, it looked frightening for Fraser, who had to be assisted off the ice and sat out the next two games. He skated on his own Sunday and was back practicing Monday in El Segundo, much to the delight of his teammates.
"It's scary at the time," Fraser said. "It didn't look too good when I was getting off the ice even when I watched the replay. ... Even going to bed that night, I felt pretty good, which is weird."
Fraser was cleared to practice after taking the required neurological and psychological tests once the Kings returned home. He said the two-part test took a little less than an hour Monday, and he offered details of the examination.
"They give you 15 words or whatever and then you repeat back as many as you remember, like three times," Fraser said. "Shapes, memory and you've got to draw them. That was the written stuff. Then there's a computer test, which is the same concepts, but now it's on the computer. ... They do it [as a baseline] and every couple of years you've got to update it and they compare the results to see how you're doing.
"I've never had a concussion ... some guys are unlucky and some guys are lucky. There's no rhyme or reason to it."
Kings players, including Kyle Clifford, Mike Richards, Jarret Stoll and Willie Mitchell, have suffered concussions in their NHL careers. Mitchell, who missed all of last season because of a knee injury, had thought his career might be in jeopardy several years ago because of lingering concussion symptoms when he was with the Vancouver Canucks.
Mitchell's current injury is not a head injury or related to his knee issues. The Kings are calling it an upper-body injury. He missed Sunday's game in Chicago and did not practice Monday.
"He worked out today. He didn't skate. So we'll see how he is tomorrow," Sutter said of Mitchell. "He got hit….It was like an upper-body [injury]. It wasn't that serious and then he was sick all day."
Kings goalie Jonathan Quick, out because of an injured groin, skated a couple of times in El Segundo when the team was on its four-game trip to Canada and Chicago. It has been five weeks since he suffered the injury in overtime at Buffalo.
"He practiced with his gear, but he's not really to the point where there's anything other than movement," Sutter said. "Just being really cautious with it till he's pain-free."
TONIGHT
VS. EDMONTON
When: 7:30.
Where: Staples Center.
On the air: TV: FS West; Radio: 1150.
Etc.: Edmonton will be without defenseman Corey Potter, who was suspended Monday for two games for boarding Ducks forward Nick Bonino in the second period of Sunday's game at Anaheim.
Twitter: @reallisa
Get our high school sports newsletter
Prep Rally is devoted to the SoCal high school sports experience, bringing you scores, stories and a behind-the-scenes look at what makes prep sports so popular.
You may occasionally receive promotional content from the Los Angeles Times.