Kings meet a Stanley Cup-drained Tampa Bay Lightning team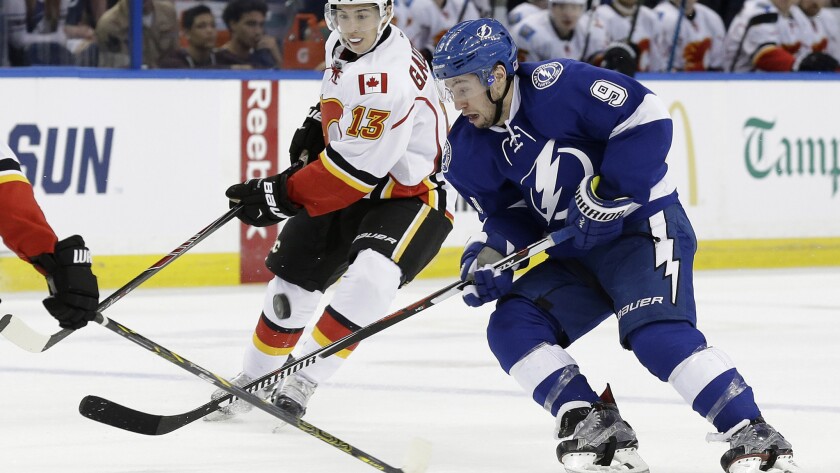 Reporting from Tampa, Fla. —
After 22 games, the Tampa Bay Lightning is on the outside looking in over in the Eastern Conference, pressed up against the glass and hoping for better things.
Playoff darlings in June, the Lightning is (barely) out of a playoff spot this season heading into Wednesday night's action. They were to play the visiting Kings later Wednesday and have been dealing with early-season injuries, concern over the looming free agency of star forward Steven Stamkos and a surprising slowdown in scoring.
Chicago and the Kings have been taking turns winning the Stanley Cup since 2012, and the Lightning lost to the Chicago Blackhawks in six games in the Stanley Cup Final with the last game on June 15.
Lightning Coach Jon Cooper sat in his office after Wednesday's morning skate and candidly addressed the issue of playoff fatigue.
"I can always Monday morning quarterback now," Cooper said. "I never went through it before and neither did our team. Until you go through it, you don't really know how things are going to go.
"Because we are hovering around .500, now we Monday morning quarterback. Do I think it had an effect? I do. If we're fortunate enough to have this happen again to us, hopefully we're on the winning side.
"I'd look back, how would I change things? I do think it has an effect. I think it has a much bigger effect on the team that doesn't win the Stanley Cup."
The Kings won the Stanley Cup in 2012 and 2014. They did not make the playoffs last season, becoming the first team since 2006 champion Carolina to miss the playoffs the season after winning the Cup.
Winning the Cup gave them a longer grace period, however.
"You can have the tough start if you win the Stanley Cup," Cooper said. "But it's not as big a deal because you've still got the Cup. But when you go that distance and don't win, it's a really empty feeling."
This season, Cooper said, "I think we're feeling the effects of that the first 20 games."
Tampa Bay center Tyler Johnson, who sat out the last three games because of an upper-body injury, is close to returning to the lineup. Johnson led the NHL in playoffs goals (13) and played despite a broken right wrist during most of the Cup Final.
"It's definitely a tough thing, a tough summer when you have two months to really get back," Johnson said. "The playoffs is a grueling test. Your body is pretty beat up bad by the end of it. You're trying to recover but at the same time, you try to get that feel for next year. We got so close, but it wasn't close enough."
Cooper noted the physical and mental difficulties of the quick turnaround.
"When you are finishing everybody else is training," he said. "So they've already had their month, two months off and they're starting to train.
"Physically, your body needs the rest. But psychologically, you're thinking, 'I'm going to be behind.' All of a sudden you get to training camp and now it's Groundhog Day. And you are thinking, 'Oh, my gosh.' You haven't realized how your mind is. You think your body can handle it and your mind can't. And they work in unison."
twitter: @reallisa
---
Get the latest on L.A.'s teams in the daily Sports Report newsletter.
You may occasionally receive promotional content from the Los Angeles Times.