Fans rally to show their frustration with Lakers' management.
George Murray and Jacob Samuel had seen and heard enough. The 18-year-old Calabasas High students weren't alive when Kobe Bryant and Shaquille O'Neal won their first championship together with the Lakers in 2000. They were 8 when the Lakers won their last title in 2010. They have no vivid memories of the Lakers dynasty they've heard about from friends and family and they're tired of it.
So they left school early Friday with five classmates and made the one-hour drive to Staples Center to join about 30 other Lakers fans protesting the leadership and direction of the team. The protest took place the day before Frank Vogel agreed to become the Lakers' coach Saturday afternoon.
"I should be in school right now but I'm not because this is more important," said Samuel, holding a sign that read, "Jeanie + Rob =" with a photo below of LeBron James crying "Lakers fans are sad right now. We're not happy because of the ownership of Jeanie Buss and the decisions of general manager Rob Pelinka, who are hurting the franchise."
Murray was next to him with another sign: "Steps to fix the Lakers. 1. Sign LiAngelo Ball. 2. Draft LaMelo Ball. 3. Hire LaVar Ball," with text below that read, "Four Balls are better than one," in reference to Lakers point guard Lonzo Ball being joined by his two brothers and father on the team.
"I feel very strongly about the Los Angeles Lakers and we're all mad with the way this team is being run," Murray said. "I should be in fourth period right now but I felt this was more important than fourth period."
The Lakers protest was organized on Reddit late Wednesday night by 22-year-old Charlie Rivers, who was born in Anaheim and is a graduate student at the University of Arizona. He made the six-hour drive to Los Angeles for the protest. He was 15 years old and without a driver's license the last time the Lakers won a playoff game in 2012.
"Someone told me if you care about this so much why don't I throw a protest, so I did," Rivers said. "It's never something I envisioned to be as big on the news as it became."
The protest lasted less than an hour. It lost steam when the Calabasas High School contingent decided they should return for sixth period. "Our parents are mad at us for skipping school," Murray said. Other protesters had to leave when their lunch break was over.
Shawn Isinhue, a 31-year-old season ticket holder from Los Angeles who works as a senior consultant downtown, made a sign that read, "Pelinka must go."
"I came out here on my lunch break to express my displeasure with management and a lack of a unified voice," he said. "I want to voice my concerns with the lack of transparency with the organization right now."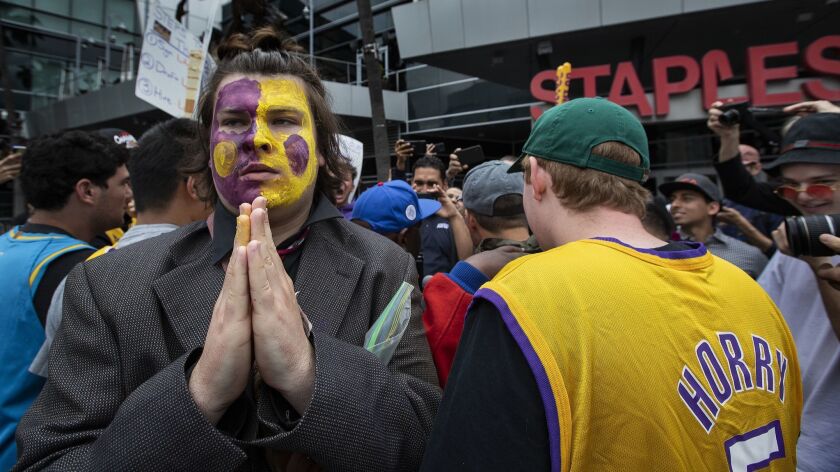 Catharine Kim, a 29-year-old Lakers fan from Orange County, is expecting her first child this August. She hopes that her child is able to grow up and see the Lakers win championships like she did. She held up a sign that read, "This future mom is protesting to make sure her baby becomes a Lakers fan!"
"I thought this was going to be a larger protest because there's a lot of Lakers fans and we're frustrated with what's going on," Kim said. "The negative publicity is embarrassing. The only thing we hear about the team now is coming from leaks."
Yigal Fatirian, 26, was serving jury duty down the street when he heard about the protest and took part during his break. "We haven't heard anything from Jeanie or Rob," he said. "Take some accountability. Who's running things right now? No one knows and they're not saying anything."
As embarrassing as the Lakers offseason has been, one could certainly argue that the turnout for the protest served as rock bottom for the once-proud franchise that has experienced more lows than highs over the past seven years. It was a moment that "Clipper Darrell" Bailey couldn't watch from afar as he arrived to the protest fashionably late to take a victory lap around disgruntled Lakers fans yelling for him and his team to move to Seattle.
"The next time Lakers fans want to do a protest, make sure y'all come out and show up," Bailey said. "My pool parties are bigger than this."
--
Ely Hydes, the Tigers fan who caught Albert Pujols' 2,000th RBI ball on Thursday in Detroit but refused to give it to Pujols before leaving the stadium, said Friday he wants to give the ball to Pujols after all. Pujols, however, said he doesn't want it now and that Hydes should either keep it or give it to the Hall of Fame.
Former Dodgers and Tigers great Kirk Gibson, who is the color commentator for Tigers games, has another idea. Gibson sent Hydes a letter commending him for standing up for himself after Hydes said the Tigers staff tried to pressure him into giving the ball up for an autographed ball and jersey.
"Thank you for standing up for yourself, being your own man and doing what you feel is the right thing to do," Gibson wrote. "You caught it. You keep it. That's the rule in my ballpark."
Gibson is hoping Hydes will consider including the ball in an auction Gibson is having at an October gala benefiting the Kirk Gibson Foundation for Parkinson's, the Michigan Parkinson Foundation and Blue Cross/Blue Shield of Michigan. Hydes hasn't decided the fate of the ball yet after Pujols declined it.
--
Next year is shaping up to be a big year in Las Vegas with the arrival of the Raiders and the opening of Las Vegas Stadium. Off the Strip, Derek Stevens will open Circa in downtown Las Vegas with what they're billing as "the largest sportsbook in the world" with two floors of stadium seating and a third floor studio for the Vegas Sports and Information Network (VSIN).
--
Dodgers closer Kenley Jansen surprised his wife, Gianni, with a new Polaris Slingshot for mother's day. The couple tested out her $30,000 car Saturday afternoon before Jansen left for Dodger Stadium. Thanks to Jansen for making everyone else getting their mom flowers and chocolate look bad.
Dodgers closer @kenleyjansen74 surprised his wife, Gianni, before leaving for today's game with a Polaris Slingshot for Mother's Day. Gianni gave birth to their third child this past year and Kenley wanted to get her something nice to make sure she knew how much he loves her. pic.twitter.com/8ShwzqK0Ew

— Arash Markazi (@ArashMarkazi) May 11, 2019
---