Column:: Lakers fans deserve better than what Jeanie Buss said in first public comments
It was nice that after two months of front office implosions, Jeanie Buss finally decided to talk.
That she conducted her first interview on a red carpet was as revealing as the interview itself.
In her brief stops in front of the media Monday at the NBA Awards show, a seemingly detached Buss acted as if her Lakers are a star attraction that could simply dazzle their way back to greatness.
She talked about the franchise as if she were promoting a movie. She sold hype. She spun buzz.
She said a team that has missed the playoffs for a club-record six consecutive seasons is "in a really good place.''
She said a team that just traded for Anthony Davis but botched two crucial elements of that trade, probably preventing them from adding another superstar, is "on the right path."
She implored Lakers fans who have been insanely loyal in the wake of continuously debilitating drama to "be patient."
And of a franchise that used to count success only by championships, she said, "The goal has always been to be get back into the playoffs."
Huh? What? Really?
The answers were so vacant, her words so rehearsed, it would not have been surprising had she been suddenly surrounded by a cast of co-stars lining up for a selfie.
Look, give her credit for talking. Heck, give her credit for just showing up. There were no Lakers winning any awards. And the owner of a team that added two of the five best players in the NBA in the last two summers certainly should be optimistic.
But where was the Jeanie Buss that once fired her brother, resisted a coup and took control of this team? Where was that public display of strength and resolve? What happened to that leader?
During a time when potential free agents need to see real leadership — and Lakers fans need to feel real determination — her empty words left some people wondering.
Does she still have that same firm grip on the leadership of this franchise? And if she does, is she more concerned about results or image?
Despite its recently buffed star power, this is a team that has much to prove. There are big questions about whether LeBron James will invest, whether Davis will be more than a rental, and whether general manager Rob Pelinka can build a contender around them.
It would have been great to hear Buss acknowledge that fans haven't been happy with recent failures, and hear that she hasn't been happy either. It would have been wonderful to hear that she shared a city's frustration and would do everything possible to end it.
She could have said, "The last six years have been unacceptable; the last two months have been frustrating. I'm hurting as bad as anybody, but we are still the Lakers and I promise you I will work until we get this fixed, and we will get this fixed.''
Instead, she smiled and said, "I think we are going to be just fine.''
Part of the problem is that, even two years after moving into the ownership spotlight, it's like Buss still thinks she doesn't need to be heard. It's like she still wants to run the team from her usual spot in the shadows behind courtside seats. She has to realize those days are done. They ended the minute her front-man Earvin Johnson walked out, and now she has to create her own magic.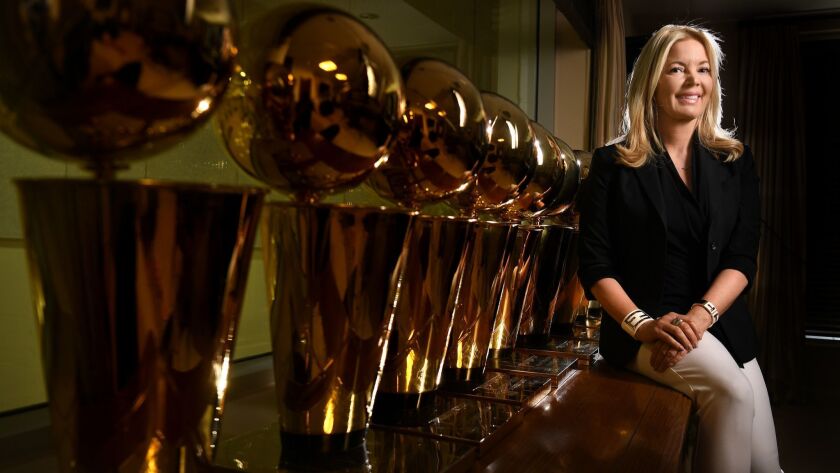 She has made a career out of being every Lakers fan's smart and embraceable best friend. She has to realize she still can fill that role while becoming the team's resolute and determined leader. She needs to understand her voice is needed not just for cheering, but for empowering and inspiring.
Buss actually said she had not spoken until now because "There really wasn't anything to say."
Seriously? A Lakers icon resigns on the spot, an untested former agent is put in charge of basketball operations, a coaching search is bumbled, basically two new head coaches are hired … and there's been nothing to say?
When she finally did talk Monday, she couldn't discuss the Davis trade because it was not yet completed. But she could have talked about anything else. Instead, she mostly talked around everything else.
When asked about embattled basketball boss Pelinka, she said, "I've always had confidence in Rob. Whatever the speculation that's out there, we don't need outside media to validate the things that we do."
Except, well, it has not been only the outside media criticizing Pelinka, it has been officials throughout the league. This is not the first time Buss has pulled out the President Trump card: criticizing the media when she should have been looking inward. It was understandable that she publicly backed Pelinka, but it would have been nice to understand why, and hear her acknowledge that everyone in the organization is held to the same high standards.
Sign up for our daily sports newsletter »
When asked about the increased role of her shadow owner, she said, "Linda Rambis and I have worked the exact same way for the last 30 years. Nothing's changed, but for whatever reason it's things that people want to hear about."
Well, they want to hear about it because Buss' role has greatly changed during those last 30 years, meaning Rambis' role has greatly changed, and it's fair to wonder about Rambis' qualifications to run a billion-dollar basketball operation.
In hearing Buss speak, the mind wandered back to two years ago when she dumped her brother Jim from control of the basketball operations. At the time, she was a symbol of power. She gave the city great hope.
"Despite the fact that I gave my brother Jim ample time to prove himself in this role ... I could not allow the damage being done to the franchise over the past few years to continue," she said in court documents.
What happened to that Jeanie Buss? The Lakers need her now more than ever.
Get more of Bill Plaschke's work and follow him on Twitter @BillPlaschke
---
Get the latest on L.A.'s teams in the daily Sports Report newsletter.
You may occasionally receive promotional content from the Los Angeles Times.