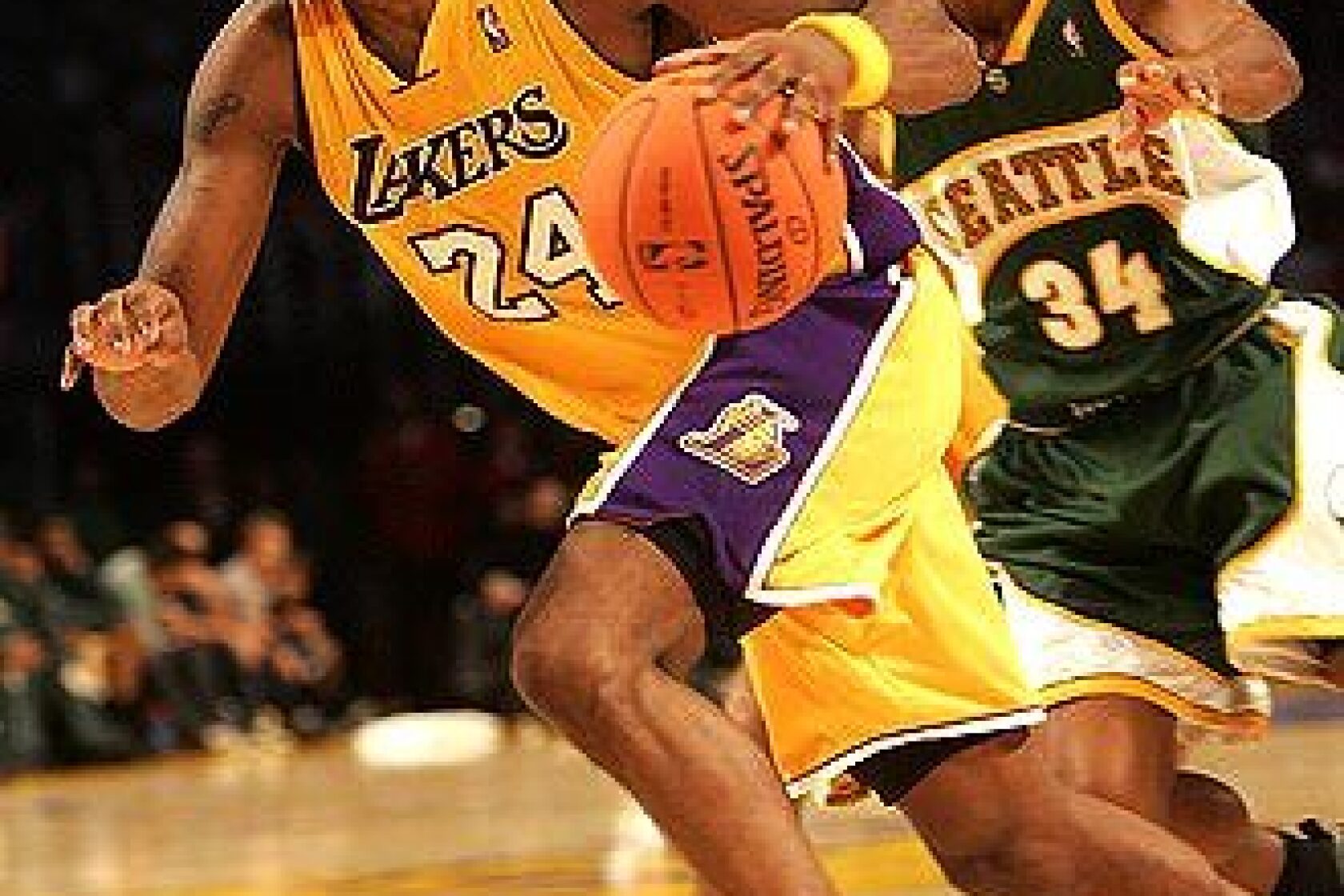 Lakers Kobe Bryant gets away from Seattle Supersonics Ray Allen at Staples Center Friday night.
(Lori Shepler / LAT)
Kobe Bryant signals Lakers ball after a Seattle turnover during first-quarter action Friday night.
(Lori Shepler / LAT)
Lakers Lamar Odom goes over Seattle Supersonics Rashard Lewis.
(Lori Shepler / LAT)
Lakers Andrew Bynum and Seattle Supersonics Danny Fortson battle for the ball.
(Lori Shepler / LAT)
Lakers Lamar Odom stops Seattle Supersonics Ray Allen.
(Lori Shepler / LAT)
Lakers Kobe Bryant watches an amazing shot almost go in
(Lori Shepler / LAT)
Times Staff Writer
Kobe Bryant was back and the Lakers were, well, already there.
The points continued to come easily. Ronny Turiaf continued his unpredictably strong start. And Bryant, new to the fray after nearly 17 weeks of rest and rehabilitation, was a happy passenger on a rousing ride in a very young season.
In case you don't recognize them and their push-the-ball pace, that was the Lakers beating another team, the Seattle SuperSonics, 118-112, Friday at Staples Center.
There were moments of concern for the Lakers — quite a few, actually, after they blew a 20-point lead built in the first quarter— but the numbers were hard to ignore: three games, 342 points, and Bryant still working his way back into shape.
And again, there was another new last-minute chant at Staples Center — neither "Ko-be" nor "O-dom" but, rather, "Ro-nny," after Turiaf secured a defensive rebound with 55 seconds left, was fouled, and made two free throws to provide a 111-107 lead. He then blocked an attempted dunk by Chris Wilcox and a follow-up attempt by Rashard Lewis on the next possession.
Lamar Odom had averaged 28 points, 11 rebounds and 7.5 assists in two games without Bryant. He had 28 points on seven-for-12 shooting, six assists and four rebounds against Seattle.
The Lakers, 3-0, lead the league in points a game and, more important, surprising victories, even those that aren't always cosmetically attractive.
"We were flirting with letting prosperity go early in the game," Lakers Coach Phil Jackson said. "The first couple games we had really good energy and were able to use the energy in the second half to overwhelm opponents. It became kind of a slugfest out there."
Call it the Lakers, winners by a technical knockout.
Bryant had 23 points on eight-for-15 shooting in 41 minutes.
He accurately predicted beforehand that his first game back would be a "work in progress." His lift wasn't what it usually was — he was blocked by the rim on one of his dunk attempts — and he was a step slow on defense, allowing Damien Wilkins to cruise past him on the baseline a few too many times. He also had five turnovers in the first half.
"It was there in moments," Bryant said. "I haven't played since Game 7 [in the first round of last season's playoffs], so the rhythm was a little off, the timing was a little off, but that will come back the more I play. My wind was good for some reason — I felt like I was OK. The biggest thing was just the timing. I felt a little choppy."
Said Jackson: "You could see he was trying to play with his teammates, trying to make too many difficult passes. I consider them good turnovers because he was looking to do things that were the right things. I thought he stepped his game up when we needed to get a basket or two."
Bryant sat out the Lakers' first two games because of soreness in his right knee stemming from mid-July arthroscopic surgery. He had been running with a slight limp until recently, but there was a good showing at a light practice Thursday and a good enough feeling at Friday's shoot-around to give the green light. Bryant said before the game he "felt explosive."
He felt no swelling and no discomfort in the knee for three consecutive days and hoped the soreness was in the past.
"I should be good," he said. "That's one of the things we don't want, to have to come back and be day to day. Hopefully, we're in the clear. It feels like we are."
But would the rest of the team adjust?
There were problems last year with players deferring to Bryant, Odom in particular.
"We just play the way we finished the season off," Bryant said. "The reason why they were deferring to me the start of the year is because nobody really understood the offense, where to get their shots from or their rhythm from. As the year went on, guys started deferring to me less and less. It shouldn't be a problem."
*
---
mike.bresnahan@latimes.com

*

KEYS TO THE GAME

• The Lakers made 37 of 48 free throws, the SuperSonics only 13 of 16.

• Ronny Turiaf had another strong showing — 13 points, seven rebounds and three blocked shots. He also provided an emotional lift, particularly in the final minute.

• Luke Walton was the third part of the Lakers' scoring triangle, totaling 20 points, eight rebounds and five assists.
---