Column: Look for Las Vegas to become a prime NCAA championship event destination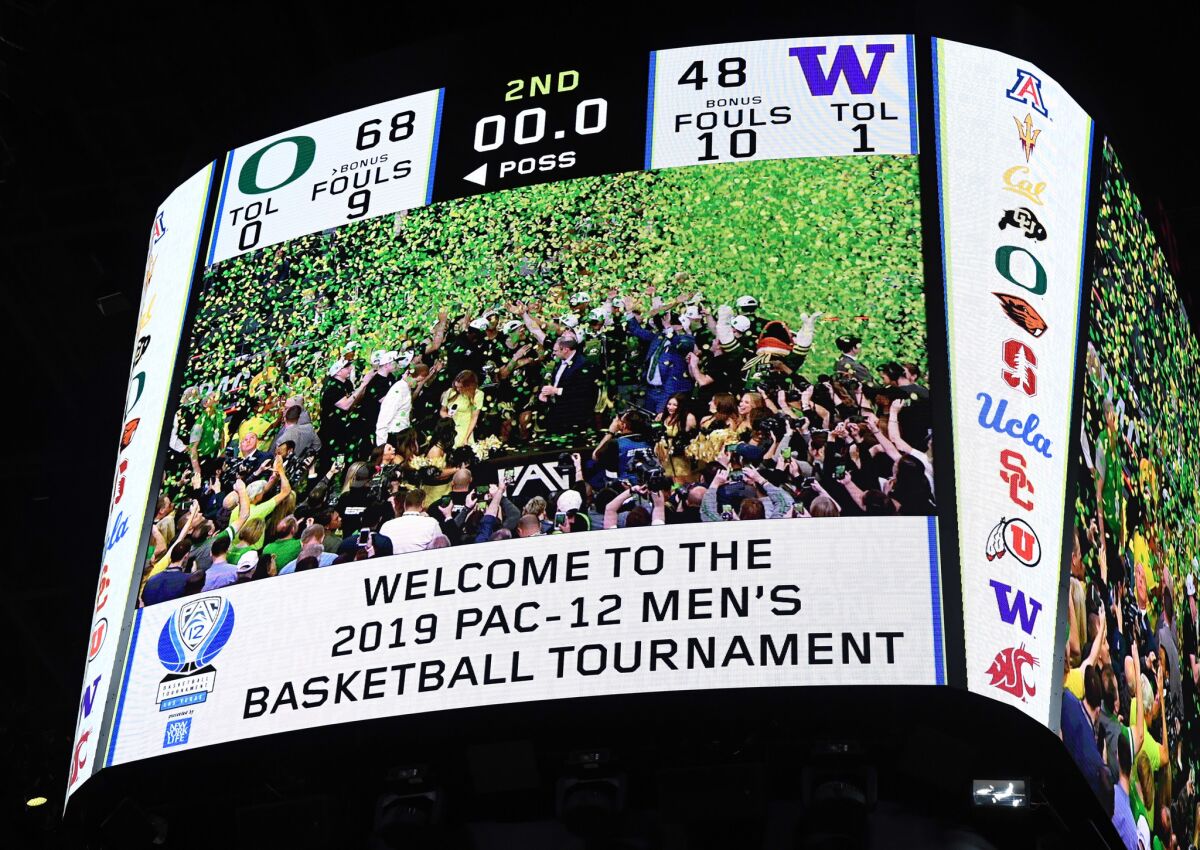 Reporting from Las Vegas —
For nearly 40 years Pat Christenson has developed and recruited events to Las Vegas and for nearly 40 years the NCAA has basically told Christenson not to bother with them.
During that time the NCAA prohibited their championship competitions from being held in states that allowed single-game sports betting. It was a policy that affected only Nevada and handcuffed Christenson, who couldn't even bid to host an NCAA wresting championship, which he wanted to do.
The handcuffs were finally removed Thursday when the NCAA announced it had rescinded the policy.
It was another milestone moment for a city that has gone from taboo to transformative for sports leagues.
Over the past three years Las Vegas went from a city that had never been the home of a major professional sports team to being the home of the NHL's Vegas Golden Knights, WNBA's Las Vegas Aces and next year the NFL's Las Vegas Raiders. They opened the $375 million T-Mobile Arena to accommodate the NHL and NBA and next year will open the $1.8 billion Las Vegas Stadium to be the home of the Raiders and UNLV.
Christenson, who is the president of Las Vegas Events and spent over 20 years at UNLV, smiled from his office Friday as he got ready to bid on a series of events Las Vegas has never hosted before.
"It's a relief," Christenson said. "For as long as I can remember we have not had the opportunity to compete for these major championship events. Now, with both the policy being rescinded and these new facilities we have in a destination city like Las Vegas, everything is falling into place for us."
The next available NCAA championships open for bidding begin with the 2022-23 academic year. The city will have to wait longer to host other events. The next Final Four Las Vegas could bid on wouldn't be until 2027 and the next College Football Playoff National Championship Game up for grabs is in 2025.
"We've identified three events that we will bid on in the upcoming cycle that opens in August," Christenson said. "We're looking at an NCAA basketball regional, NCAA wrestling championship and the Frozen Four. We will also bid on the Final Four and the College Football Playoff when that's available."
There is one major NCAA event that Las Vegas will pass on. Christenson said the city has no interest in hosting the first and second round of the NCAA men's basketball tournament. The first and second rounds of the tournament have become one of the three busiest weekends in Las Vegas, according to the Las Vegas Convention and Visitors Authority. Hotel occupancy during the first week of the tournament has been over 98 percent the previous three years with nearly two million passengers traveling through McCarran International Airport during that time.
"We wouldn't bid to host games in the first and second round," Christenson said. "It's already one of our top weekends of the year but we do want a regional and we do want a Final Four."
The three NCAA championship events Christenson will bid on in conjunction with UNLV, which would be the host school, and the Las Vegas Convention and Visitors Authority would be held at T-Mobile Arena. Hosting the wresting championship has been a longtime goal for Christenson, who won the NCAA 167-pound wrestling championship for Wisconsin in 1976. Golden Knights owner Bill Foley has also been pushing for a Frozen Four to be held in Las Vegas after the city showed it was a hockey town during the team's Stanley Cup run last year.
"It's just good to get the whole stigma behind us," Christenson said. "There's momentum around the country for legalized sports betting now. We're now in a position to host every imaginable event and I don't think there's a better destination for fans and athletes for big events."
::
The future home of the Raiders is beginning to take shape. Located west of Interstate 15, behind Mandalay Bay, the Las Vegas Stadium is scheduled to open August 2020. This week crews are lifting 22 65-ton canopy trusses around the rim of the stadium as they work towards being ready in time for the Raiders' first season in Las Vegas. Anyone flying over the stadium and the Los Angeles Stadium at Hollywood Park, the future home of the Rams and Chargers, can see Los Angeles is further ahead despite the fact both are slated to open at the same time. It makes sense. Los Angeles broke ground a full year ahead of Las Vegas but multiple team officials said the Las Vegas Stadium is still on schedule to open on time despite their new lease in Oakland including a $10.5 million option for the 2020 season if the stadium in Las Vegas is not ready.
::
'Jeopardy!' champion James Holzhauer received a key to the Las Vegas Strip on Thursday along with the declaration of May 2 as "James Holzhauer Day." Holzhauer, who has won 21 straight games and over $1.6 million, is a Las Vegas local and a big Golden Knights fan. He accepted the key during a ceremony in front of the Welcome to Fabulous Las Vegas sign, wearing the same Golden Knights jersey he wore when he cranked the siren before Vegas played the San Jose Sharks in Game 6 of their first-round series.
More impressive than Holzhauer's historic run on the show is his commitment to giving back to the community. He has already donated a portion of his winnings to the Las Vegas Library District, Ronald McDonald Home of Las Vegas and the Las Vegas Natural History Museum. He also gave some love to his city last week during a Daily Double. When he was asked how much he'd like to bet, he said, "Vegas Strong, 10,117." October 1, 2017 was the date of the tragic Route 51 Harvest Festival shooting that took the lives of 58 people and wounded more than 800 others.
Get our high school sports newsletter
Prep Rally is devoted to the SoCal high school sports experience, bringing you scores, stories and a behind-the-scenes look at what makes prep sports so popular.
You may occasionally receive promotional content from the Los Angeles Times.