Letters: Fans have their own thoughts on analytics after another World Series disappointment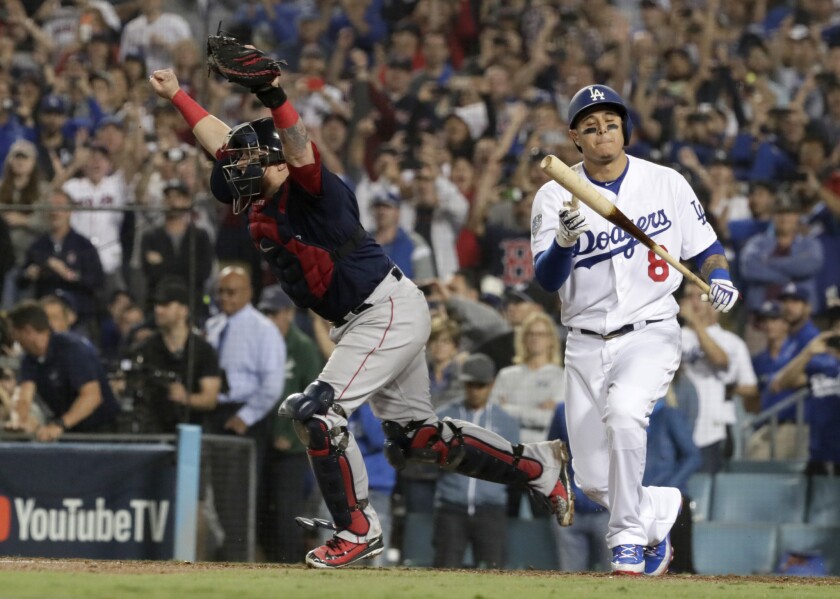 Why do Andrew Friedman and Farhan Zaidi keep insisting their operation was a success even though the patient died?
Roy Dill
La Cañada
::
Dave Roberts shouldn't expect anyone in Southern California to buy him a beer any time soon. In Boston, he'll be welcomed with open arms and an unlimited tab.
Ken Keller
Valencia
::
In the spirit of good sportsmanship, congratulations to the Red Sox on a well-earned World Series victory. And congratulations to the Dodgers, who, thanks to some of the most boneheaded managerial decisions in World Series history, are halfway to becoming the Buffalo Bills of Major League Baseball.
Greg S. Garnet
Canoga Park
::
Zero stolen bases. Zero attempted stolen bases. Zero sacrifices. Zero hit-and-run plays. Almost zero bunts, (even when wide swaths of infield were available for easy hits). Zero offensive imagination. And zero confidence in strong starting pitchers.
Oh, one more: Zero World Series rings for manager Dave Roberts.
Rick Wallace
Malibu
::
On Monday morning I heard the statement from Andrew Friedman, "We completely understand how painful this loss was to our hugely loyal Dodger fan base. We promise the next year will be all about bringing Dodger fans the championship they so richly deserve, and for which they have waited far too long."
Then I woke up.
Mitch Stone
Santa Paula
::
All the armchair managerial Einsteins need to ease up on Dave Roberts. His decisions didn't affect key player statistics. Given L.A.'s paltry batting average and astronomic bullpen ERA, no amount of managerial genius could have overcome the Red Sox juggernaut.
Fair game for second-guessing, however: the front office's roster decisions over the past year.
Gary Dolgin
Santa Monica
::
After Game 2 of the World Series I heard a Dodgers fan declare on the local vast wasteland of sports talk radio that he hoped Mike Scioscia would become the next Dodger manager.
Why anyone would prefer someone who has not been in a World Series in 16 years over someone who has been in the last two escapes me, but it seems like he got his wish in Game 4.
Ron Reeve
Glendora
::
I decided to apply the same sabermetrics Andrew Friedman and Farhan Zaidi have been doing for years with my own analysis. I found the Dodgers' eFO+ (Effectiveness of the Front Office) was last of all 30 MLB teams.
Barry P. Resnick
Orange
::
When asked about his questionable pitching changes Dave Roberts said, "People don't have all the information." Herein lies the problem. Dave Roberts has too much information. He needs to watch the game and make real time baseball decisions instead of looking at a paper with numbers on it. Its those analytics that told him to bat Enrique Hernandez third in a must-win Game 5 when he was hitting .121 in the playoffs.
Shorten your swing with two strikes. Leave in a pitcher who's throwing a one-hitter. Roberts keeps making the same mistakes over and over again. Go have a session with Lasorda: He will tell you what he would have done with analytics.
Kevin Cramer
Simi Valley
::
True story: My wife (who watches baseball only during the World Series) asks me during Game 5: If the Dodgers manager took out the starting pitcher in Game 4 when he had 4-0 lead, why doesn't he take out this starting pitcher when he is losing 4-1? Without having to go into a long answer, I just said: Good question.
Steve Shaevel
Woodland Hills
::
Another painful finish and there's plenty for Dodgers fans to second guess — analytics, Kershaw's postseason legacy and Dave Roberts' bullpen decisions. But the bottom line is, the Dodgers got their butts kicked by a better team. Twenty-eight other franchises tried and failed to make it that far. So be it. See you in the spring.
Anthony Moretti
Lomita
::
My signature memory of the Dodgers' 2018 World Series effort: Manny Machado blowing a big pink bubble from his wad of gum in a must-win game a second before ending up a step short of beating out a grounder.
"Let the kids play." Riiiight!
Roger B. Sypek
Lakewood
::
How appropriate that Manny Machado made the final out of the World Series swinging for the fences and ending up on one knee, while the Red Sox players began their team celebration. Let's all give a hearty welcome back to Corey Seager for next year.
Stephanie Rivera
Garden Grove
::
As I watched the Dodgers celebrate their National League championship, I couldn't help but wonder whether the team believed their season was over.
Richard Raffalow
Valley Glen
::
Observing Ryan Madson on the mound during the World Series was like watching a man who deeply regretted his decision not to pursue a career in accounting. So painfully obvious that everybody except Dave Roberts could see it. Sadly, it's deja Yu all over again.
Scott R. Denny
Santa Ana
::
Myth: Questionable managerial moves by Dave Roberts cost the Dodgers the World Series.
Facts: The Dodgers, who won 16 less games than the Red Sox during the season, were out-homered, outscored, outpitched and out-defended in the Series. The reality is the Dodgers would have finished in fourth place in the AL East and were simply outclassed by an historically great Red Sox team. Beating the Braves and Brewers pales in comparison to beating 100-win Yankee and Astros teams.
Mark S. Roth
Los Angeles
::
The Dodgers' 18-inning win over the Red Sox in the World Series was so long that by the time it ended, even Manny Machado was tired.
Joe Kevany
Mount Washington
::
The LA-Boston revenge match is only three months away when the Rams blow out the Patriots in Super Bowl 53 in Atlanta.
Allan Kandel
Los Angeles
::
I took my kids trick or treating at Dodger Stadium and all they got was a bunch of Nerds.
George Sands
Torrance
::
A Dodgers hitter as a tennis player:
"Your first serve is a 148-mph screamer, but you hit your second serve exactly the same way."
"I like to serve hard!"
"But in key situations, don't you think you should take a little off, make sure the second serve gets in?
"I really like to serve hard!"
"But you double-faulted on match point."
"I know, but if I had gotten one in, I would have had an ace!"
Bob Antonoplis
La Cañada
::
The Padres made their play-by-play announcer manager for a year. Clearly it's time the Dodgers hired Plaschke.
Ken Artingstall
Glendale
::
One of my pet peeves is the use of superlatives such as "amazing," "incredible" and "awesome" to describe commonplace events or people. Although you've heard it before, these superlatives truly do fit your photographic squad of Gina Ferazzi, Al Schaben, Luis Sinco, Robert Gauthier, and the general himself, Wally Skalij, for their coverage of the World Series.
Ralph Martinez
Arcadia
Finish line
Great teams and great coaches know how to close out games in the fourth quarter. They tighten up the defense, and they are more selective in their offensive shot selections. Luke Walton's teams have no clue how to close out games; they keep right on playing like it is a YMCA game.
David Waldowski
Laguna Woods
::
I attended my first Lakers game of the LeBron era on Halloween night and was astonished by the lack of energy in the building. The crowd was dead. Not one standing ovation at a timeout after a good run. Fans leaving with a minute left and the game still in doubt. LeBron waiving his arms to elicit a sound. No wonder the team almost blew the game.
Lakers fans: Don't be so cool and entitled. Step it up! Then maybe the team will feed off our energy.
Bernie Resser
Pacific Palisades
Trouble in Troyville
Brady McCollough hit the nail on the head when he wrote about the Arizona State game, "There's a reason that attendance was the lowest for a USC home game since 2001,when 44,880 showed up for Oregon State. The Trojans don't look like the Trojans anymore, and those who bleed Cardinal and Gold don't want to watch that."
If the university can afford $300 million to fix the Coliseum, they should be able to afford to pay a proven winner of a coach.
Ian Dunn
Tarzana
::
Clay Helton just became the biggest Dodgers fan in L.A. With all of the World Series talk, no one is focused on his terrible coaching.
Mike Wachtler
Glendale
::
Pat Haden, one of our most loved athletic directors, gave us Steve Sarkisian and Clay Helton. Mike Garrett, one of our most hated ADs, gave us Pete Carroll and the Galen Center. Let that sink in.
Willis Barton
Los Angeles
::
After humbly accepting his demotion, Tee Martin is a good example to the Trojans and their rallying cry, "Fight On".
Tom Turner
Dana Point
Empty feeling
This is a rebuilding year for UCLA, as one can tell from standings, new coach, and so many freshmen on the squad . There may be many reasons for the decline in attendance, but the optics to a top recruit with multiple offers may not include a school with half-empty stadium on game day.
Barry levy
Hawthorne
::
The Los Angeles Times welcomes expressions of all views. Letters should be brief and become the property of The Times. They may be edited and republished in any format. Each must include a valid mailing address and telephone number. Pseudonyms will not be used.
Mail: Sports Viewpoint
Los Angeles Times
2300 E. Imperial Hwy.
El Segundo, CA 90245
Email:
sports@latimes.com
---
Get our high school sports newsletter
Prep Rally is devoted to the SoCal high school sports experience, bringing you scores, stories and a behind-the-scenes look at what makes prep sports so popular.
You may occasionally receive promotional content from the Los Angeles Times.