Longtime teammates help make Long Beach State volleyball a national power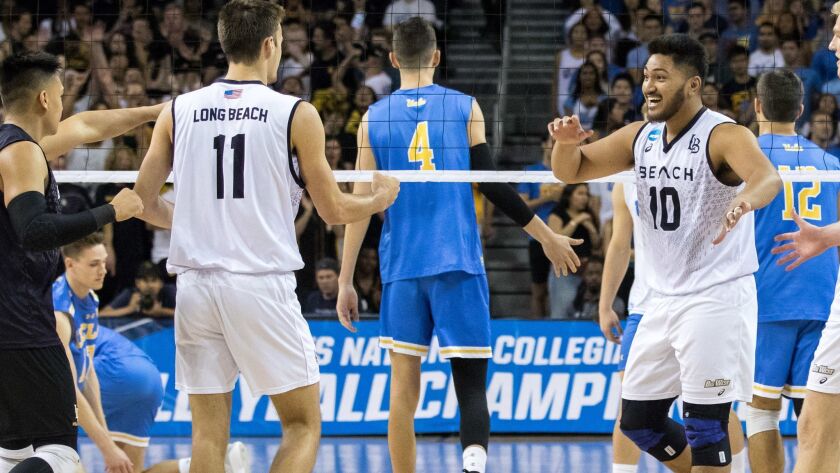 It doesn't matter where senior setter Josh Tuaniga is looking. When an opponent's spike or an unexpected hit sends the Long Beach State men's volleyball team scrambling and it appears the point is lost, Tuaniga still attempts to make the dig. Senior outside hitter TJ DeFalco isn't surprised.
Once Tuaniga makes the play, DeFalco is ready to slam the ball across the net, each time. The pair only needs to lock eyes during a rally to implement some strategy in a chaotic moment, their plans impossible for others to discern.
"That was what was so hard for me to understand, just watching it, was like, hey, they just gave that same look and did something else last time," said Craig Pazanti, their coach at Huntington Beach High.
Asked how the two could play so in sync, Tuaniga grinned as he turned to DeFalco and said: "Don't give away our secrets, man." They laughed, then DeFalco revealed the source of their connection — a friendship that has spanned more than half their lives.
Sign up for our daily sports newsletter »
This year marks the 12th season that Tuaniga and DeFalco are teammates. Years worth of sets that landed too high or too low, of potential points lost, groomed each to play to the other's strengths. The 49ers are reaping the benefits, as they enter the Big West Conference opener at home against Cal State Northridge on Friday with a 13-0 record.
The 49ers, ranked No. 1 in the nation, have only lost one set all season, holding opponents to a .189 hitting percentage while hitting .429. DeFalco leads the team in kills, Tuaniga in assists. DeFalco was selected the 2017 national player of the year; Tuaniga earned that honor in 2018, along with being chosen as the most outstanding player in the NCAA tournament.
As underclassmen, the two boosted Long Beach State to consecutive Final Four appearances. Last season, the 49ers went 28-1 and won the national championship. Tuaniga and DeFalco seek similar success in their final year at Long Beach State, which will host the Final Four in May.
Tuaniga is left-handed, DeFalco right-handed. At 6 feet 4, DeFalco is one inch taller than Tuaniga. DeFalco, who competed for the U.S. national team last summer, plays with a visual emotion and sparks his teammates with a dramatic spike or an ace in high-pressure moments. Tuaniga's face betrays nothing. Even in intense points he is consistent, and appears unfazed.
"I think they play off each other really, really well," said Long Beach State coach Alan Knipe, "because they're not the same personality."
The two met as 9- or 10-year-olds who were practicing at the same sand courts at a local park. Even then, their complementary styles struck their parents; DeFalco described it as "perfect." They became teammates in club volleyball and were partners in several beach volleyball tournaments.
Even as middle school players, Pazanti said the pair played at a level above their peers. Knipe was impressed by DeFalco's power and vision of the game. Tuaniga caught his eye with his dedication, and the respect he'd earned from teammates.
"The common theme from these guys is, 'These are some of best volleyball players that we've ever seen at this level,' " Knipe said. "Constantly kept hearing these things. 'These guys are the real deal, real deal, real deal.' "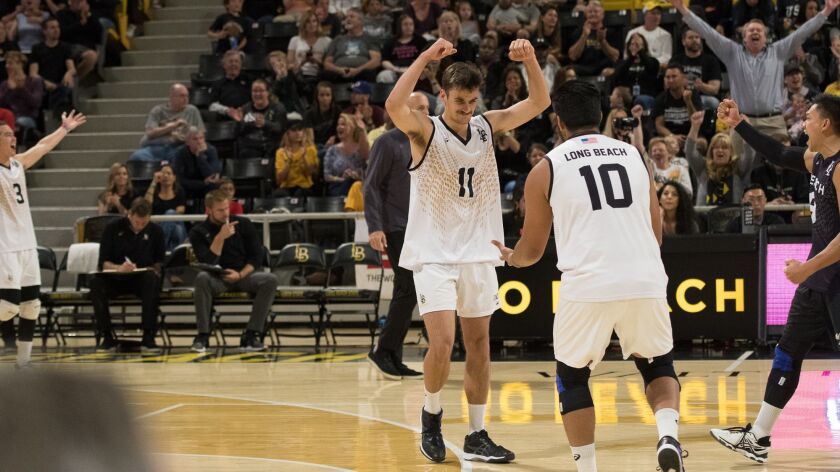 As a sophomore, DeFalco made an unofficial visit to UCLA and committed to Long Beach State four days later. Tuaniga committed his sophomore year, too, but only after did they realize they would be playing together.
"It was like, 'Oh, you committed to Long Beach? '" DeFalco said. "'Oh, you did too?' "
"Oh, sick," Tuaniga recalled saying, as he laughed at the memory.
After his sophomore year at St. John Bosco, Tuaniga transferred to Huntington Beach High, where DeFalco played. They were part of a team that went undefeated for two years straight, winning two Southern Section Division I titles together. DeFalco was Southern Section Division I player of the year in 2014, Tuaniga in 2015.
As freshmen, DeFalco, Tuaniga and Kyle Ensing earned spots as starters for Long Beach State — a team that had 15 upperclassmen. DeFalco described it "like a little target on our backs."
They responded by working even harder. For Knipe, their consistency in practice and contributions in games affirmed his faith in them. He regularly met with Tuaniga, DeFalco and Ensing to discuss the difficulties of being a freshman starter and explained his decision to the rest of the team.
Now that Tuaniga and DeFalco are seniors they share their knowledge with younger 49ers, bringing them to extra film sessions and detailing the work they do outside of practice to succeed in games.
"The other guys know nothing other than to work hard," Knipe said. "That's all they've ever seen those guys do."
DeFalco said he is motivated by his own experiences as a freshman.
"They're gonna be the next generation of the game here, and so I think that, not be what those guys were to me, I guess," DeFalco said. "And kind of take them with me as opposed to leave them."
Along the way, Tuaniga and DeFalco have matured through their camaraderie. Pazanti marveled at how Tuaniga could calm DeFalco when he grew frustrated during high school games. And Tuaniga said he has learned through DeFalco that it's OK to express his emotions on the court.
"While I think they were completely opposite, I think they kind of need each other," Pazanti said. "Because they need that."
---
Get the latest on L.A.'s teams in the daily Sports Report newsletter.
You may occasionally receive promotional content from the Los Angeles Times.