Column: Bill Plaschke | Lucerne Valley has been outscored by 747 points, but the Mustangs refuse to quit
(Video by Robert Gauthier / Los Angeles Times)
Reporting from Lucerne valley —
The small yellow cardboard sign is propped in front of an endless stretch of barren desert, alongside a narrow road leading to nowhere.
The sign has been scrawled upon with a dark marker pen, its message hastily abbreviated, the words squeezed to fit the space.
It is, to be perfectly honest, an advertisement for hopelessness.
"B Ball Game 2 Night," it reads.
Behind the sign is the earth-toned campus of Lucerne Valley High, the Mojave Desert home of what should be the most dejected boys' high school basketball team in Southern California.
The Mustangs are playing a game this night in the tiny gym on Rabbit Springs Road known as "Multi-Purpose D." It will be a quiet game, a quick game. There will be no cheerleaders, no announcer, and no fight song, because the school doesn't have one.
The only thing almost guaranteed to show up is a loss.
"It can get pretty overwhelming when you start every game knowing you're probably not going to win,'' said junior guard Luke Vanderhayden, in his third season here.
The Mustangs have lost 19 of 20 games this season while being outscored 1,229-482. The average margin of defeat has been 39 points. The margin of their only win was two.
They lost to Apple Valley Christian, 91-11. They lost to Academy of Careers and Exploration, 77-15. They lost to Bethel Christian, 64-8.
They even lost a game when they couldn't find somebody to help drive the school vans two hours to Immanuel Christian in Ridgecrest. At least that wasn't a blowout. The final score of the forfeit was 1-0.
"Everybody is bigger than us, everybody is stronger than us," said Vanderhayden. "We see the other team walk in the gym and we're like, 'Wow.'"
The Mustangs have endured three years of "Wow," going 4-54 while being outscored by nearly 2,000 points. They were even shut out, like a baseball shutout, losing to Riverside Prep, 73-0.
"As long as I've been here, every week in school it's the same,'' said senior Eduardo Lara. "Kids come up to me and say, 'So, did you get another L?'"
However, this story about the Lucerne Valley Mustangs is not about that question. It's about the answer, best described by that yellow sign.
On this night, despite being buffeted by powerful desert winds, the cardboard doesn't fly away. Even though the temperatures eventually drop near freezing, it doesn't curl up. The elements kick it, kids bump it, cars spray gravel on it, yet the sign remains strong.
It stays, just as the 13 players stay, night after night, loss after loss, nobody quitting, everybody standing firm under the ominous flicker of the dreaded scoreboard.
"They keep coming back,'' said first-year Coach David Carroll. "Even with all the negativity, they keep coming back for more.'
The team wears neckties to school on game days, proud of its collective effort even in the face of classmates' scorn. Players hug each other tightly in a narrow space between lockers on game nights, thrilled for a chance to be part of a group while living in a place so isolated.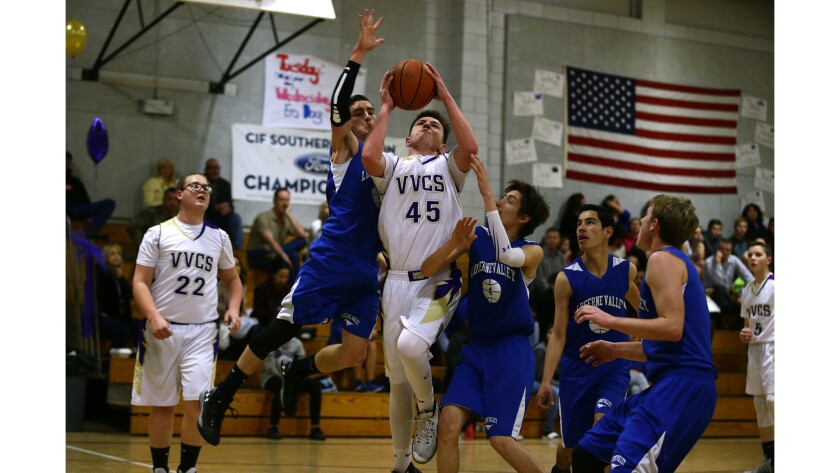 They have parents who show up to every game, even if they are often the only fans still there by the end of the game, sitting in a tiny group and cheering as if a championship was at stake. They have a coach who plays all 13 as long as they keep passing to each other. And they cling to every little reason for hope, like the time a nine-piece pep band actually showed up and stuck around for the entire first half.
"We've learned not to care what other people think,'' said senior David Hurtado. "This is about keeping our honor."
"So, did you get another L?"
Lara hears the taunt these days and doesn't even blink.
"I don't say anything,'' he said, "but I'm thinking, 'It all depends on what you consider losing.'''
::
The Mustangs actually did have a player quit this season.
He quit during practice, for 15 minutes, before returning and apologizing.
"I got as far as the water fountain," said Vanderhayden. "Then, I thought, as tough as it's been, these guys still need me, and I need them."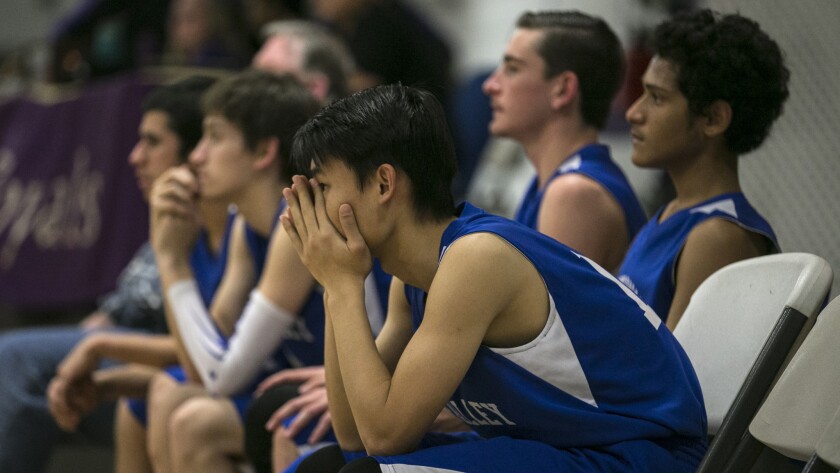 In this no-stoplight town of 5,200 scattered residents, about two hours east of Los Angeles and 30 minutes from the nearest mall and McDonald's, there aren't many places for a kid to run.
"This basketball team is their getaway," said Carroll.
The 13-man roster is basically everyone at the 208-person high school who wants to play basketball. There is no junior varsity or freshman team because there's nobody to wear the uniforms.
They're small and inexperienced. There's nobody taller than 6 feet, and the majority of the players are freshmen and sophomores. Some of them had never played organized basketball until high school.
With family obligations and logistical problems facing many families in this vast, lower-income area, a player or two is typically missing from every practice, creating a different kind of desert storm.
"Sometimes you feel like you're starting from square one, it's hard to get momentum going," said Carroll.
Earlier this year, to spark momentum, Carroll arranged for a free-throw-a-thon to raise money to pay for sneakers. It took them nearly five hours, but they made their free throws and bought their shoes. Their warmup shirts are hand-me-downs discovered in a storage bin. Their socks are black ones brought from home.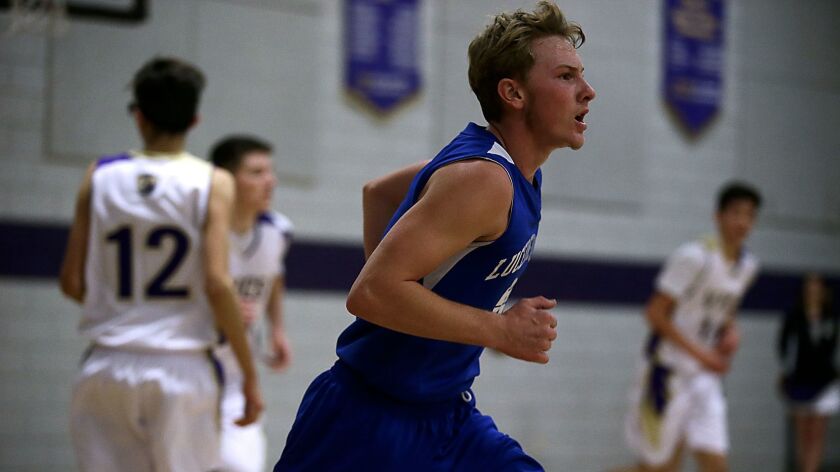 "We figure, every kid has a pair of black socks in a drawer, right?" said Carroll, 56, a retired grocery clerk.
Carroll was hired this season after leading a six-player Apple Valley Christian girls' team to a co-conference championship last year. He coaches fundamentals, and his players perform with discipline and unselfishness. The problem is, they just can't match their opponents' quickness or athleticism.
"It's like we have a lid on our basket, while their basket is three feet wide," said Carroll.
The coach and school officials purposely put a lid on the team's potential embarrassment. Carroll doesn't submit statistics to a popular prep website, and his principal, Doug Ferber, won't read particularly difficult scores during morning announcements.
"These kids have less than others, and being on a basketball team is still really something to hold on to," said Ferber.
Each of the players seems to hold on to something different.
For senior Lara, it's about taking inspiration from his legally blind father.
"I help my father around the house, and then he comes to the games and brings that same thing to me," said Lara.
His father, Mark Sanchez, attends every game, and even though he needs help discerning the action, he is quick to blow a plastic horn at even the hint of a positive play.
"I tell Eduardo there's no embarrassment in getting up and trying again," said Sanchez. "I tell him, look at me."
For junior David Hurtado, it's about having something good to share in weekly phone calls with his father, who is in prison.
"My dad raised me to love basketball, and now nothing is going to stop me from playing and making him proud," said Hurtado, who often works construction jobs on weekends.
For everyone, it's about the hope of winning. Even all the losing can't kill that hope.
"Every day I dream it's the last seconds of a close game, somebody on our team shooting it, making it, winning it, the whole crowd storms the court, just like on television," said Lara. "Every day I dream that."
Their one win against Baker High last week at Lucerne Valley didn't quite finish like that. Baker missed three shots in its final possession to give Lucerne Valley a 40-38 victory. The Mustangs players hugged and shouted, but there weren't enough fans to storm the court.
"We had all worked so hard and it had finally paid off," said Carroll. "But everyone was exhausted."
The glow didn't last long. Less than 24 hours later, the players were beaten by Apple Valley Christian, 61-22.
They have one more game this season, Tuesday at 7:30 at home against Bethel Christian. If there is any justice in this sports world, that cardboard sign will be propped back up, and it will be seen for miles, and the cars will line up on Rabbit Springs Road, and folks will fill up Multi-Purpose D, all to witness one more miracle that has nothing to do with a win or a loss.
"B Ball Game 2 Night."
You bet there is.
Get more of Bill Plaschke's work and follow him on Twitter @BillPlaschke
---
Get our high school sports newsletter
Prep Rally is devoted to the SoCal high school sports experience, bringing you scores, stories and a behind-the-scenes look at what makes prep sports so popular.
You may occasionally receive promotional content from the Los Angeles Times.