Column: Why shouldn't we worry about Manny Pacquiao boxing at age 40? God, he says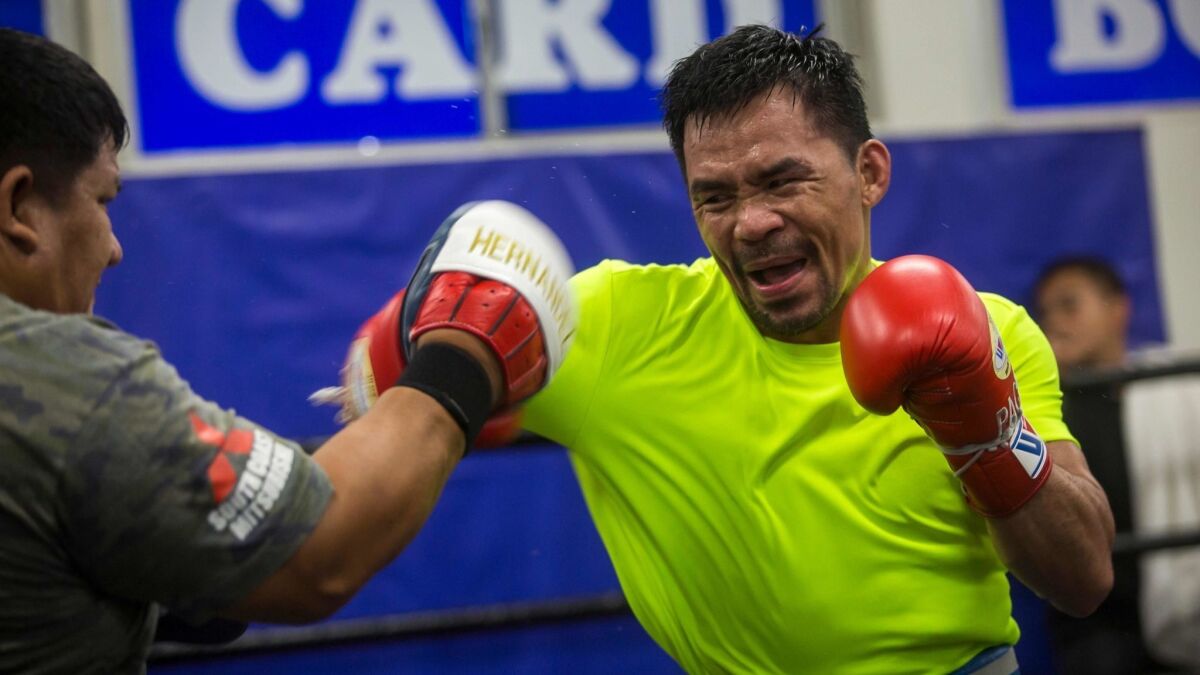 Manny Pacquiao leaned over the glass table.
"Are you OK?" he asked.
Walking into what felt like a house party before 9 a.m. was a shock to the system. There were close to 100 people in the gated but otherwise modest house in Central Los Angeles, many of them eating. Trays of takeout food were everywhere.
As Pacquiao enjoyed breakfast at the head of a table of 10, a member of his entourage carefully peeled a banana and presented it to Pacquiao, who gave him a puzzled look.
When the Filipino boxer-senator finished his meal, he clasped his hands and bowed his head in prayer. I was invited to join him. Some of the others at the table remained seated, including a young man who held a baby in his arms.
As Pacquiao answered questions about his boxing career and his faith, I locked eyes with the baby, which I figured was what prompted him to ask me if I was OK.
"Yeah, I love babies," I told him.
Pacquiao shook his head.
"What's your belief?" he asked.
Oh … "Really, nothing," I told him. "My mom's Japanese."
"Really?" Pacquiao asked.
"We don't believe in anything," I said.
"Really?"
"Yeah."
Pacquiao reached out and placed his hand on my forearm.
"There is a god," he said.
This belief has become the foundation of Pacquiao's self-identity in recent years, the explanation the former champion offers for his venture into politics and the reason he gives for why people shouldn't worry about him fighting at 40. His next bout is scheduled for July 20 against the unrefined but undefeated Keith Thurman, a 30-year-old welterweight champion with a wrecking ball of a right hand.
At the nearby Wild Card Boxing Club where Pacquiao trains, his longtime trainer acknowledged many of the concerns.
Freddie Roach, who returned to Pacquiao's camp last year after a 16-month split, said the choice of opponent made him uncomfortable. Thurman is a full-blown 147-pounder. By Roach's estimation, Mikey Garcia was a more appropriate matchup. Like Pacquiao, Garcia first made his name at 126 pounds and gradually moved up weight divisions.
"I wouldn't fight Errol Spence," Roach said. "I wouldn't fight [Terence] Crawford. I think they are dangerous fights at this time. And Thurman. They're all beatable on a good night for Manny, but you can't really count on having a good night every time at 40 years old."
Roach was optimistic about Pacquiao's chances against Thurman, but sounded wary about where a victory could lead the former eight-division champion.
"After this one, I mean, we're running out of names," Roach said. "Could Errol Spence be next?"
Asked if Pacquiao had a false sense of security because of his religious convictions, Roach replied, "He thinks this is fate."
Roach sighed.
"I don't believe in fate," he said. "I don't think God is a good matchmaker."
At the same time, Roach thinks Pacquiao remains a world-class fighter because he rediscovered religion. Pacquiao's renewed faith inspired him to abandon his vices — "womanizing, gambling, drunkenness," were three the fighter listed.
In Pacquiao's telling of his spiritual journey, God appeared to him when he was at the apex of his career, which was also one of the low points of his life. This was in 2011, when he was less than three years removed from a dominant victory over Oscar De La Hoya that made him a transcendent figure. He extended his winning streak to 15 fights with a comprehensive battering of an ancient Shane Mosley and a disputed majority decision over longtime rival Juan Manuel Marquez. A lucrative showdown with Floyd Mayweather Jr. was looming.
Pacquiao recalled how he often cried himself to sleep in those days.
"Empty inside," he said.
Then, one night, Pacquiao said, God spoke to him in his dreams.
He said he now reads the Bible every morning when he wakes and every night before he falls asleep. He estimates that he goes through the book once every seven months. He says he is a Protestant and that he has come to believe in a literal interpretation of the Bible. (The downside: He has shared some appalling opinions about homosexuality.)
He doesn't think punching people for a living contradicts his religious beliefs.
"For me, in my heart, it's nothing personal," he said. "I'm not angry with them."
Pacquiao explained his faith was why he entered politics, a field in which he previously had no interest. He became a congressman in 2010 and a senator in 2016.
Sign up for our daily sports newsletter »
He argued that only divine intervention could explain a journey like his, which started in a house with a dirt floor and ended in global stardom.
"Can you imagine that?" he said with a smile. "Can you imagine that? Can you imagine?"
He continued, "All of this, what I have right now, this is a blessing from God. This blessing is not for me alone, not my family alone, but also to bless other people. I know that God blessed me because I know the feelings of the less fortunate people."
Pacquiao has been known to hand out cash to the poor in the Philippines. The practice has resulted in widespread speculation that he continues to fight out of economic necessity, but he denies it.
Rather, he said, boxing offers him a vacation from politics. Governing feels like work; boxing doesn't.
The Senate of the Philippines is on break. The next session starts two days after his fight with Thurman. Pacquiao will have a private jet waiting for him in Las Vegas for the return to his homeland.
Pacquiao is proud of his accomplishments in the senate, claiming responsibility for the passing of 33 laws, including a tobacco tax. He appears to be taking his second career seriously; he can speak in detail about his vision of the Philippines buying back shares of government-owned and controlled corporations (GOCCs) that were privatized in recent years.
Pacquiao has been mentioned as a future presidential candidate.
"A lot of people are saying that I'm going to be the next president, but I'm not thinking about that right now," he said. "I'm focused on my career as a senator. If that happens, that's God's plan."
A fighter is said to be old when his actions are a step behind his thoughts. Pacquiao swore he would retire the moment he experiences that.
"I will stop right away," he said.
This realization typically comes at the worst of times, which is often in the ring against a younger and hungrier opponent. De La Hoya didn't see the light until Pacquiao disfigured his handsome face with combinations.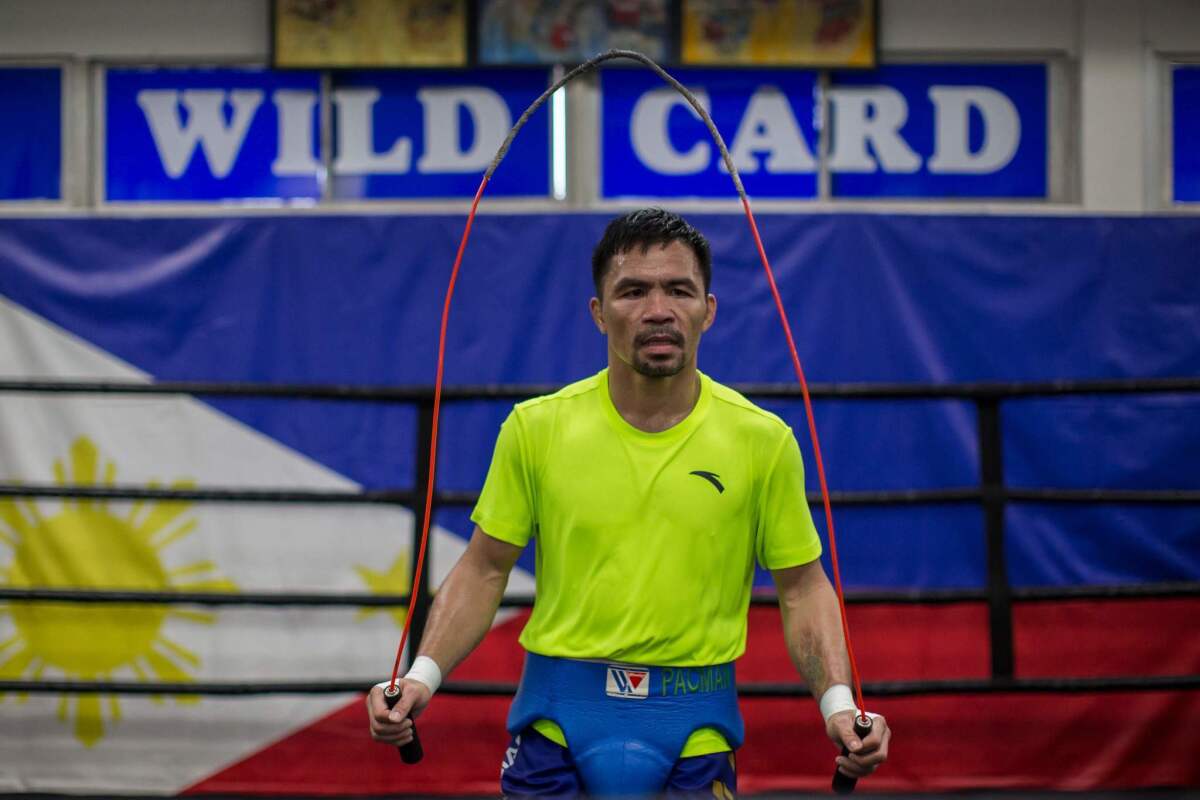 Roach retired at 26. When he was active, fighters used to spar six times a week. Boxers today spar only three times a week, which is why Roach believes they can fight into their 30s and 40s.
Roach promised he would be the first to inform Pacquiao that his reflexes have vanished. Roach is particularly mindful of watching Pacquiao's legs.
"That's the first thing that goes in a fighter, the legs," Roach said. "I know that very well because I had that happen to me."
But Roach also warned, "It's a lot harder to walk away from the sport than people realize. I know this. I've been there."
In Roach's case, his yearning for the ring was particularly intense because of the drudgery of his next job. Roach became a telemarketer.
Pacquiao has more luxurious options, which Roach hopes will make him more open to retiring at the right time.
And so the people for whom Pacquiao prays now pray for him. They pray they won't have to see him humiliated as De La Hoya was, or literally knocked out of the ring like Bernard Hopkins.
They hope his departure will be as graceful as his peak was spectacular.
Follow Dylan Hernandez on Twitter @dylanohernandez
---
Get our high school sports newsletter
Prep Rally is devoted to the SoCal high school sports experience, bringing you scores, stories and a behind-the-scenes look at what makes prep sports so popular.
You may occasionally receive promotional content from the Los Angeles Times.