Mark Madsen recalls night he was a clank amateur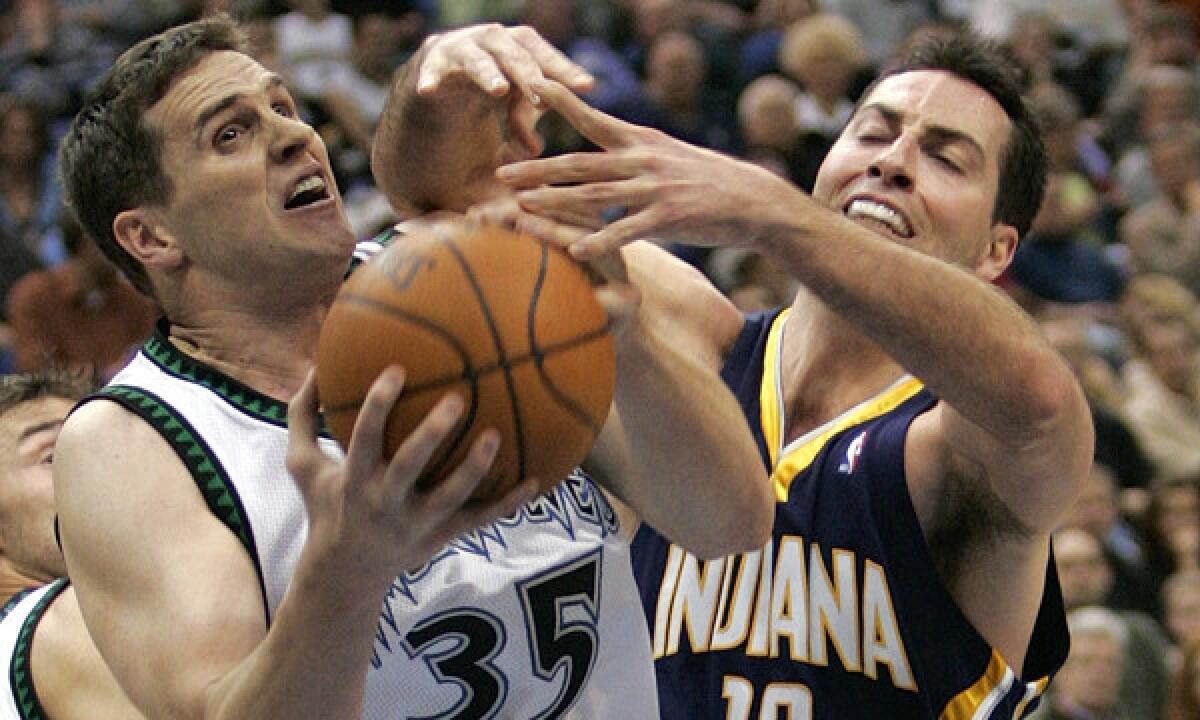 Bad teams and the end of the season can make for some strange situations.
Healthy players can develop mysterious (read: nonexistent) injuries. Productive veterans can lose playing time to unproven youngsters.
Then there is what happened to Mark Madsen on April 19, 2006.
The Minnesota Timberwolves power forward who had not taken a three-point shot in 135 games and 1,617 minutes over parts of the previous three seasons took seven shots from beyond the arc . . . in a span of 9 minutes 4 seconds.
Look it up. It happened.
The back story is one that should stir empathy in Lakers fans. Minnesota was 15 games below .500 heading into its regular-season finale against playoff-bound Memphis at the Target Center.
The Timberwolves had nothing to lose except a protected draft pick, which they were in danger of forfeiting if they beat the Grizzlies.
The game went into one overtime, then another. It seemed as if it might never end. Or that Madsen might never stop shooting.
He hoisted his first three-point attempt early in the first overtime. It missed, but he didn't stop there. He took another in the first overtime and five more in the second, with two of the shots coming in try-try-again fashion after a teammate rebounded his miss and fed him the ball for another shot.
None of them went in. Madsen finished 0 for 7 from behind the arc (one for 15 overall) during the Timberwolves' 102-92 loss. Not surprisingly, he doesn't recall the experience fondly.
"Imagine being out there, catching the ball at the three-point line and the whole arena is yelling, 'Shoot,'" Madsen said this week. "It doesn't make me feel good. So in my mind, I'm like, you know what, I've worked hard on my game. I'm going to go out there and knock these down."
Minnesota was accused of intentionally losing the game in the local papers (and in a Grantland.com story this week), but Madsen said that wasn't the case. At all.
"I think everyone in that building knew the situation" regarding the draft pick, said Madsen, now a Lakers player development coach. "I knew the situation. But I go out there and try to make every single shot always."
Madsen said a confluence of events led to his curious stat line, none of which involved an edict from then-coach Dwane Casey to chuck up shots. Eddie Griffin was the only Timberwolves starter to play in either overtime because the others were injured or fatigued. Madsen, who started only seven games that season, also wanted to show he had been overlooked.
"There was a role that I felt I could have played and I had a number of DNPs that year," Madsen said. "I was frustrated with that. I wanted to go out there and show people some of the things I could do, some of the things I had been working on."
Madsen finished his nine-season NBA career having made one of 16 three-point shots, the lone make coming in his rookie season with the Lakers.
He'll probably be remembered more for the night he missed seven.
"If I could go back, maybe I could pass the ball to somebody else," Madsen said, "but passes were coming to me, I was frustrated that I hadn't played a lot that year and I said, 'You know what, I'm going to nail these.'"
Get our high school sports newsletter
Prep Rally is devoted to the SoCal high school sports experience, bringing you scores, stories and a behind-the-scenes look at what makes prep sports so popular.
You may occasionally receive promotional content from the Los Angeles Times.