Column: A win for the ages falls through UCF's grasp against Zion Williamson and Duke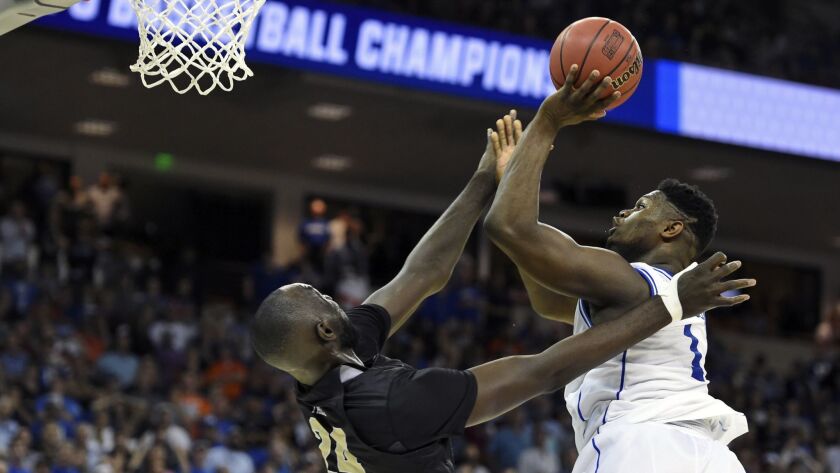 There was the father and the son. There was the mentor and the protege. There was the tallest player in college basketball and the foil, who's a much bigger deal among NBA scouts.
Captivating story lines were in abundance when Duke faced Central Florida on Sunday in the second round of the NCAA tournament.
They were all upstaged by the ending.
The valiant Knights held a four-point lead and the ball with less than two minutes left. Their best player, Aubrey Dawkins, streaked toward the basket on a two-on-one fastbreak.
He might as well have kept running into the tunnel and toward the exits inside Colonial Life Arena a la Forrest Gump.
Everything else went in top-seeded Duke's favor on the way to a 77-76 victory that left the ninth-seeded Knights heartbroken and forced the Blue Devils to acknowledge their good fortune.
"I feel bad for Johnny," Duke coach Mike Krzyzewski said in the moments after the game, alluding to Central Florida counterpart and onetime Blue Devils star Johnny Dawkins. "I'm emotional about it, because I love him, and his son was magnificent."
Aubrey Dawkins scored 32 points, including a baseline jumper that gave Central Florida a 72-70 lead. Tacko Fall, the Knights' 7-foot-6 wall of humanity, added his seventh dunk to extend the advantage to four points.
Central Florida got the ball back and looked like it was about to seal an epic upset when Dayon Griffin threw an alley-oop lob that went for a turnover when Dawkins could not cleanly catch it for a dunk.
It was the first in a blur of bad moments for the Knights.
They gave up a three-pointer to Duke's Cam Reddish. Fall fouled out when Blue Devils forward Zion Williamson, the widely presumed top pick in the NBA draft, spun into him for a layup. Fall's absence was felt when his teammates failed to block out Duke's R.J. Barrett on a missed free throw that went for a putback that gave the Blue Devils a one-point lead.
None of that was as cruel as an ending that might have added a few more gray hairs to coach Dawkins' goatee.
Central Florida's B.J. Taylor drove for a banking layup that bounced off the rim before Aubrey Dawkins tried a one-handed putback that hung on the rim before falling off in the final seconds.
A win for the ages having fallen through their grasp, the Knights immediately revealed their devastation. Allen fell to the floor in anguish. Griffin pulled his jersey over his face.
The mentor had advanced to a regional semifinal and the protege was headed home.
"It's tough," Johnny Dawkins said, "to have an abrupt end to your season like this."
It felt like UC Irvine's storybook run might have a few more pages left after the Anteaters held Oregon scoreless for almost 7½ minutes to start the second half in a double-digit doozy of a matchup.
The 13th-seeded Anteaters were trying to further diversify their diet after devouring the Kansas State Wildcats in the first round, but the 12th-seeded Ducks bit back.
After giving up the first 14 points of the second half to fall behind 37-35, Oregon went on a 15-3 spurt to retake control during an eventual runaway 73-54 victory.
The Anteaters' postseason moment of glory before this weekend involved beating UCLA and Reggie Miller in the first round of the 1986 National Invitation Tournament.
"This has got to be the biggest win ever for our program," then-Irvine coach Bill Mulligan said that night inside Pauley Pavilion.
Not anymore. The Anteaters had a close call in the NCAA tournament's first round against Louisville in 2015, losing a two-point lead in the final minute of a two-point loss, before their breakthrough against Kansas State on Friday.
It was all over 48 hours later.
Oregon's 10th consecutive victory came largely courtesy of Kenny Wooten's seven blocks and prevented the Pac-12 from suffering the indignity of another not-so-Sweet 16. The Ducks advanced to a regional semifinal against top-seeded Virginia one season after no team from the Pac-12 made it out of the first round.
Washington upheld the conference's (shaky) reputation earlier Sunday during a 22-point loss to North Carolina.
Huskies defensive wizard Matisse Thybulle got a hand on North Carolina's first shot and it went for an airball. It was seemingly the last time the top-seeded Tar Heels didn't have an open look while shooting 50.8% and easily shaking off Thybulle's two blocks and four steals.
Two days after a rash of upsets, things held to form in the second round; teams with the better seeding went 8-0. Twelfth-seeded Liberty effectively ended UCLA's season in December and Mississippi State's season on Friday, but had no answers for fourth-seeded Virginia Tech.
Iowa nearly struck a blow for the underdog after trailing by as many as 25 points in the first half against second-seeded Tennessee. The 10th-seeded Hawkeyes repeatedly worked the ball inside, forced a flurry of turnovers and pulled into a tie with 20 seconds left in regulation.
Too bad there had to be overtime. It belonged entirely to the Volunteers, who scored the first seven points of the extra period with foul-plagued guard Admiral Schofield flapping his arms from the bench in celebration of the eventual 83-77 triumph.
Tennessee players doused coach Rick Barnes with water in the locker room before moving on to a regional semifinal against Purdue, the first time Barnes has advanced to that round since taking Texas there in 2008.
"All I can say," Barnes told his players, the water dripping off his head, "is Sweet 16, baby!"
Sign up for our daily sports newsletter »
Follow Ben Bolch on Twitter @latbbolch
---
Get the latest on L.A.'s teams in the daily Sports Report newsletter.
You may occasionally receive promotional content from the Los Angeles Times.